Holsteiner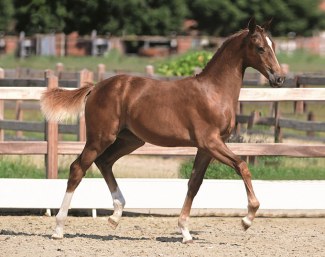 When thinking about Holsteiner horses, it's jumpers that come to mind first. No wonder, considering the studbook from the land between the seas is known as one of the most successful jumping horse studbooks in the world. However, there is more to it than that! Because they do exist: dressage horses made in Holstein. Two of them have been selected for the Holsteiner Verband marketing and auction GmbH foal auction sale.
On 8 September, Dr. Günther Friemel will wield his auction hammer at the venerable Fritz-Thiedemann-Hall in Elmshorn. It's foal auction time!
Two particularly talented movers have made it into this year's elite foal auction selection. One of them is lot 50, an attractive filly by Quando-Quando OLD-Donnerhall son, Quantensprung. At stud at Klosterhof Medingen, Quantensprung has already attracted attention for his sport performance as well as his offspring. The 2016 Hanoverian stallion licensing in Verden saw all of his seven sons presented stallion-graded, moreover, three of them have been awarded premium status. But it is not only the sire of this fantastic filly that is special, but she has also got a high-quality dam: Not only did she become National Young Horse Champion at three-year-old, but also Oldenburg three-, four-, and five-year-old State Champion at Rastede. Under her sport name, Devil's Bride, she went on to compete at S level with excellent results. And her siblings – Donna Fantasia and Pacific Sunset – also boast top results through S level.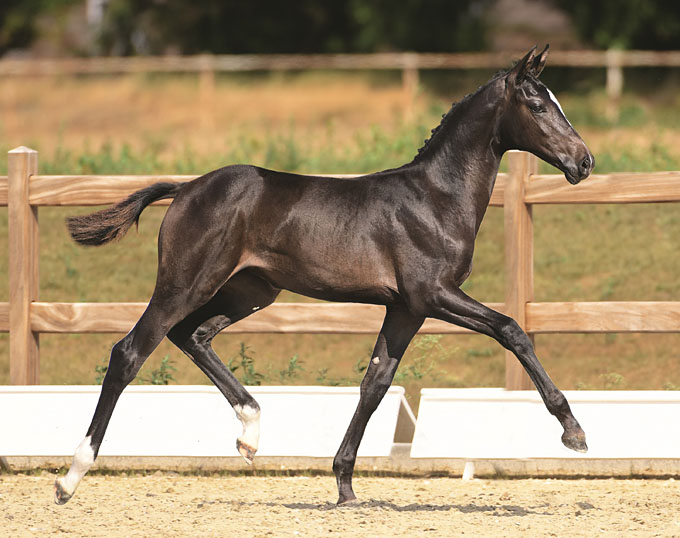 Lot 45 is the second dressage-bred offer. She is a filly, as well, and by Cascadello I son, Clarksville, while she carries Con Air-Ricardo-Ladykiller/TB on the dam's side of her pedigree. The dark bay filly stands out for three above-average basic gaits – same as her sire Clarksville. For Clarksville has not only completed his sport test for dressage stallions with very good results, but is also scheduled to fly the Holsteiner flag in the riding horse arena at the DKB National Young Horse Championships in Warendorf next weekend.
As you can see: Holstein can do dressage as well!
Even though the dressage horse population is comparatively small in number, they are no less successful. You have all heard of them: Antoinette (Josef Neckermann), Granat (Christine Stückelberger), Corlandus (Margit Otto-Crépin), Carabas (Rainer Schwiebert), Chacomo (Alexandra Simons-de Ridder), Loutano (Margit Otto-Crépin) or Loverboy (Jenny Lang-Nobbe) and Liebling (Carl Hester).
If you are looking for a promising young talent for higher levels of dressage, you should have a closer look at these two fillies.