2018 Hungarian Young Horse Championships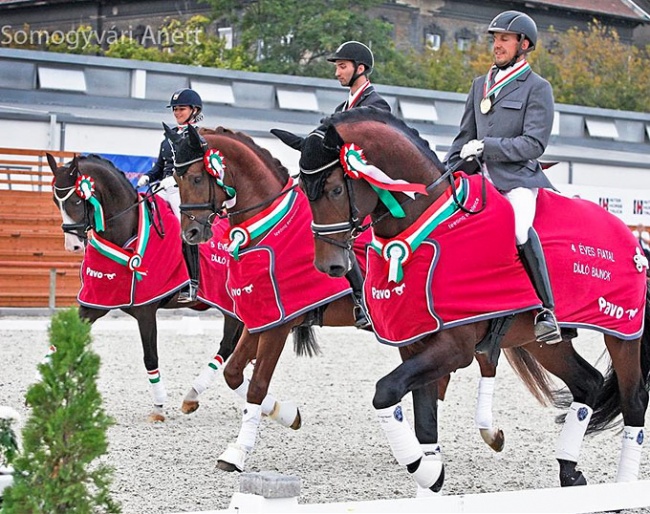 The 4-year old Francois, the 5-year old For Joy and the 6-year old Jamiroquai became the winners of the 2018 Hungarian Young Horse Championships held in Budapest, Hungaria, on 30 August - 2 September 2018.
Csaba Szokola and Attila Jenei's bay Francois (by Franziskus x Brentano II) became the undefeated champion in the 4-year old division. The pair won both rounds with 85% and 84.6% and was the clear the winner. Gabriella Erdi and the British bred Dutch warmblood mare Jemima LH (by Everdale x Don Gregroy) became the runners-up and silver medalists with 80.6% and 82.8%. Tamas Balint and De Prince landed bronze with 81% and 82.0%
In the 5-year old division, Under 25 Grand Prix rider Jazmin Yom Tov wielded the axe of power grabbing two medals and spots on the podium. Aboard the Westfalian bred For Joy (by Feedback x Donnerbube II) she claimed the title with 81.2% and 83.4% and kept all competition far behind her. Tamas Balint won silver aboard Aschenputtel, a ride he took over from Veronika Marthaler. The Holsteiner mare by Ampere x Leandro scored 76.6% and 83.2% with Tamas to finish second overall. Yom-Tov grabbed the bronze on last year's 4-year old champion,  -the Hanoverian bred Stiffelio (by San Amour x L'Espoir). The black earned 75.8% and 80.6% to slot in third overall. 
In the 6-year old division Barnabas Gemes and his KWPN bred Jamiroquai (by Johnson x Alabardos) scored a double winning the National Young Horse Championships for the second time. The pair were the 4-year old champions in 2016, finished fourth in 2017 and won again in 2018. They scored 81% and 86.2% for the title. Grand Prix rider Robert Acs and the 5-year old champion of 2017, the Hanoverian bred Die Oder Keine (by Don Index x Hochadel), landed the silver this year with 83,0% and 80,0%. Emese Vagi and the Westfalian bred Franziskaner (by Franziskus x Praktiker) got bronze with 78,8% and 77,2%.
Photo © Anett Somogyvári
Results - 2018 Hungarian Young Horse Championships
4-year olds
1. Szokola Csaba - Francois - 85,0%-  84,6% --- 169,6%
2. Érdi Gabriella  - Jemima LH - 80,6% - 82,8% --- 163,4%
3. Bálint Tamás - De Prince - 81,0% - 82,0% --- 163,0%
4. Németh Enikő - Innuendo - 78,8% - 78,4% --- 157,2%
5. Nébel Viktória - Santis - 74,0% - 76,2% --- 150,2%
6. Rácz Zsófia  - Herman - 74,8% - 71,4% --- 146,2%
7. Farkas Boróka - Fortunate Romance - 71,0% - 75,0% --- 146,0%
8. Pachl Benedek - Demon Dora - 74,6% - 71,2% --- 145,8%
9. Szeredy Patrícia - Roven Rektor - 70,6% - 72,8% --- 143,4%
10. Klinka Katalin - Dancy - 65,2% - 0,0% --- 65,2%
5-year olds
1. Yom Tov Jazmin - For Joy - 81,2% - 83,4% --- 164,6%
2. Bálint Tamás - Aschenputtel - 76,6% - 83,2% --- 159,8%
3. Yom Tov Jazmin - Stiffelio - 75,8% - 80,6% --- 156,4%
4. Decsi Enikő - Icoon - 75,4% - 79,6% --- 155,0%
5. Jakus Zsófia - Marcello Fiorentino -  74,2% -  78,8% --- 153,0%
6. Bálint Tamás - Corvinus -70,8% - 77,6% --- 148,4%
7. Wasche Ramóna - Lord - 71,6% - 75,8% --- 147,4%
8. Bálint Tamás - Conversano XXVIII-2 Konyak -  74,2% - 70,4% --- 144,6%
9. Bulyovszky Anna- Suena - 73,8%-  69,0% --- 142,8%
10. Klinka Katalin - Divinity - 67,4% - 71,4% --- 138,8%
11. Pachl Benedek - Bizar VDL - 68,0% - 69,2% --- 137,2%
12. Veres Szilvia - Contessa - 67,2%-  67,4% --- 134,6%
13. Farkas Tünde - Bandero - 63,6% - 66,6% --- 130,2%
14. Naményi Panna - Accasbel - 61,8% - 67,6% --- 129,4%
15. Paulovics Ágnes - Fantasy Dream -  61,0% - 67,4% --- 128,4%
16. Németh Gábor - Firefox - 69,4% --- 69,4%
6-year olds
1. Gémes Barnabás  - Jamiroquai - 81,0% - 86,2% --- 167,2%
2. Ács Róbert  - Die Oder Keine -  83,0% - 80,0% --- 163,0%
3. Vági Emese - Franziskaner - 78,8% - 77,2% --- 156,0%
4. Németh Gábor - Don't Thatch - 74,6%-  76,4% --- 151,0%
5. Lipóczki Krisztina - Maxim Rainbow - 79,6% - 69,0% --- 148,6%
6. Mikó Tamás - Maestoso XXXIII - 79,0% - 68,4% --- 147,4%
7. Pachl Benedek - Chalina  M - 75,8% - 67,4% --- 143,2%
8. Érdi Gabriella - Hazelwood - 69,4% - 71,4% --- 140,8%
9. Nagyházi Júlia -,Bon Bon - 78,8%-  0,0% --- 78,8%
10. Bálint Tamás Charming Hit - 73,6% --- 73,6%
Related Links
Stiffelio, Die Oder Keine, Kitti Win 2017 Hungarian Young Horse Championships
Jamiroquai, Kitti, Fly With Me Win 2016 Hungarian Young Horse Championships