Austrian Warmblood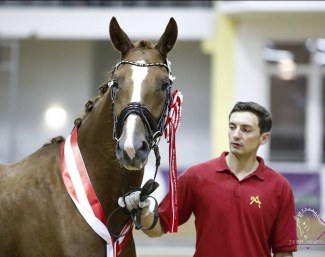 The 3-year old Championesse K and the 4-yar old Geraldine Chaplin were named the dressage mare champions at the 2018 Austrian Warmblood Championships held in Stadl Paura, Austria, on 19 - 22 September 2018. 
In the 3-year old AWO Elite Mare Championship, sixteen mares competed and the dark bay Championesse K (by Toto Jr x United) was given the winner's sash. Bred and owned by Wolfgang Kromoser, Championesse K scored 9 for type, 8.5 for conformation, 8.5 for walk, and 9 for movements. With a total of 8.7 she topped the board. The same score was achieved by the reserve champion: Johannes Schwaiger's La Finess (by Finest x Longchamp). This filly got 9 for type and 8.5 for conformation, and 9 for walk and gaits. Hannes Mayr's Elysee (by Furst Romancier x Puschkin) landed third place with 8.5.
In the 4-year old division Geraldine Chaplin (by Weltglanz x Lux As x Roy Black) impressed the German judges' panel in Stadl Paura the most. The mare with her harmonious conformation scored 8.5 for type and conformation, as well as gaits. She totaled 8.5. Geraldine Chaplin is bred by Joachim Gritsch and owned by Thomas Köberl. Aelaiza (by Foundation x Calido x Fresko) was named the reserve champion. Bred by the Pichler family and owned by the Kendlbachers, this grey mare scored a total of 8.2 to became second overall. She scored 8.5 for type and conformation, 7.5 for walk and 8.5 for gaits.  Hubert Popatschnig's Belantis Girl (y Belantis x Bolino) finished third with 8.2.
Photo © Team Myrtill
Results - 2018 Austrian Warmblood Mare Championship
Mare (pedigree) - breeder/owner - type - conformation - correctness - walk - gaits --- total
3-year olds
1 Championess K (by Toto jr. X United) - breeder/owner: Wolfgang Kromoser 9 8,5 8,5 8,5 9   --- 8,7
2 La Finess (by Finest X Longchamp) - breeder/owner: Johannes Schwaiger 9 8,5 8 9 9   --- 8,7
3 Elysee (by Fürst Romancier X Puschkin) - breeder/owner: Hannes Mayr 9 8,5 8 8 9   --- 8,5
4 Donna Elija (by Don Index X Western Star) - breeder/owner: Bettina Fasching Dr. Beƫna Faschig 8,5 8,5 8 8 8,5   --- 8,3
5 Elviana EM (by Zirkon X Rohdiamant) - breeder/owner: Ernst Mayr 8,5 8 8 7 8,5 --- 8
5 Toska van de Fils (by Lingh X Literart) - breeder/owner: Josef Pumberger 8 8 7,5 8,5 8 --- 8
7 Geyer´s Mayfair(by Diamond Hit X Rubin Cortes) - breeder/owner: Gestüt Geyer 8 8 8 7,5 8 --- 7,9
7 Bolivia W (by Quantensprung X Belissimo M) - breeder/owner: Andreas Winter 8 8 7,5 8,5 7,5 --- 7,9
7 Fairy Tale SA (by Follow Me X San Amour) - breeder/owner: Lebrecht Angerer 8,5 8 8 7,5 7,5 --- 7,9
10 Broadmoar's Wahre Poesie (by Bernay X Weltmeyer) - breeder/owner: Broadmoar KG 8 7,5 8 7,5 8 --- 7,8
10 Cherie v. Lindenhof (by Fürsten-Look. X Charon) - breeder/owner: Angelika Meinhardt 8 8 8 7,5 7,5 --- 7,8
12 Laru (by Amandari X Florencio I) - breeder/owner: Jürgen Wunsch 8 7,5 7,5 8 7,5 --- 7,7
12 Broadmoar's La Perla (by Divine Etincelle X Lord Loxley) - breeder/owner: Broadmoar KG 7,5 7,5 7,5 8 8 --- 7,7
12 Lyonesse (by Scuderia X Facetto) - breeder/owner: Johannes Schwaiger Christoph Wörgöber 8 8 7,5 7,5 7,5 --- 7,7
15 Romy-M (by Divine Etincelle X Royal Hit) - breeder/owner: Bernd Moser 7,5 7,5 7 7,5 8 --- 7,5
16 Kaaliha RHO (by Samba Khan W X Fürst Heinrich) - breeder/owner: Heinz Winter Peter & Elisabeth Novak 7 7 7,5 8,5 7,5 --- 7,5
4-year olds
1 Geraldine Chaplin (by Weltglanz X Lux As) - breeder/owner: Joachim Gritsch Thomas Köberl 8,5 8,5 8,5 8,5 8,5 --- 8,5
2 Aelaiza (by Foundation X Calido) - breeder/owner: Familie Pichler Broadmoar KG 8,5 8,5 8 7,5 8,5 --- 8,2
3 Belantis Girl (by Belantis X Bolino) - breeder/owner: Hubert Popatschnig 8,5 8 8 8,5 8 --- 8,2
4 Donna Romantika (by For Romance I X De Niro) - breeder/owner: Günter Gasper & Dana Karaskova 8,5 8 8 8 8,5 --- 8,2
5 Victory (by Negro X Florestano) - breeder/owner: Jürgen & Bettina Frantsits 8,5 8 8 8 8 --- 8,1
6 Wasserlilie FM (by Pagur ox X De Niro) - breeder/owner: Martin Fischer 8 8 8 8,5 8   --- 5 8,1
7 Gala (by Van Vivaldi X Laudatios-M) - breeder/owner: Christian Großholzner Dr. Jutta Petritsch 8,5 8,5 8 7 8 --- 8
8 Cara Mia FS (by Charmeur X Avignon) - breeder/owner: Heel Steve Ladislaus Maurer 8,5 8 8 7,5 7,5 --- 7,9
8 Santa Letizia (by Fürst Grandios X Sandro Hit) - breeder/owner: Christian Großholzner 8 7,5 8 7,5 8,5 --- 7,9
10 Charisma SG (by Dantano X Rubinstein) - breeder/owner: Sieglinde Hutter 8 7,5 7,5 8,5 7,5 --- 7,8
10 Finesse (by Fiderbach X French Kiss) - breeder/owner: Benedikt Rainer ChrisƟan Rainer 7,5 8 7,5 8 8 --- 7,8
12 Lady Noir (by Download X Longchamp) - breeder/owner: Johannes Schwaiger Robert Mandl 8 7,5 7,5 8 7,5 --- 7,7
12 Valdoura (by Brentano X De Niro) - breeder/owner: Gerhard Krispel Mag. Rudolf Hauptmann 8 7,5 7,5 8 7,5 --- 7,7
12 Kassydora SH (by Franziskus X Enanco S) - breeder/owner: Messner & Windisch 8 7,5 7,5 8 7,5 --- 7,7
15 Montana (by Foundation X Davignon II) - breeder/owner: Katharina Krenn 8 7 7,5 7,5 7,5 --- 7,5
16 Riverdance WE (by Zalando X De Niro) - breeder/owner: Walter Kirchsteiger 7,5 7,5 7,5 7 7,5 --- 7,4
17 Tara (by For Romance I X Regazzoni) - breeder/owner: Otto Stadlmann jun. 7,5 7 7 7,5 7,5 --- 7,3
Related Links
Corazon Named 2017 Austrian Warmblood Elite Mare Champion
Fraulein Smilla Named Champion of the 2016 Austrian Warmblood Elite Mare Show 
Wonderfull Named Champion of the 2015 Austrian Warmblood Elite Mare Show
Larissa, Cassandra L, Maurizio, Giulietta Win 2013 Austrian Warmblood Mare and Foal Championship