Klosterhof Medingen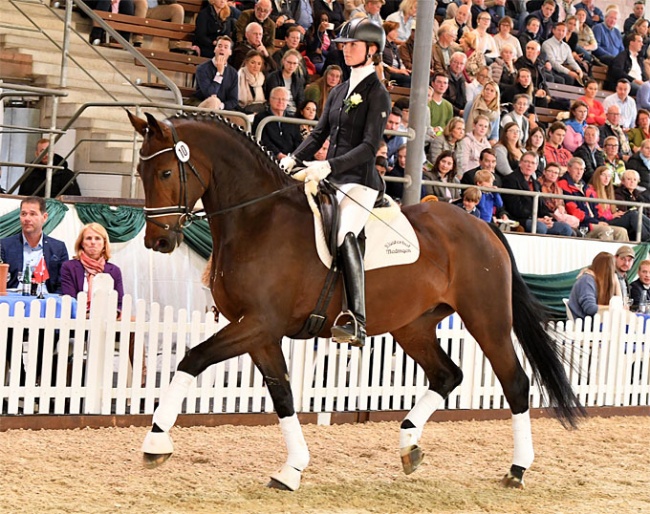 The bright bay Dance with Me became the price highlight of the 2018 Klosterhof Medingen auction in Bad Bevensen, Germany, on 29 September 2018.
The 4-year old Dance with Me (by Danone x Weltruhm x Lanthan) , who is bred by Ulrich Henke, sold for 240,000 euro to a German client. 
The 4-year old chestnut gelding For Honour (by Don Olymbrio x Londonderry), bred by the Swedish Karin Mattson, sold for 220,000 euro to a German customer.
The third most expensive horse was the licensed stallion Quattroporte (by Quantensprung x Stedinger). Former German Grand Prix team rider Fabienne Lutkemeier bought the stallion for 150,000 euro.
Quite Fantastic (by Quantensprung x Hohenstein) and Que Sera (by Quantensprung x Florencio) both sold for 120,000 euro. The former moves to the U.S.A, the latter to Hamburg. 
Dibadu (by De Niro x Matcho AA) moves to Westfalia for 115,000 euro, a Luxembourg customer paid 95,000 euro for Donaustern (by Herbstkonig x Donauwalzer), a Berlin based dressage enthusiasts acquired Fashion King (by Fidertanz x De Niro) for 70,000 euro, Ukrainians got Estrella (by ) for 65,000 euro, and Dutch clients bought Davino (by De Niro x Stedinger) for 52,000 euro.
The most expensive foal was the Belgian bred Bertoni (by Borsalino x De Niro). Bred and owned by Pure Equestrian Stables in Wolvertem, Belgium, Bertoni sold to Denmark for 55,000 euro. 
The chestnut filly Bond Girl (by Borsalino x Fidertanz), bred by Elisabeth Wegert and owned by Raphael Wegert, sold for 50,000 euro to the Ukraine. Hed Honey (by Helium x Christ) also moves to the Ukraine for 40,000 euro, as well as Queen of Hearts (by Quantensprung x De Niro) for 27,000 euro. The same price was paid by Brandenburg clients for Balou Bel (by Borsalino x Hohenstein).
Eighteen young sport horses were auctioned and they achieved an average price of 81,000 euro. Thirty-three foals were auctioned and they cost on average 15,500 euro.
Photos © Kiki Beelitz
More Klosterhof Medingen Auction news on Eurodressage