2018 Brazilian Dressage Championships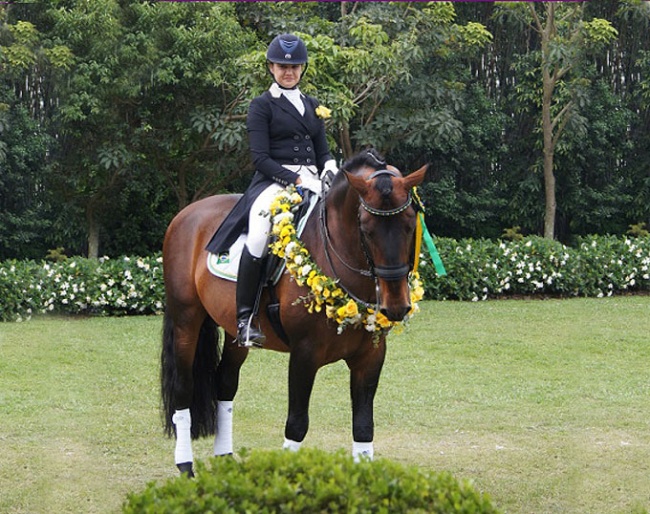 Small tour rider Sarah Waddell and big tour rider Giovana Pass became the grand winners at FEI level at the 2018 Brazilian Dressage Championships held at the Sociedade Hipica Paulista in Sao Paulo on 10 - 11 November 2018. 
The Brazilian Dressage Championships at small and big tour level took place over two rounds with the results added determining the overall ranking.
Just three pairs contested the small tour championship which was won by Sarah Waddell on the 9-year old Westfalian mare Baccara H (by Basic x Florestan). Sourced at Hof Kasselmann in Hagen, Germany, Baccara is owned by Marcelo and Sophie Baptista de Oliveira. Waddell scored 68.647% in the Prix St Georges on Saturday and 73.140% in the final round on Sunday to total a winning 141.787 points. The silver medal went to Bruno de Certaines on his own 15-year old Westfalian Finesse (by Ferragamo) with 66.735% in round 1 and 67.860% in round 2 (total 134.595). The third place went to Giovana Pas on Assalto MVL, a 13-year old Lusitano by Soberano. She scored 67.206% in the first round but was eliminated in the second round. 
Just four pairs were entered for the Grand Prix Championships and this was won by Brazilian Olympic and WEG Team rider Giovana Pass on the 14-year old Lusitano Zingaro de Lyw (by Guizo). They scored 66.565% in the first round and 70.855% in the second round for a winning total of 137.420 points. WEG team rider Leandro Aparecido da Silva and Patricia Villela Marino's 16-year old Oldenburg bred Dicaprio (by De Niro) scored silver with 66.043% and 70.390 (136.433 points). The bronze went to Pedro Tavares on the 13-year old Lusitano Aoleo (by Owni) with 64.522% and 69.030% (total 133.552%). Waddell rode Jorge da Rocha's Donnelly (by Donauwind) in the first round and got 60.848% but withdrew from round two.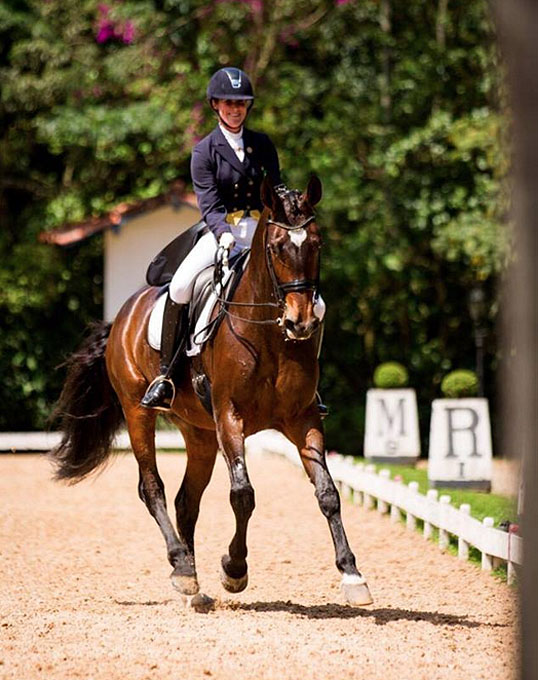 The Brazilian Dressage Nationals also featured young horse classes but aside from the four year old division, the other age divisions had a very low attendence with only one combination in the 5 and 7-year old class. 
Eduardo Alves de Lima won the 4-year old class aboard Jose Victor Oliva Jr's Oldenburg bred Florisbela (by For Romance out of Jasmin Scent) with 8.64 points.  Renderson Silva de Oliveira and Hose Victor Oliva's Oldenburg bred Senhorita V.O. (by Sir Donnerhall out of Doneila) were the 5-year old winners with 8.62 points. 
Cristiano Augusto Da Silva steered Anna Maria Capella Mantega's Brazilian sport horse bred Italy AMM (by Sir Donnerhall out of Briallette) to the title in the 6-year old division on 7.86 points.  Jeferson Rodrigo Pereira topped the board as only rider in the 7-year old division on Eduardo Bundyra's Lusitano bred Goya Crystal (by Unico out of Zoe Crystal) with 7.26 points. 
Related Links
Aragao and Aparecido da Silva Win 2016 Brazilian Dressage Championships
Tavares de Almeida and Waddell Win 2015 Brazilian Dressage Championships
Pass, Trielli, Clementino Win 2014 Brazilian Dressage Championships
Giovana Pass Acquires Grand Prix Hopeful Eleito Plus