2018 PSI Auction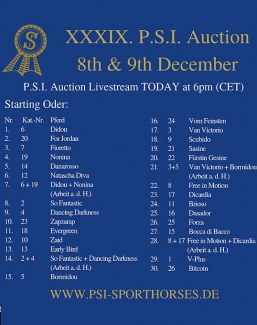 Watch the presentation of the dressage collection of the 39th P.S.I. Auction LIVE on Saturday 1 December at 6:00 PM.
For the 39th time the P.S.I. Auction has prepared a collection of top class sport horses for you, to be auctioned on Sunday 9 December at the P.S.I. Sport & Auction Center in Ankum.
The PSI Auction weekend kicks off with an under saddle presented on 8 December in Ankum, followed by the highly celebrated lifestyle event of the year, the 2018 P.S.I. Charity Ball.
You can now find detailed descriptions, photos, and videos of the P.S.I. Dressage Collection under: http://psi-auktion.de/
The presentation on 1 December 2018 at 6 PM is the only one to be streamed live, so don't miss it!
Click on http://psi-auktion.de to view the live stream