2018 CDI Gotemba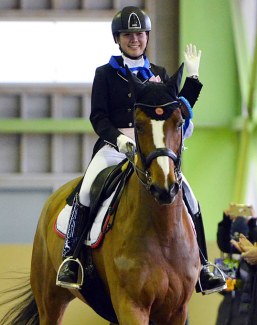 Junior rider Yurie Yoshida, young rider Mio Fukuoka, and Grand Prix rider Toshiya Kawabata were the grand winners of the 2018 CDI Gotemba in Japan, on 15 - 16 December 2018. 
This Japanese international was judged by Australian-European judges' panel  Mary Seefried, Ricky MacMillan, Leif Tornblad, Thomas Kessler, and Freddy Leyman. The junior rider division featured four combinations, the young riders category had five. This year there were remarkably few Grand Prix riders in Gotemba with all Olympic team riders absent and just three contesting the Grand Prix and one the freestyle.
Yurie Yoshida completed a hattrick in the junior division, scoring the overall win for a third year in a row at Gotemba. The 17-year old Yoshida trains with Yuko Kitai at her Hacienda Riding Club, and was victorious on the 15-year old Danish warmblood gelding Engbjerggaards Ballestino (by Michellino x Ragazzo), which she bought in Germany in September 2016. At the Nationals she scored 65.587% in the individual test and 69.825% in the Kur to Music. The runner up was Ayane Sakurai on the 15-year old Dutch warmblood Winnetou D (by Obelisk x Itens).
At young riders' level it was the 18-year old Mio Fukuoka who reigned supreme aboard her mother's 16-year old Westfalian Tiida (by Fetiche du Pas x Diamantino). The combination also won Gotemba for a third, consecutive year. Fukuoka is trained by Ryuma Hieda at the Little Horse Club in Kobe, Japan, and she made her international show debut in 2016. Fukuoka scored 65.470% in the individual test and 67.485% in the Kur to Music for the title. The runner-up was Satsuki Watanabe on the 15-year old Dutch warmblood Widor.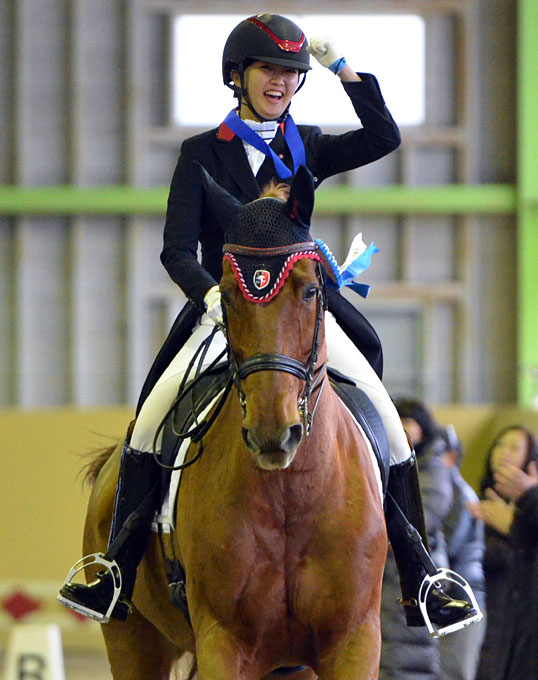 The 30-year old Toshiya Kawabata ruled again at Grand Prix level, despite his young career at top level.  Kawabata premiered at small tour level in Tokyo in 2016 and in 2017 he took over the ride on Shingo Hayashi's Grand Prix horse Ramses der II. The now 20-year old Dutch warmblood by Gribaldi x Esteban is kept going. The duo made its CDI Grand prix debut in October 2017, won their first national title in December 2017. At the international in Gotemba he scored 63.543% in the Grand Prix and 66.080% in the Kur to Music.
Photos © Japan Eq. Federation
Related Links
Scores: 2018 CDI Gotemba
New Comer Toshiya Kawabata Wins 2017 Japanese Grand Prix Championship
Kiichi Harada Wins 2015 Japanese Dressage Championship
Shingo Hayashi Wins 2014 Japanese Dressage Championships
Mieko Yagi Wins 11th Japanese Dressage Champion's Title
Yuko Kitai Claims 2012 Japanese Dressage Champion's Title