Portugal
A new partnership has been formed with Monte Velho's home bred 9-year  old Lusitano stallion Equador MVL. The Belgian-Polish couple of business entrepreneurs Marc Lebbe and Katarzyna Gontarska have recently co-invested in the ownership of the rising star Equador MVL, who is set to start his career in the Big Tour with Portuguese international rider João Torrão. The pair is trained by Coralie Baldrey.
Following some visits to Monte Velho Equo-Resort in Arraiolos, Portugal, the couple became truly impressed with the whole competition project for this stallion and decided to invest with the goal of bringing Equador MVL to the top of the game in Dressage.
With several years of business experience in the international real estate market, Marc Lebbe stated the following: "Being used to compete on the highest level of the real estate world for more than 25 years, I'm really looking forward to add my expertise and vision to this promising equestrian project, full of talent and commitment. We have studied the Lusitano market, and there's definitely a huge potential to develop the breed internationally at the highest level. Equador MVL is currently worth above 1.5 M€, and from what we've seen his progeny have all conditions to follow their sire'sffootsteps. He's ready to show his GP talent on the ring and compete with the best warmbloods, and I feel we have a world-class team to project this horse's career even further."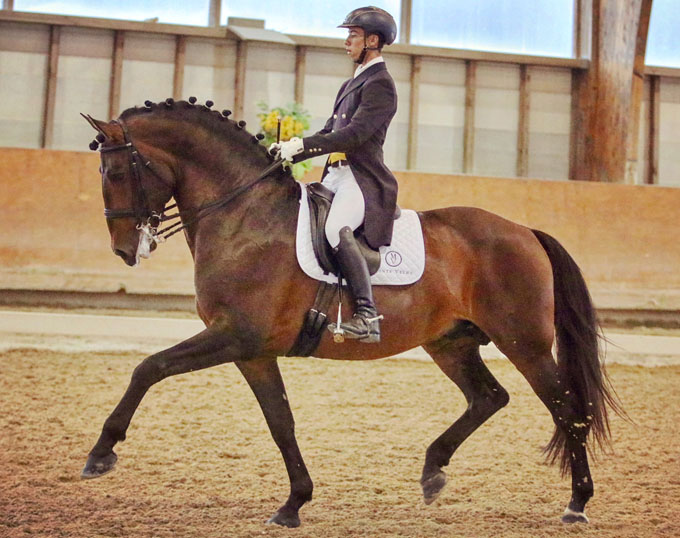 Diogo Lima Mayer Jr., Director of Monte Velho, has emphasised that "we couldn't have found better partners to this project, as we share the same mentality, and together we're ready to help João and Equador MVL to develop their skills and empower their international career."
According to Diogo, Equador MVL is now one of the most talked-about stallions within Spanish and Portuguese circles, hailed as one the most powerful stallions in the breed. He is currently preparing for his grand prix debut under João Torrão. With a truly amazing mind and focused attitude towards work, he's an expressive, uphill mover with a strong topline and a world-class canter. This young stallion has been praised by international riders and dressage judges alike, both for his effortless performances and absolute correctness.
Discover Monte Velho at www.montevelho.pt
Related Links
Stallion at Stud: Equador MVL
Joao Miguel Torrao and Monte Velho's Equador Shine Bright at 2017 CDI Segovia
Monte Velho, an Equestrian Resort in Portugal Providing the Total Experience