France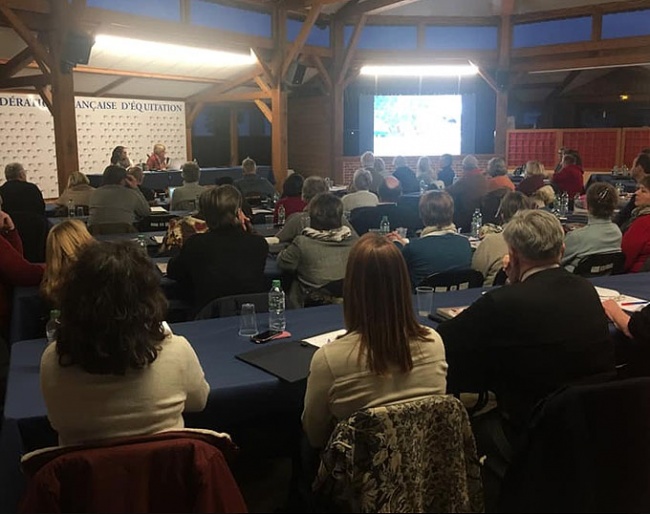 German 5* dressage judge Katrina Wüst was the keynote speaker at two-day judges training seminar hosted by the French Equestrian Federation (FFE) at Lamotte-Beuvron, France,  on 12 - 13 January 2019. 
Sixty-nine candidate judges for national, elite and international level were present at the seminar, which was was an initiative of the FFE Technical Director for Dressage, Emmanuelle Schramm.
Clémentine Puret began the seminar by explaining the novelties in the FFE rules, after which Déborah Bardou gave a presentation on animal welfare. The participants asked questions and started a discussion about the importance of all officials working at a show taking responsibility to guard animal welfare. 
Benoit Raynaud, who is the preseient of the FFE judges and officials committee, touched upon the topics of communication and the management of conflict, which all participants considered that those subjects would make up an independent seminar on its own.
Judge Wust spoke eloquently about the challenges in judging and she relied on well documented video material for case studies. She provided simple, concrete and well-argued answers that pleased the audience. Her speech was honoured with a standing ovation at the end of the seminar. 
Related Links
Bernard Maurel: An Independent Authority to Nominate Judges, Not Show Organizers
History of French Equitation - Part I: Dressage a la Francaise
History of French Equitation - Part III: Tradition Does Not Exclude Love for Progress
A Coming Together of Minds at the 2011 FEI Young Horse Seminar and Judges Course
New Zealand Judges on Young Dressage Horse Training Trip in Pursuit of Knowledge
Top Dressage Team Debates on Dressage and Music