Belgian Warmblood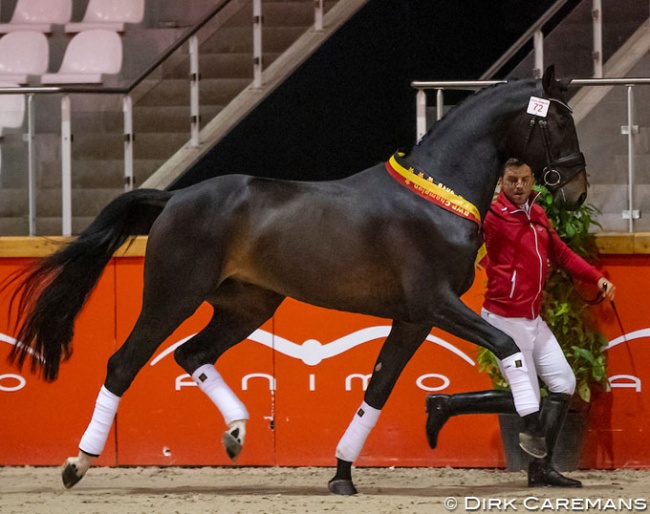 The Dutch warmblood bred and BWP registered Quinten Begijnhoeve (by Heros Begijnhoeve x Ferro) was named the dressage champion of the 2019 Belgian Warmblood Stallion Licensing in Opglabbeek, Belgium, on Friday 15 March 2019. 
Indoor equestrian centre Sentower Park hosted the third and last phase of the 2019 BWP Stallion Licensing. Forty-six colts were approved, six of them were dressage bred. 
In the third phase the 3-year old colts were presented under saddle to the licensing committee, which included Belgian FEI rider Tom Heylen as dressage expert.
Eurodressage witnessed this under saddle presentation and concluded that the quality of the stallions as well as the presentation of several of them was below par. It is surprising that some owners of potential breeding stallions decide to have their licensing candidates presented in an amateur way with clear signs of unprofessional backing or wrong training with draw reins (horses not seeking the contact at all). The Belgian Warmblood Society (BWP) is a major force to be reckoned with for show jumping breeding, but fails to cover ground for dressage. If the society wants to make an impact with its dressage breeding, it should be strict in its selection of the best genes and material instead of being a back-door studbook, where refuse of other breeding societies could have a chance. This year many of the KWPN registered stallions presented failed to impress with the quality of their basic gaits and conformation. There were several colts in the collection that certainly made lovely young dressage horses and will have a nice future in sport (if matched to the right trainer/rider), but their value as breeding stock in an already over-saturated market of mediocre stallions, was not sufficient. 
Fortunately the BWP society named the most impressive 3-year old colt of the collection the licensing champion: Quinten Begijnhoeve. Bred and owned by Rob van Puijenbroek of Stud Farm De Begijnhoeve, the dark bay colt is by Heros Begijnhoeve (by Vivaldi x Havidoff) out of a Ferro dam. The dark bay was the most complete mover with a strong hindleg and definitely talent for the future. 
Fourteen colts were shown in the saddle presentation, eleven of them were 3-year olds and three of them were 4 and 5-year olds.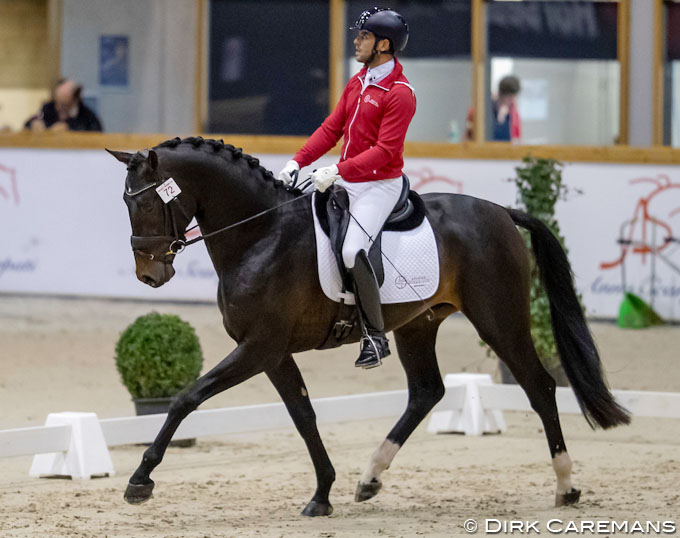 In the 3-year old collection, BWP further licensed Martien and Frans Burgers' KWPN bred Look Out (by Franklin x Jazz) which was a surprise as the colt did not impress under saddle. The bright bay showed no walk at all, no ground cover, no clear 4-beat rhythm. He had a massive peddle in front and was so tight in the topline in canter he lost the 3-beat rhythm. While the young horse is long legged and pretty and did improve a bit as soon as he relaxed a bit more, quality was just not shown at the licensing that day. 
The BWP also accepted Lord Heros CL (by Heros Begijnhoeve x San Remo), owned by Cor van der Linden. The tall chestnut has a very impressive front with wonderful knee action, but appeared very green under saddle. The youngster is still weak behind and pushed the hindlegs out as he has not yet achieved good self-carriage. Also the canter has massive scope but there was no balance and little rhythm to be found in it at all. In walk the horse was short-long in front, but had good overtrack. This youngster appeared very green but is one to watch for the future. 
Le Premier Begijnhoeve (by Millennium x Tango) is a KWPN registered stallion owned by Rob van Puijenbroek. The very tall, 175 cm standing  3-year old has much cadence in trot and certainly impressive with his cresty, uphill neck and freedom in the shoulder in front. The horse is a bit weak in the loins which makes him push the hindlegs out in trot and achieve proper bending in the body in the corners. The canter was uphill. The walk had two hooves overtrack but the clarity in the rhythm could be more pronounced. 
The KWPN bred 4-year old Jack Sparrow DE (by Desperado x Negro) was ridden by Katia Smets and stood out clearly with his excellent rideability and positive attitude. He was nice and light in the contact. The horse does not have the prettiest onset of the neck, but he has an active hindleg that reaches under, especially in canter. The walk was good. 
The Hanoverian bred 5-year old For Ferrero (by For Romance x Don Crusador) is a very elegant stallion, who is more progressed in his training. The black stallion showed good rideability but the signs of passage training on a 5-year old were unnecessary as it resulted in the horse not seeking out the contact. For Ferrero is a bit compact and ponyesque with his shorter frontleg, but he has three good quality gaits and a masculine look. 
Not accepted were Louis ter Kwincke (by Easy Game x Damon Hill), Leonardo Davinci CL (by Hermes x Davidoff), Lord Lenny (by Lissaro van de Helle x Likoto xx), Rico (by Rosengold x Sandro Hit), Picco (by Blue Hors Farrell x Lauries Crusador xx), Don Special Black Z (by Danciano x Zhivago), Ferleyano (by Finest x Lauries Crusador xx), or Johnny Lee van het Bloemenhof (by Furst Fohlenhof x Diamont Hit). Froome (by Finest  x Sunny-Boy) was a scratch.
Photos © Dirk Caremans
Related Links
Eight Dressage Colts Accepted for Third Phase of 2019 Belgian Warmblood Stallion Licensing
Pegase van 't Ruytershof, Champion of the 2018 BWP Stallion Licensing
Ons Noud, Dressage Champion of the 2017 Belgian Warmblood Stallion Licensing
Naxcel V Named Champion of the 2016 Belgian Warmblood Stallion Licensing
Mac Donovan, Dressage Champion of 2015 Belgian Warmblood Stallion Licensing
Kozinsky van den Dries Approved at 2014 Belgian Warmblood Stallion Licensing
Kasanova de la Pomme, Champion of the 2013 Belgian Warmblood Stallion Licensing
Jappeloup van het Dauwhof, Champion of the 2012 Belgian Warmblood Stallion Licensing
Inshallah de Muze, Champion of the 2011 BWP Stallion Licensing