Germany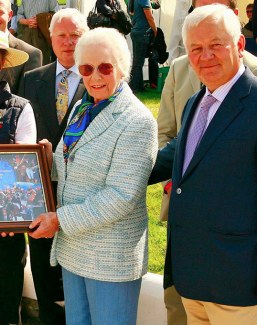 Rosemarie Springer, a grand dame of dressage has passed away on 2 April 2019. She was 98 years old. Springer was one of the most successful German dressage riders in the 1950s and 1960s. 
Horses dominated Springer's life from the start. She was born and raised at Gut Mariensee near Danzig, Germany. Her father Werner Lorenz put her in the saddle in front of him when she was 2 years old to go out hacking. 
In the early 1950s Springer started competing but it wasn't until she met German team trainer Willi Schultheis that her break through happened.  Her second husband Axel Springer, to whom she was married from 1953 till 1961, brought Schultheis to Hamburg for her. The collaboration results in her winning the 1959 CDIO Aachen on Thyra and the silver medal at the German Championships. In 1960 she won her first out of five German Champion's title and represented Germany at the Olympic Games in Rom together with Josef Neckermann.
Springer's most successful horse was the Olympic horse Doublette and the Thoroughbred Brillant xx, with which she won the 1966 Hamburg Dressage Derby. She also campaigned Memor xx and the Swedish grey Lenard. 
After her sport career she ran Gut Halloh near Bad Bramstedt (north of Hamburg), where she bred Trakehners and scouted horses. She discovered and fostered numerous talents, for example Hilberath for whose apprenticeship she did the riding instructor exam in the 1970s. She also coached venting riders Horst Karsten, Harry Klugmann, Karl Schultz, Claus Erhorn and Bettina Hoy.
Springer stayed fit all her life and was a passionate skier, which she kept until a few years ago.
At her 75th birthday on 5 July 1995 the German Equestrian Federation decorated her with the German Rider's Cross in gold for her lifetime achievements.
Related Links
P.S.I. Awards for Springer, Bechtolsheimer, Becker and Diekmann
Springer, Oatley and Thieme Looking Forward to 2015 CDI Hagen's Horses & Dreams
Meet Jonny Hilberath
Cramique xx, A Renaissance of French Elegance in Dressage
Grunox, from Scaredy Cat to Olympic Champion
Angelika Fromming: Half a Century of Dressage
Keen xx, a Pioneer of American Dressage
The Good Old Times?