Germany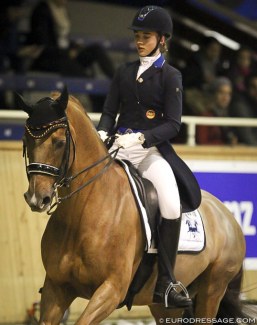 German young rider Rebecca Horstmann will be shifting down a gear as a dressage rider to undergo treatment for an eye tumour. 
The 19-year old Horstmann was a member of the German team at the 2016 and 2017 European Junior Riders Championships, twice winning team gold aboard the 11-year old Oldenburger Friend of Mine (by For Compliment). They were also the 2016 German Junior Champions and 2017 Preis der Besten winners.
In December 2017 she made the transition to young riders' level. Her last international competition already dates back a year ago to the CDI Lier in March 2018. 
Two years ago Horstmann was diagnosed with a benign tumour in the optic nerve of her eye. Initially nothing needed to be done to it, but the doctors have now decided on a round of chemotherapy which will force Horstmann to take it a bit more easy with her riding. 
"Now we have come so far that something needs to be done," Horstmann explained. "I'm looking at chemotherapy which will limit my body to a certain extent.  My life is going to change a bit, but most importantly I can continue to ride, although a little less."
Horstmann is in good spirits and tackling the issue with vigour. 
"I want to be pro-active about the topic, because my life will change in the near future," she said. "Being able to ride further means a lot to me. Horses have been with me all my life, especially Fridolin (Friend of Mine) is much more than a sports partner to me, he's my buddy, my friend - and friends scratch each other's back."
Photo © Astrid Appels
Related Links
Horstmann Puts Germany in the Lead in Team Test at 2017 European Junior Riders Championships
Baumgurtel, Horstmann, Becks Win 2017 Preis der Besten
Erbe, Horstmann, Becks Win 2016 German Youth Riders Championships
Horstmann and Thuning Score German Youth Rider Hattrick at 2015 CDI Darmstadt