Bits 'n Pieces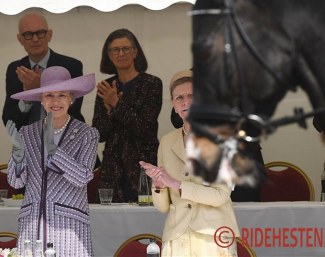 Princess Benedikte of Denmark celebrated her 75th birthday with a special horse exhibition at Koldinghus in Denmark on 27 April 2019.
The star of the show was the surprise appearance of her 22-year old home bred Olympic team horse Digby under her daughter Nathalie zu Sayn-Wittgenstein.
A special horse show was staged on the court yard of Koldinghus, where the 75th birthday of Princess Benedikte, sister to the Queen of Denmark, was celebrated. The show including several aspects of horse sport, including free dressage, mounted games, vaulting, different breeds, and two dressage performances. 
The Danish warmblood society organized the show to pay tribute to their patron, HRH Benedikte of Denmark. DWB's managing director Casper Cassoe served as announcer and brought fun and humour to the show.
Olympians Daniel Bachmann Andersen (Blue Hors Zee Me Blue) and Cathrine Dufour (Bohemian) rode a pas de deux to music, while the closing show was the appearance of Benedikte's Digby who came out of retirement, fit and healthy for a dressage demo under Danish team trainer Nathalie zu Sayn-Wittgenstein. 
Photo © Ridehesten
Related Links
Prince Richard of Sayn-Wittgenstein-Berleburg Passed Away
HRH Princess Benedikte Vies for FEI Presidency
Princess Benedikte Honoured at 2008 Danish Stallion Licensing
Princess Benedikte of Denmark, Patron of the 2005 FEI/PSI Freestyle Forum
Danish Olympic Team Rider Princess Nathalie Zu Saeyn-Wittgenstein Engaged