Westfalian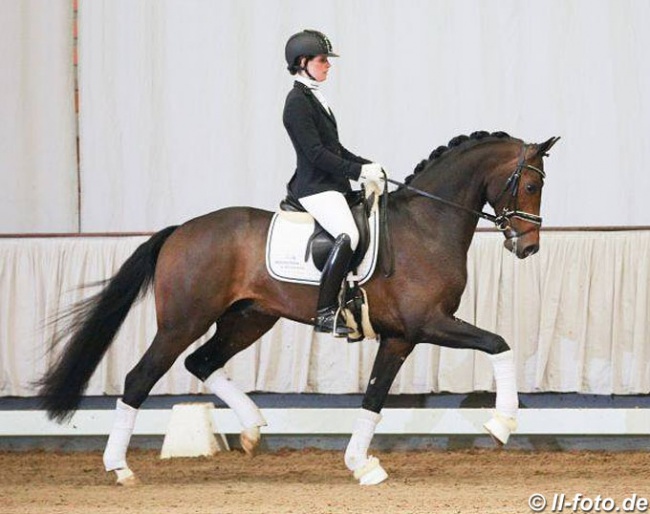 The 4-year old Furst Samarant and the 5-year old Zoom became the high scoring stallions at the 2019 Munster Stallion Sport Test which took place in Munster-Handorf on 23 - 25 April 2019. 
The stallion sport test is a mandatory test for licensed breeding stallions to keep their licensed status. It consists of several phases over three days including a presentation under the rider, the execution of a riding horse test and on the last days the quality of the gaits and rideability are being assessed by test rider Philip Hess. 
This was the second sport test that took place in Munster this year. Ten 4-year olds of which two dropped out (Bel Amour (by Belantis) and Vivat Rex (by Vivaldi)) and six 5-year olds participated. 
In the 4-year old division Furst Samarant (by For Romance x Furst Nymphenburg) was the high scorer with a total of 8.86 points. He got 8.4 for trot, 9 for canter, walk and rideability and 8.8 for general impression. He was presented by Friederike Kampmeier. The second best scoring stallion was the Dutch warmblood King's Pleasure (by Dark Pleasure) with 8.80 points. he earned 9 for trot, 9.3 for canter, 8.1 for walk, 8.8 for rideability and general impression. 
Zoom (by Zack x Don Schufro) was the best scoring 5-year old with 8.32 points under Beatrice Buchwald. he got 7.8 for walk and trot, 9 for canter, and 8.5 for rideability and general impression. The second best 5-year old was Velvet (by Van Vivaldi) with 8.08 points. He got 8.7 for walk, 8 for trot, 7.7 for canter, and 8 for rideability and general impression. 
One colt failed the testing, the Oldenburg Morricone II (by Millennium x Rubin Royal) who finished with an insufficient 7.31. The 5-year old Crimetime GT (by Chambretto GT) scraped by with a 7.51 total.
Photo © LL-foto
Related Links
Gaitano and Jovian, High Scorers at the 2019 Munster Stallion Sport Test
D'Alessandro and Caracciola MT, High Scorers 2018 Munster Sport Test
Morricone II Moves to Gut Buchenhof