2019 Swedish Dressage Championships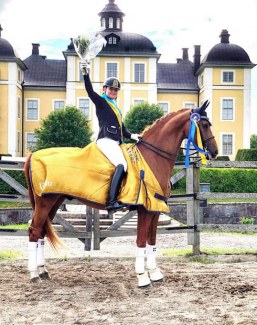 Junior rider Felicia Olofsson, young rider Evelina Soderstrom, Under 25 Marina Mattsson, and senior Grand Prix rider Patrik  Kittel  were the winners of their respective divisions at the 2019 Swedish Dressage Championships held in Stromsholm, Sweden on 8 - 10 June 2019. 
The wall of winners at the 2019 Nationals was exactly the same as in 2018 so all national champions renewed their title this year. 
In the junior division Felicia Olofsson and the 13-year old Swedish stallion Bellman (by Hermes x Prestige) were on proper form. They won the team test with 71.768%, placed second in the individual test (70.147%) and won the Kur with 73.560%. Felicia Vistedt and her 13-year old Dutch mare Breezy A.S. (by Furst Piccolo x Welt Hit II) landed the silver. This new pair, who is yet to make its international show debut, scored 71.212%, 70.196% and 72.130% for an overall second place. Ellen Linden Urnes and the 12-year old Westfalian Fairy Tale (by Friedensritter x Rosenkavalier) got bronze with 70.303%, 69.216% and 71.515%.
"I'm happy," said Olofsson, who trains with Liane Wachtmeister. "It's a good feeling when me and my horse have the same goal and want to go for it as much."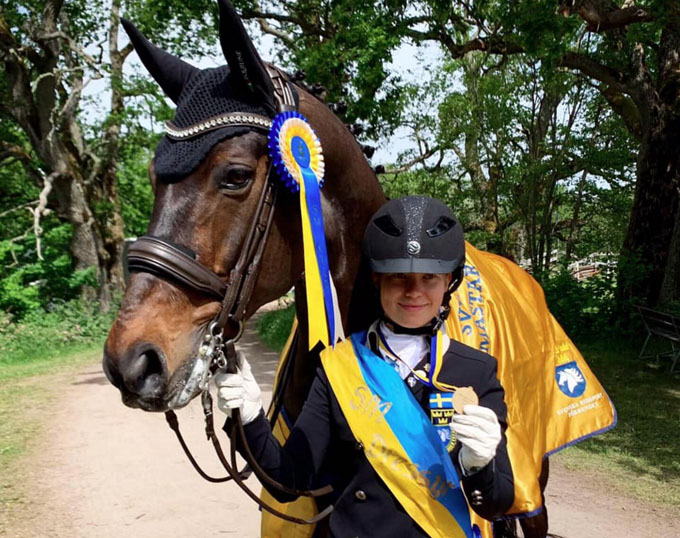 Evelina Soderstrom and the evergreen Weihenstephaner (by Warsteiner x Dwight) got the gold as the only pair that scored three times above 70%. The 21-year old Swedish gelding posted 70.539% in the team test (second), 70.049% in the Individual (1st) and 70.820% in the Kur to music (fourh). Elin Mattson has put her sister Marina's former youth rider's horse Beckham (by Bernstein x Koncerz) back in action. The 17-year old won the team test with 72.549%, but dropped down to fifth place in the individual with 67.255%, and climbed to third in the freestyle with 70.985% to finish in the silver medal position. Linnea Williamsson and the 13-year old Swedish stallion Tabasco (by Topaasch x Sack) scored bronze with 67.500%, 68.529% and win in the freestyle with 72.645%.
"It's been a fun weekend," said 19-year old Soderstrom who bagged her third consecutive title. "Just getting the ride Weihenstephaner is a pure profit."
Eight combinations competed in the Under 25 division, but only three did both championship rounds. The gold medal went to professional Marina Mattson on Patrik Hannell's 10-year old Hanoverian gelding Quatermain (by Quaterback x Wilawander xx) with scores of 70.983% and 74.115%. Alva Lander and the 17-year old Danish gelding Herbie Hancock Graftebjerg (by Hertug x Michellino) earned silver with 66.966% and 68.625%, while Beata Soderberg and the 14-year old Hanoverian gelding Fiorano (by Rousseau x Rotspon) ended up with bronze on 64.487% and 68.845%. Marina and Alva are in their last year as U25 rider, Beata is 23 and still has two more to go.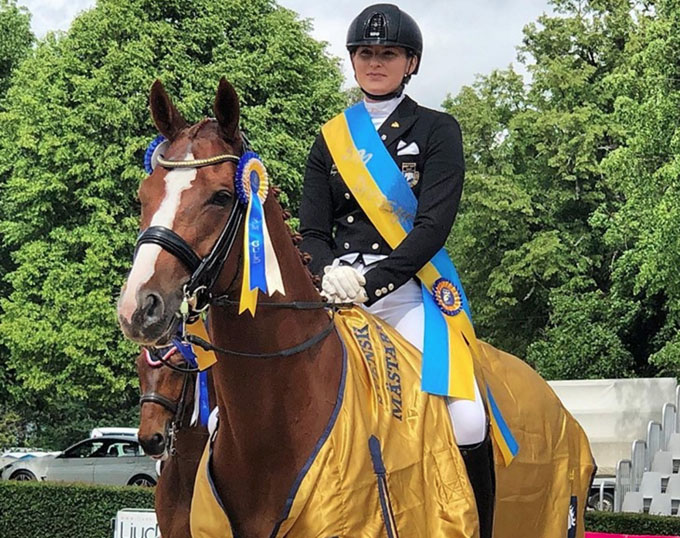 "Everything was technical," said Mattsson after winning her third, consecutive Under 25 gold and second on Quatermain. "Of course I wanted the gold, but when I entered I focused on my riding as well as possible. I went into my bubble."/p>
The senior division at this year's Swedish nationals was anemic with, aside from champion Patrik Kittel, the entire A-squad absent (Ramel sisters, Nilshagen, Mathisen, Vilhelmson) as well as the national A-squad (Haid-Bondergaard, Friberg, Sandgaard and Telde). Nonetheless 23 combinations competed in the senior division and nine of them scored a minimum of 64% in the Grand Prix to move on to the second and final championship round. Aboard the Oatley family's 13-year old Oldenburg gelding Delaunay (by Dr. Doolittle x Feinbrand), Kittel freewheeled to another national title after scoring 74.261% in the Grand Prix and 76.385% in the Special. Former Under 25 rider Denise Ljungkvist and her 12-year old Swedish mare Soega (by Sandakan x Amiral) landed silver with 67.978% and 71.490%, while Jennifer Svensson and the 12-year old Swedish stallion Sibelius (by Rosevelt x Prestige) slotted in third overall and got bronze with 68.370% and 69.155%. For Svensson it was a big first in Stromsholm. Sibelius is her first Grand Prix horse and this was her first Nationals at Grand Prix level.
"It's always so cool to come home," said Kittel. "The Swedish Championships are important to me. Now I have six national gold medals. Ulla Håkanson has twelve, so I'm half way. My horses had a good show and felt smooth."
Photos © private
Results - 2019 Swedish Dressage Championships - Stromsholm
Junior Riders
1. Felicia Olofsson -   Bellman  - 71.768 - 70.147 - 73.560 --- 215.475
2 . Felicia Bermar Vistedt -    Breezy A.S. - 71.212 - 70.196 - 72.130 --- 213.538
3. Ellen Lindén Urnes - Fairy Tale - 70.303 - 69.216 - 71.515 --- 211.034
4. Amanda Lindholm - Rozette - 70.606 - 68.725 - 70.775 --- 210.106
5. Sofia Heimburg -  Guanaja - 70.657 - 68.922 - 67.525 --- 207.104
6. Emelie Svanström - Toscham SD  - 68.384 - 66.127 - 69.900 --- 204.411
7. Tindra Holmertz -  Celine Dion - 67.475 - 67.941 - 67.075 --- 202.491
8. My Sandgren - Dirado AH - 65.000 - 66.471 - 69.580 --- 201.051
9. Nora Einerth -  Sirello - 67.424 - 65.882 - 66.385 --- 199.691
10. Ellen Hidgård - Quinello T - 65.253 - 66.225 - 67.815 --- 199.293
11. Elise Lindeblad - Don Silvio - 65.960 - 66.225 - 66.595 --- 198.780
12. Ida Persson - Tago - 66.970 - 64.510 - 66.160 --- 197.640
13. Clara Stetter -  Bartello V - 65.707 - 67.010 - 64.165 --- 196.882
14. Ellen Kåberg - Zambique - 65.152 - 65.490 - 66.120 --- 196.762
Young Riders
1. Evelina Söderström - Weihenstephaner - 70.539 - 70.049 - 70.820 --- 211.408
2. Elin Mattsson - Beckham - 72.549 - 67.255 - 70.985 --- 210.789
3. Linnéa Williamsson - Tabasco  - 67.500 - 68.529 - 72.645 --- 208.674
4. Klara Svanberg  Bon Geste - 66.225 - 68.676- 71.245 --- 206.146
5. Lo Dahlquist Mörkenstam - Welton Five - 68.431 - 67.402 - 68.145 --- 203.978
6. Filippa Norrman -  H.S Indigo - 67.598 - 67.696 - 67.625 --- 202.919
7. Hannah Rosendal -  Beau-Amor - 68.824 - 66.176 - 66.945 --- 201.945
8. Beatrice Ivarsson -  Charles - 68.039 - 65.343 - 66.825 --- 200.207
9. Elin Falk -   Don Johnson  - 64.510 - 63.0886 - 7.855 --- 195.453
10. Sofia Buskhe -    Red Starlight  - 64.363 - 64.951 - 65.760 --- 195.074
11. Lovisa Wessblad -  Adobe MB - 66.618 - 63.382 - 64.720 --- 194.720
12. Kajsa Olsson -  Pay Back TP - 66.127 - 64.412 - 63.170 --- 193.709
13. Wilma Björk - Bodjaragranta SAG - 61.912 - 65.735 - 63.910 --- 191.557
14. Lovisa Jendland -  Calisto - 64.706 - 63.480 - 62.120 --- 190.306
15. Matilda Illerfelt-  Bento D - 67.059 - 61.127 - 57.035 --- 185.221
Under 25
1. Marina Mattsson - Quartermain - 70.983 - 74.115 --- 145.098
2. Alva Lander - Herbie Hancock Graftebjerg - 66.966 - 68.625 --- 135.591
3. Beata Söderberg - Fiorano - 64.487 - 68.845 --- 133.332
4. Emelie Eklund -  Detroit - 62.137 - 0.000 --- 62.137
5. Emma Jönsson - Donizetti  - 62.051 - 0.000 --- 62.051
5. Julia Söderström - Cilantro - 62.051 - 0.000 --- 62.051
7. Emelie Aldenfalk - Winton - 60.128 - 0.000 --- 60.128
8. Alice Sederholm - Görklintgårds Rock-Hill - 59.402 - 0.000 --- 59.402
Seniors
1. Patrik Kittel -  Delaunay - 74.261 - 76.385 --- 150.646
2. Denise Ljungkvist -   Soéga - 67.978 - 71.490 --- 139.468
3. Jennifer Svensson -   Sibelius - 68.370 - 69.155 --- 137.525
4. Ida-Linn Lundholm -    Dan Brown - 67.087 - 70.305 --- 137.392
5. Johanna DueBoje -  Mazy Klövenhöj - 65.043 - 70.990 --- 136.033
6. Gunilla Byström - Vectra - 66.478 - 68.280 --- 134.758
7. Lena Wiman -    Donnerstein - 65.130 - 67.710 --- 132.840
8. Caroline Carlstedt -    Chack CC - 64.217 - 65.680 --- 129.897
9. Anna Svefors -   Rhojan - 64.109 - 63.525 --- 127.634
Related Links
Olofsson, Soderstrom, Mattsson, Kittel Win 2018 Swedish Dressage Championships
Pettersson, Bergakra Berglund, Gyllensward, Mathisen Win 2017 Swedish Dressage Championships
Isaksson, Soderstrom, Tovek, Mattsson, Kittel Win 2016 Swedish Dressage Championships
Ivarsson, Mattsson, Kittel Win 2015 Swedish Dressage Championships
Patrik Kittel Wins the 2014 Swedish Dressage Championships
Patrik Kittel Wins the 2013 Swedish Dressage Championships
Eva Ulf Wins 2012 Swedish Grand Prix Championships
Tinne Vilhelmson Wins 2011 Swedish Grand Prix Championships
Tinne Vilhelmson Wins 2009 Swedish Grand Prix Title with Favourit
Tinne Vilhelmson Captures Second Grand Prix Title at 2004 Swedish Championships
Marina Mattsson Wins 2014 Swedish Young Riders Championships