2019 German Professional Dressage Riders Championship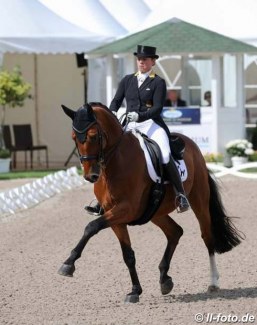 Isabell Werth made sure she wouldn't go home without a gold medal from the 2019 German Dressage Championships in Balve, Germany, on 14 - 16 June 2019. After losing gold by going off course with Bella Rose in the Grand Prix Special, Werth rectified the matter in the freestyle and earned gold on Emilio. 
The German Championships are ridden over three rounds, but only in two medals can be won. The Grand Prix serves as a warm-up class but the first set of medals on a technical level are decided in the Grand Prix Special, while a set of medals for artistic riding are determined in the Kur to Music. 
On Sunday 16 June 2019, Werth steered Madeleine Winter-Schulze's Westfalian gelding Emilio (by Ehrenpreis x Cacir Aa) to victory in the Kur. The pair rode to brand new music, custom made Italian tunes for Emilio, and scored 88.150%. The pair had already earned silver in the Special. Werth and her second GP horse Bella Rose won the Grand Prix with 81.780%, but dropped to fourth in the Special after going off course. Werth was only eligible to ride one horse in the freestyle and opted for the younger Emilio while she spared 15-year old Bella Rose.  Riding to opera music from the 19th century, Werth presented yet another easily accessible, rather unorginal but always fun sounding freestyle arranged by Michael Erdmann. Tunes of Nessun Dorma, Funiculi Funicula, La Donna é Mobile brought Isabell Werth her 15th national title.
After earning bronze in the Special, Jessica von Bredow-Werndl added a freestyle silver medal to her collection by finishing second in the Kur with Beatrice Burchler-Keller's Trakehner mare Dalera BB (by Easy Game x Handryk). They scored 85.600% with their LaLa Land music.
Helen Langehanenberg and Louise Leatherdale's Hanoverian stallion Damsey (by Dressage Royal x Ritual) scored the bronze on an 84.275% earning freestyle that features Irish-Celtic tunes.
The winner of the Grand Prix Special, Dorothee Schneider decided to spare her gold medal winning top horse Showtime (by Sandro Hit x Rotspon) from the freestyle and saddled Matthias Herbert's Sammy Davis Jr (by San Remo x Wenckstern) for the Kur. They were fourth with 81.950%.
Photo © LL-foto
Related Links
Scores: 2019 German Dressage Championships
Dorothee Schneider Puts on a Show and Wins Gold at 2019 German Championships
Cosmo Withdrawn, Bella Rose Returns at 2019 German Dressage Championships