The Netherlands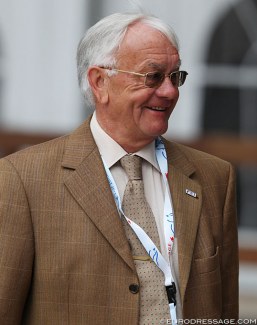 Retired international dressage judge Jan Peeters has passed away in his home in Weert, The Netherlands, after a short period of illness. He was 81 years old
Peeters dedicated his entire life to dressage sport as a highly versatile official: he was a judge, a JSP member, a coach, a chef d'equipe and a team trainer.
He started out as an instructor, but quickly grew an interest in being a dressage judge. He became a driving force in the development of a Dutch judges' training program, also for freestyle judging, and he designed many national new dressage tests.  In 2016 he even provided vocal commentary for the App of the KNHS Dressage Book. 
He achieved 5* status and officiated at two Olympic Games: Atlanta (1996) and Sydney (2000). 
In 2009 he retired as judge because of the age limit and was decorated with a special pin in gold by the Dutch Equestrian Federation, but Peeters continued to play an active role in international dressage sport. He became member of the FEI Judges Supervisory Panel in 2011 and served at the 2012 Olympic Games in London. 
Peeters served as chef d'equipe and team trainer for the Dutch youth teams until 2006 (succeeded by Tineke Bartels) and briefly served as Grand Prix team chef d'equipe in 2002.  In 2003 Peeters was behind the initiative of an Under 25 division (Rabo Future Test) in The Netherlands.
Between 2011 and 2013 he coached his grand child Jelle Peeters at international FEI Pony level. Peeters and Den Ostriks Dailan competed for Holland at the 2012 European Pony Championships in Fontainebleau. 
In 2018 Peeters decided to also quit judging at a national level with the 2018 Dutch Championships in Ermelo being his last show. At that event, Peeters received the Wim Ermes Memorial Trophy for his lifetime achievements. 
Jan Peeters leaves behind his wife Ald, a son and daughter and his grandchildren. 
Photo © Astrid Appels
Related Links
Eurodressage Photo Database: Jan Peeters
Jan Peeters, Recipient of 2018 Wim Ernes Memorial Trophy
Jan Peeters Invited to Join Judging Supervisory Panel
Tineke Bartels to Succeed Jan Peeters as Dutch Chef d'Equipe
Jan Peeters Launches Dutch Version of German Piaff Forderpreis