2019 U.S. Dressage Championships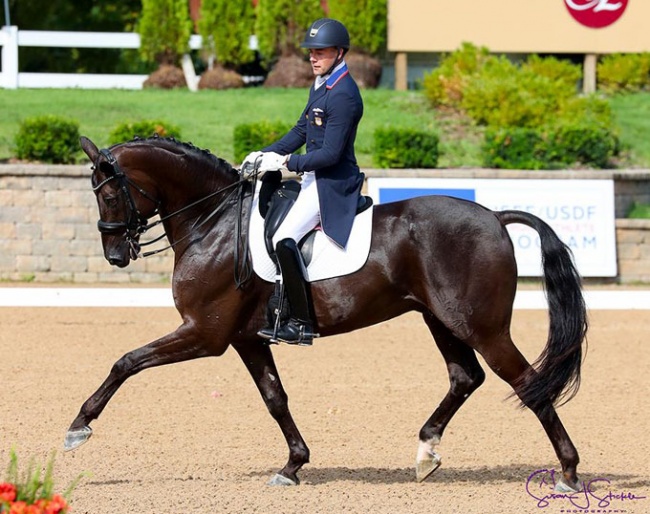 The 2019 U.S. Dressage Championships began Wednesday 21 August 2019 at the Lamplight Equestrian Center in Wayne, ILLL. Combinations from three divisions headed down centerline for the first test of their respective divisions. Early leaders are Endel Ots in the small tour, Kayla Kadlubek in the Young Riders division and Claire Manhard in the Under 25 category.
Ots Leads in Small Tour
Endel Ots (Wellington, Fla.) and Lucky Strike took the early lead in the USEF Intermediaire I Dressage National Championship following the FEI Prix St. Georges Test. He and the nine-year-old Hanoverian gelding owned by Max Ots earned a score of 74.500 percent.
"The trot work was a really good highlight, and the canter pirouettes were really quite exceptional for him today, said Ots. "It was a nice feeling, and I was just really happy with my horse."
Sara Hassler (Chesapeake, Md.) and Harmony's Boitano, Leslie Malone's 13-year-old KWPN gelding, placed second with a score of 71.206 percent, while Kristina Harrison (Burbank, Calif.) and Finley, her nine-year-old gelding, rounded out the top three with a score of 70.294 percent.
The Prix St. Georges Test counts 40 percent towards their overall score. They will complete the Intermediate I Test on Thursday, which will count 45 percent. The division will conclude on Saturday with the Intermediate I Freestyle Test, counting 15 percent.
Young Rider Kadlubek Sets the Tone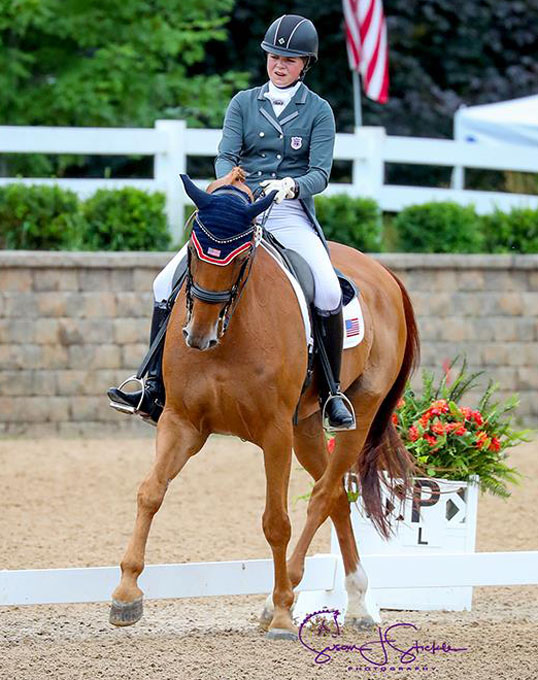 Kayla Kadlubek (Fairfax Station, Va.) continued her success from the North American Youth Championships by taking the lead in the Young Rider Championship. She and Perfect Step, her 18-year-old Hanoverian gelding, earned a score of 70.196 percent in the Young Rider Team Test. 
"We put in a nice, clean test, which I am very happy about. The changes are a little hit-and-miss sometimes, so I'm really happy I got them today," said Kadlubek, who is a member of the Discover Dressage USEF/USDF Emerging Athlete Program with Perfect Step. "They were clean and uphill … I would like to add a little more power and energy, but I'm really happy with his performance today."
"I'm feeling the pressure a little bit coming off doing so well at [NAYC], but it is good learning experience. It's nice to know I can achieve those scores, [but I want ] to keep striving for more," she added.
Quinn Iverson (Wellington, Fla.) and Black Diamond CL, Billie Davidson's 13-year-old KWPN gelding, followed in second with a 69.951 percent. Bianca Schmidt (Edina, Minn.) and Lou Heart, Eliana Schmidt's 15-year-old Hanoverian gelding, placed third with a score of 68.676 percent.
"I was so incredibly happy with him. He let me ride him, which is a big thing for us. With all of our traveling, he came off [the trailer] ready to go. It took us a second to get our feet under ourselves, but once we were there, I was very happy with him," said Quinn. 
The Young Rider Team Test counts 50 percent towards their overall score. The division championship will be decided after completing the Young Rider Individual Test, which counts for the remaining 50 percent, on Friday.
Manhard Leads Under 25 Division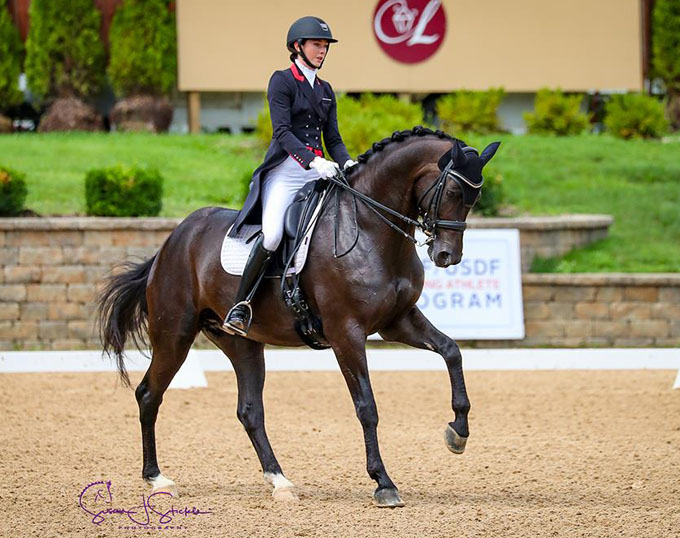 Claire Manhard (Cardiff, Calif.) and Wilfonia lead the Under 25 Championship. Manhard and her 16-year-old KWPN mare had a forward, fluid performance in the Intermediate II Test to earn a score of 68.912 percent. Their partnership has developed since it began in 2016, and they presented a lovely picture in their test.
"I think everything – the connection, self-carriage, her energy – was super. [Wilfonia] was coming and collecting in all the corners. She is usually super strong and powerful, so I focus a lot on keeping her together and collecting and making sure that she is balanced," Manhard explained. "This was definitely the best beginning of the test that I have had. The piaffe and passage were really good. Today, we have the meter forward, so I let the piaffes move a little bit, and I was able to keep her active and moving really well behind, so I think we got good scores from that. The passage was super animated and lofty, so that was great. And then the walk, usually, she gets a little tense and nervous in this environment, but I felt like her medium walk was really nice and relaxed."
Anna Buffini (San Diego, Calif.) and Wilton II, her 16-year-old KWPN gelding, had a smooth test to collect second-place honors with a score of 68.738 percent. Kerrigan Gluch (Wellington, Fla.) and Vaquero HGF, Hampton Green Farm's 12-year-old Andalusian stallion, had an exciting test as the horse gains experience at the level, tallying a score of 68.706 percent.
Wednesday's Intermediate II Test counts for 40 percent of the overall score for the Championship. Thursday's Short Grand Prix counts for 45 percent and the championship concludes with Saturday's Grand PrixFreestyle, which counts for 15 percent of the overall score.
Photos © Sue Stickle
Related Links
Endel Ots and Lucky Strike Arrive at 2019 US Festival of Champions Ranked # 1 in Small Tour
Cesar Parra and GK Don Cesar Head to the U.S. Developing Horse Championships # 1 In the Rankings