2019 U.S. Dressage Championships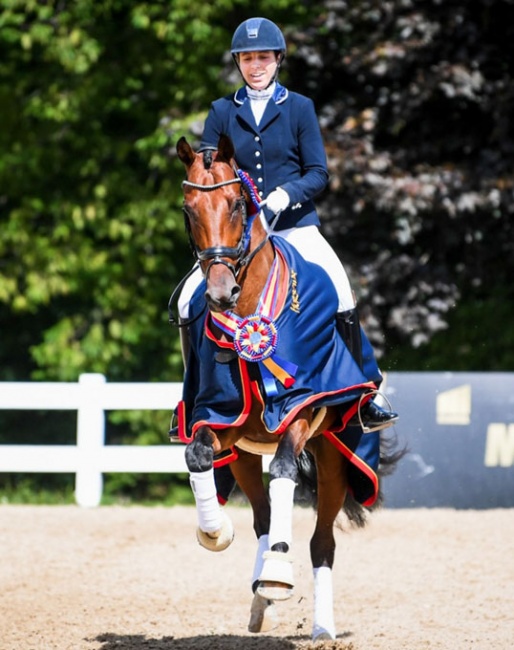 The 4-year old Sonnenberg's Kain, the 5-year old Sole Mio, and the 6-year old SenSation HW earned the titles in the young horse  classes at the 2019 U.S. Dressage Championships in Wayne, ILL, on 20 - 25 August 2019. 
Sonnenberg's Kain is the 4-year old Champion
Michele Bondy (Wilsonville, Ore.) kept her lead following the Four-Year-Old Test to earn the U.S. Four-Year-Old Dressage Championship. She and Sonnenberg's Kain (by El Capone out of Girona T), Sonnenberg Farm LLC's KWPN gelding, earned a score of 8.34 for an overall score of 8.38.
"When we got him in November [from Holland]. The goal was to do [the] four-year-old [division], but getting him there, going to the qualifiers, and to actually be here is just a huge a thing," said Bondy. "It takes so much time and effort… and the horse has to be ready, too, but he has suppressed every single expectation I have had to bring him here. He has been really good, kind hearted, and fun. It's a three day trip from Oregon, so he's been a super star."
Alice Tarjan (Oldwick, N.J.) and Summersby II (by Sezuan out of Summer Night), her Oldenburg mare, earned reserve title honors with an overall score of 8.18.
"I bought this horse as a foal," said Tarjan. "She is a very beautiful horse. She's fun; she's giant. It's been fun bringing her along, and it's been relatively easy. She can be a little hot and spooky sometimes, but she's really not that bad. She has been super behaved all week so I'm really pleased with that."
Jackie Ahl-Eckhaus (San Luis Obispo, Calif.) and Kitalis MVS (by Vitalis out of Ember MVS), her KWPN gelding, placed third with an overall score of 8.07. In addition, Ahl-Eckhaus, who bred Kitalis MVS, was presented with the division's Highest Placed U.S. Bred Horse award.
"I'm excited about this horse every day that I ride him because he has such a good brain," said Jackie. "He tries hard. As he gets stronger, everything gets better. He was really listening, and he didn't look around. I really like all his gaits… and the highlight for me just being here.
Sole Mio Takes 5-year old Champion's Title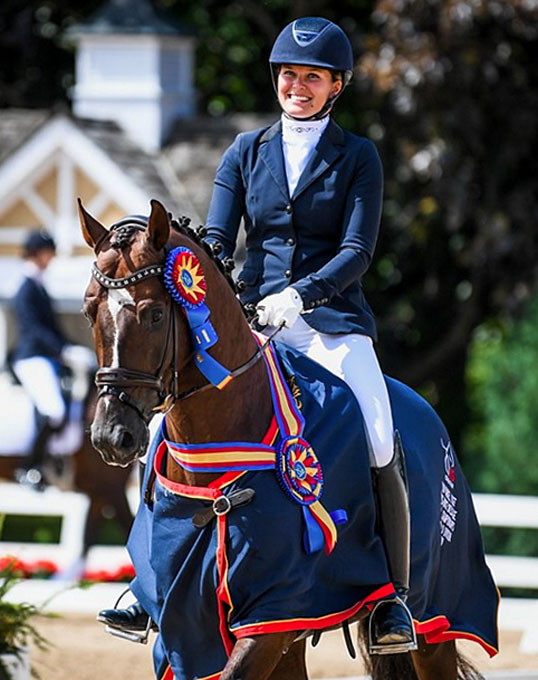 A perfect 10 trot score in the Five-Year-Old Final Test helped solidify the U.S. Five-Year-Old National Championship for Emily Miles (Paola, Kan.) and Sole Mio (by Stanford x Donnerschwee). She and the Hanoverian stallion owned by Leslie Waterman earned a score of 9.16 for a final score of 9.05. Miles and Sole Mio won the Four-Year-Old title in 2018.
"You can't understand how awesome I think [Sole Mio] is. I just want everybody else to know how awesome I think he is, too! I am blessed to ride him. Last year, the [judges said] his trot was brilliant, but the canter still looked like a four-year-old canter. And for him to come out this year, and, yesterday, actually get a higher canter score than a trot score … that's where I think he's improved the most, is building the strength to really hold all that canter work."
Rebecca Rigdon (Cardiff By The Sea, Calif.) and Jagger (by Apache out of Volumia), Ad Astra Collective's KWPN gelding, earned the reserve title with an overall score of 8.35. 
"I truly think he was meant to be a Grand Prix horse and that's the whole reason that I got him," said Rigdon about the future of her horse. "He is... the way he's built, so uphill. He has three correct gaits. He might not be the best raw mover out of the starting gate, but he's so trainable that I think that is more important than anything is. Absolutely, I think he's going to be a really special horse for the future, for sure."
Merita Hagren (Whitehouse Station, N.J.) and Jida Selly A (by Zardando out of Dyselly A), Cesar Parra's KWPN mare, placed third with an overall score of 8.13.
"I'm here only the second time ever," said the Finnish Hagren. "I've been working with Cesar Parra at Performance Farms for five years now, so this is very new for me still. I'm just so grateful that he gave me the chance with this young five-year-old horse. She's amazing. I just love her. She's such a sweet thing … just love to ride him."
Nadine Schwartsman (Eagle, Idaho), riding her own KWPN stallion Jhocolate R (Freestyle x Cleopatra), bred by Michael Seaver, was presented with the division's highest placed U.S. Bred Horse award.
SenSation HW wins 6-year old Division
Michael Bragdell (Colora, Md.) and SenSation HW (by Sunday out of Donata) continued their winning trend at the U.S. Dressage Festival of Champions, claiming the U.S. Young Horse Six-Year Old Championship. He and the Westphalian gelding owned by Carol McPhee earned a score of 8.78 in the Six-Year-Old Final Test for an overall score of 8.69.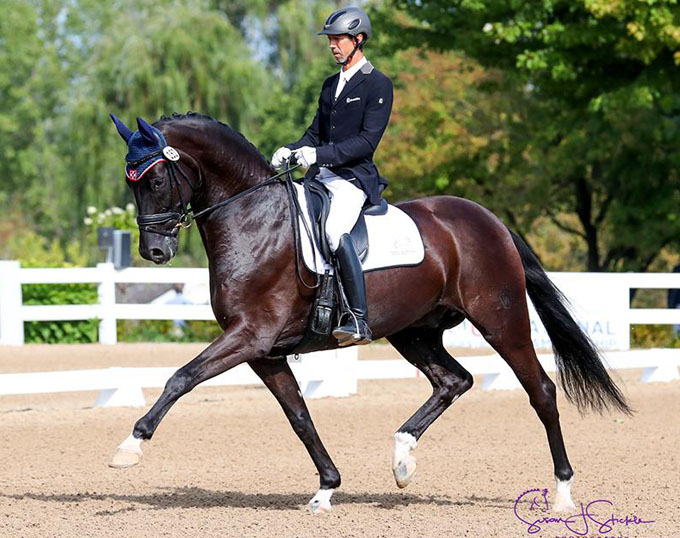 "[This feels] fantastic! It's wonderful, and it's always a treat to come here. The facility, staff, volunteers … it's always put together so nicely. Just to get here, I think it's a big thing, no matter what division you're in," said an elated Bragdell, who won the 2018 U.S. Five-Year-Old Championship with SenSation HW. "It's always a little more pressure if you won the year before, and of course you want to be able to stay on top, but I think … you have to roll with the punches and make the judgment call to see where you're at and if you're ready to be here."
Bragdell continued:  "He ended up being able to [compete] here as a four-year-old. Ever since then, he's really come into the system and really progressed nicely. He's a wonderful horse to have in the barn. I feel very fortunate that Carol [McPhee] has him with me and lets me do what I can do with him and is so supportive."
Defending Five-Year-Old Reserve Champions Alice Tarjan (Oldwick, N.J.) and Fairouz (by Franziskus out of Diva), her Oldenburg mare, earned the six-year-old reserve championship with an overall score of 8.38.
"I'm really happy with how she did. She's been second every year, so she's very consistent," said Alice. "I didn't think she was quite ready … [but we wanted to] get some experience, so I'm thrilled with how we ended up."
Melissa Fladland (Griswold, Iowa) and I'm All In (by Jazz out of Tavita), the KWPN gelding she owns with Caphri Dressage, placed third with a score of 8.34.
"We had him a year now last October, and we spent that year training and working with Katherine [Bateson-Chandler], and then over the summer with Jennifer Baumert trying to get him strong, ready, and reliable," said Fladland. "This was not something we were shooting for; we were really working towards the FEI levels, and he just kept getting better and better, and we just kept going and what do you know? 'We're here'. He's been super. He never quits, and he keeps going. He just keeps adding more and more each time I ride him."
Caitlin Hamar (Hanford, Calif.) was presented with the highest placed U.S. Bred Horse award for Ion SWF, bred by Mary Nuttall.
Photos © Andrea Evans/USEF - Sue Stickle
Related Links
Sole Mio, SenSation HW, Lucky Strike Take First Titles at 2018 U.S. Young Horse Championships
Ravenna and Fashion Designer OLD Win Titles at 2017 U.S. Young & Developing Horse Championships
Serenade MF, Darius, Frankie Win 2017 U.S. Young & Developing Horse Championship
Habanero CWS, Desario, Horizon Win Title at 2016 U.S. Young & Developing Horse Championships
Tiko, Rosalut NHF, Folkestone Take First National Titles at 2015 U.S. Young Horse Championships
Rosalut NHF, Emilion SA, Donatus Win 2014 U.S. Young and Developing Horse Championships
Rebellienne, Fashion Designer, Vitalis Win 2013 U.S. Young Dressage Horse Championships
Bragdell and Hemmingway Win 4-Year Old Division at 2012 U.S. Young Horse Championships
Tarjan and Somer Hit Win 6-year old Division at 2012 U.S. Young Horse Championships
Schueler and Regalo Win 5-year old Division at 2012 U.S. Young Horse Championship
Tarjan and Somer Hit Win 6-year old Division at 2012 U.S. Young Horse Championships
Schueler and Regalo Win 5-year old Division at 2012 U.S. Young Horse Championship
Furst Fiorano and Donna Tella Win Big at 2011 U.S. Young Dressage Horse Championship
Bragdell and Hemmingway Win 4-Year Old Division at 2012 U.S. Young Horse Championships
Aesthete, Selten HW, Pikko del Cerro Win 2009 U.S. Young Horse Championships
Selten HW, Winsor and Cabana Boy Win 2008 U.S. Young Horse Championships
Cabana Boy and Grandioso are 2007 Markel U.S Young Horse Dressage Champions
Currency DC and Sir Sinclair Win at 2005 USEF/Markel Young Horse Dressage National Championships
Royal Prince and Revolution win 2004 American Young Horse Championships