KWPN Foal Auctions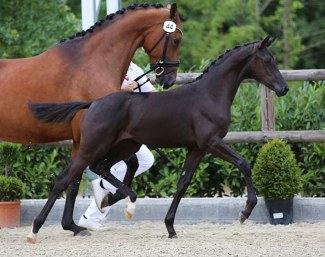 Only Diamond (by Daily Diamond x Dream Boy x Dayano) was the top selling foal at the 2019 SELL Foal Auction at Heijligers equestrian centre in Asten, The Netherlands.
He sold for 16,000 euro to Dubai. 
The majority of the foals at this auction sold for prices between 4,000 and 6,000 euro and several were not sold at all.
The second most expensive foal was Oxford Utopia (by Fontaine x Sorento), who fetched 15,000 euro. 
Oerolinus (by Just Wimphof x Zhivago) and One-Time Daula (by Toto Jr x Florencio) both sold for 14,000 euro.  Ovieta Corieta Texel (by Toto Jr x Jazz) switched owners for 11,000 euro
Ox-Bridge (by In Style x Connaisseur) sold to horse dealer Egbert Schep for 10,000 euro. 
The best selling jumper foal was Claim The Fame (by Comme Il Faut x Cassini II), which sold for 11,000 euro. 
Seventy-six foals were auctioned and the average price was 5,377 euro. 
Best seller Only Diamond is bred by the auction organizer Anton van Limpt, who commented to De Hoefslag that "we saw the turnover decrease at previous auctions in The Netherlands. I have been behind the scenes and spoken to many breeders. Most weren't even disappointed. Maybe the breeders have more sense of reality than we think. They say, 'It's not a good year and we're happy what we got'. We expect to hear a lot of the foals, because the majority sold to professional stables where they get all the chances."