2019 Austrian Dressage Championships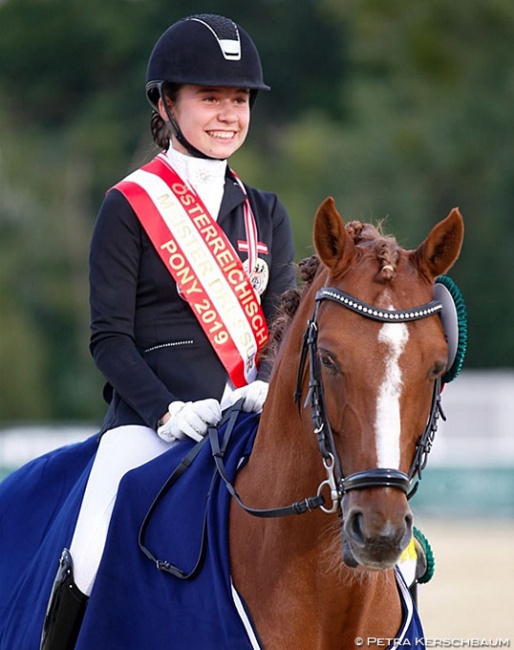 Pony rider Felicita Simoncic, children rider Oskar Ochsenhofer, junior rider Helene Grabenwöger, young rider Nicola Ahorner, Under 25 rider Diana Porsche and senior Grand Prix rider Florian Bacher became the winners of the 2019 Austrian Dressage Championships held at Magna Racino in Ebreichsdorf, Austria, on 19 - 22 September 2019. 
Eight combinations competed in the pony division and Felicita Simoncic took the national title aboard her 15-year old German riding pony Chantre (by Champion de Luxe) after winning both rounds. She scored 72.650% and 71.585% to total a winning 144.235 points. following in the distance was Florentina Jöbstl aboard the 16-year old experienced team pony Cinderella M (by Constantin) with 141.892 points. She placed second in the first round (71.282%) and third in the second round (70.610%). The bronze medal went to sister Fanny Jöbstl on the 15-year old Rhinelander mare Dynasty (by Deinhard B), who was previously competed by Sanneke Rothenberger, Antoinette te Riele, Erin Williams, Nicola Ahorner, and Claire Benedict.  Fanny scored 70.769 and 70.894% to finish third overall with 141.663 points. 
Eleven children rider came to Ebreichsdorf and it was Oskar Ochsenhofer and the 13-year old Hanoverian mare Sanibel (by Samarant) that took highest honour with 143.965 points, after winning the first round with 73.000% and tying in first place in the second round with 70.965% It was Oskar's second, consecutive Austrian Children's Champion title. Pony rider Felicita Simoncic brought her second pony, Boogie de l'Aube (by Don't Worry), to Ebreichsdorf and competing the 12-year old in the children's division to collect a silver medal with 139.632 points. They scored 68.667% and 70.965%. The bronze went to Katja Lembacher on the 16-year old pony Night Dream (by Heidbergs Nancho Nova) who finished on 137.592 points after posting 68.952% and 68.640%.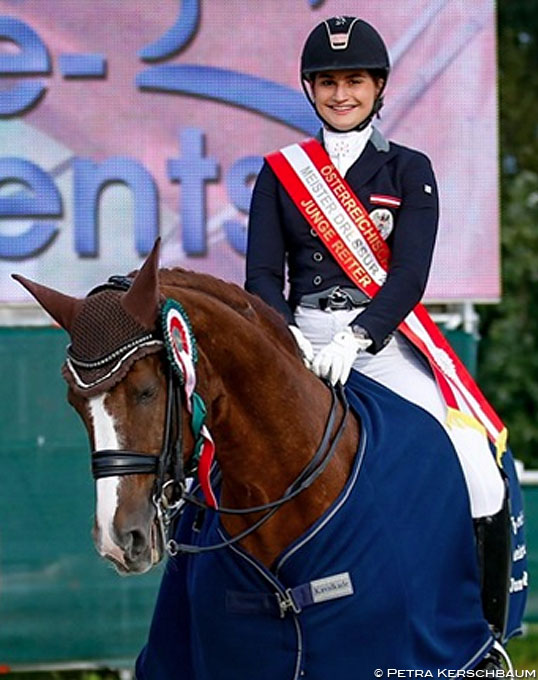 In the junior division Helene Grabenwöger bested a field of 12 for the national title. Aboard her 11-year old Hanoverian gelding Der Fuchs (by De Niro) she reigned in the first round with 72.297% but was second in the second round with 71.009%. Her total of 143.306 points sufficed for the gold medal. Felix Artner and the 14-year old Westfalian Santino (by Sir Donnerhall) were on their heels but ended up with silver on 142.482 points. He was second in the first round (70.991%) and won the second round with 71.491%. The bronze medal went to Pia Stallmeister on the 17-year old pony Maximus (by Horsegate Minstrel x Capitol I) on 138.274 points. He posted 67.748% and 70.526. 
Nine young riders battled it out but it was seasoned competitor Nicola Ahorner on the 15-year old Oldenburg bred Rhapsodie (by Rubin Royal) who dominated the field with 142.456 points. She scored 70.965% and 71.491% for the gold medal. Jessica Schreder and the 12-year old Hanoverian Red Amber (by Royal Blend) were good for silver with 70.175% and 70.044% (140.219 points), while Daria Hohenwarter and the 14-year old DSP gelding Lehmann (by Lord Romantic) got bronze on 134.254 points with 65.921% and 68.333%.
Austria had four Under 25 riders in the young Grand Prix riders division and Diana Porsche and her 16-year old Oldenburg Di Sandro (by De Niro) topped the board with 143.508 points after posting two winning scores of 71.105% and 72.403%. Katharina Haas and the 16-year old Oldenburg Saint Tropez (by Sandri Hit) followed in the distance with 135.512 points after earning 69.000% and 66.512%. The bronze medal went to Oliver Valenta on the 12-year old Oldenburg Fantast (by Faustinus) with 133.656 points (67.842%, 65.814%).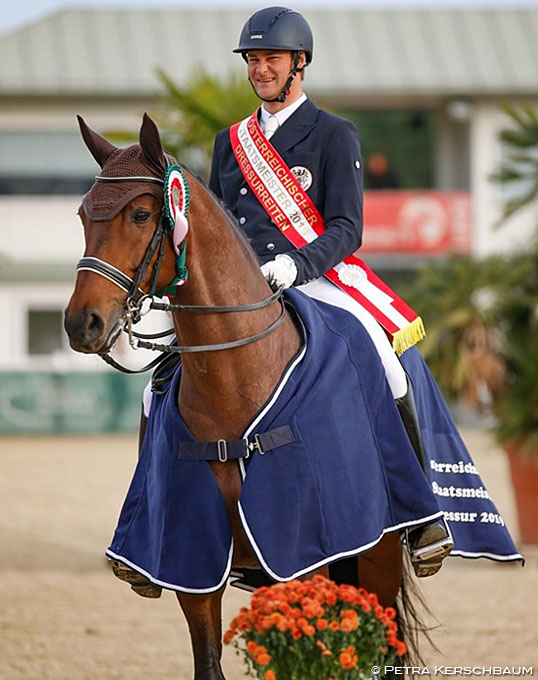 In the senior Grand Prix division, a new champion came to the fore: 34-year old Florian Bacher, who is a former rider at the Spanish Riding School in Vienna. Making his debut at the National Championships with the 10-year old Oldenburg Fidertraum (by Fidertanz), Bacher outclassed Austria's seasoned competitors and took the national title with a total of 149.160 points. He won the first round on 72.660% and scored 76.500% in the Kur to edge out the triple Austrian Champion Belinda Weinbauer. She has not been campaigning her top horse Sohnlein Brilliant in 2019 after winning the title in 2016, 2017 and 2018. With the 13-year old Westfalian mare Fraulein Auguste MJ (by Florencio) she finished in the silver medal position on 148.060 points with a 71.660% and 76.400%. Surprise medalist was Franziska Fries with the 14-year old KWPN gelding Atomic (by Florencio). She scored bronze on 142.500 points with 68.500% and 74.000%. Austria's 14-time National Grand Prix champion Victoria Max-Theurer did not compete in Ebreichsdorf.
"I didn't have a freestyle, so I borrowed the European Championship freestyle of my friend Carl Hester," said Bacher after winning the title. "Unfortunately I only got the music on Wednesday and didn't have time to practice it all."
Photos © Petra Kerschbaum
Results - 2019 Austrian Dressage Championships - Ebreichsdorf
Pony Riders
1. Chantre - Simoncic Felicita - 72,650 - 71,585 --- 144,235
2. Cinderella M - Jöbstl Florentina - 71,282 - 70,610 --- 141,892
3. Dynasty  - Jöbstl Fanny - 70,769 - 70,894 --- 141,663
4. Chapeau - Lembacher Katja - 69,829 - 69,024 --- l 138,853
5. Antares  - Gebhard Corinna - 68,889 - 67,805 --- 136,694
6. Donna Noel F - Gruber Jessica -  66,453 - 66,504 --- 132,957
7. Domino Dancing  - Lahofer Clarissa - 66,026 - 66,870 --- 132,896
8. Bruintje - Neufeld Katja - 63,462 - 64,878 ---  128,340 
Children
1. Sanibel - Ochsenhofer Oskar - 73,000 - 70,965 --- 143,965
2. Boogie De L'Aube - Simoncic Felicita - 68,667 - 70,965 ---  139,632
3. Night Dream  - Lembacher Katja -  68,952 - 68,640 --- 137,592
4. Brighton  - Gebhard Corinna -  68,667 - 67,632 --- 136,299
5. Fidelio Royal - Hammerschmid Sophie - 67,381 - 67,456 --- 134,837
6. Dom P'erignon K - Leitner Maya -  66,762 - 67,763 --- 134,525
7. Sunlight  - Schalk Sophie -  66,190 - 67,939 ---  134,129
8. Avatar - Abfalterer Lena - 67,381 - 64,737 --- 132,118
9. Lorenzo - Natmeßnig Alexandra - 66,714 - 65,044 --- 131,758
10. Legendario Arenosas - Walter Livia -  64,476 - 64,912 ---  129,388
11. Quarter to twelve - Steininger Sophie -  63,714 - 63,728 --- 127,442 
Junior Riders
1. Der Fuchs  - Grabenwöger Helene -  72,297 -  71,009 --- 143,306
2. Sisley Santino - Artner Felix - 70,991 -  71,491 --- 142,482
3. Maximus - Stallmeister Pia( - 67,748 - 70,526 --- 138,274
4. Dunkelbunt - Jöbstl Paul - 69,550 - 67,895 --- 137,445
5. Red Diamond B- Messner Lilly -  68,559 - 66,535 --- 135,094
6. Queenlike - Moser Lucia - 66,802 -  66,754 --- 133,556
7. Woodstock B - Bednar Hanna - 68,288 -  64,956 --- 133,244
8. Larifari 2- Erbstein Elena -  65,090 -  68,026 --- l 133,116
9. Boolya PB - Spranz Fiona -  66,532 - 64,123 --- 130,655
10. Sansita EM - Schwarzlmüller Anna-Katharina -  65,676 - 64,649 --- 130,325 
11. Villeroy - Reichart Theresa - 62,703 -  65,921 --- 128,624
12. Laureen  -  Fadrany Katharina - 65,045 - 60,307 ---  125,352 
Young Riders Riders
1. Rhapsodie - Ahorner Nicola - 70,965 - 71,491 --- 142,456
2. Red Amber - Schreder Jessica - 70,175 - 70,044 --- 140,219
3. Lehmann - Hohenwarter Daria( - 65,921 - 68,333 --- 134,254
4. Der Romantike - Francz Sophie Marlene - 66,798 - 66,711 --- 133,509
5. Fasten Seat Belt - Artner Florian - 67,105 -  64,561 --- 131,666
6. Riviero B - Wratschgo Lena -  67,500 -  62,982 --- 130,482
7. Juno JF - Frick Jonas -  65,746 - 64,298 --- 130,044
8. Bonfire L - Scheibelhofer Laura - 65,614 -  63,377 --- 128,991
9. Fürst Fidermann - Steinbach Lysan -  64,167 - 63,246 --- 127,413 
Under 25 Riders
1. Di Sandro OLD - Porsche Diana - 71,105 - 72,403 --- 143,508
2. Saint Tropez OLD - Haas Katharina - 69,000 -  66,512 ---135,512
3. Fantast - Valenta Oliver - 67,842 -  65,814 ---133,656
4. Wocelli - Pucher Julia - 66,289 -  63,837 --- 130,126 
Grand Prix Riders
1. Fidertraum  - Bacher Florian -  72,660 -  76,500 --- 149,160
2. Fraeulein Auguste MJ - Weinbauer Belinda - 71,660 -  76,400 --- 148,060
3. Atomic - Fries Franziska - 68,500 -  74,000 --- 142,500
4. Delilah Royal - Haim-Swarovski Evelyn -  65,140 -  69,175 --- 134,315
5. Junimond - Gabriel Pia -  66,300 -  67,450 --- 133,750
6. Latinum  - Ryall Nina -  65,320 -  66,250 --- 131,570
7. Sparkling Fizz - Wessely-Trupp Anja Luise - 64,680 -  66,700 --- 131,380
8. Diego - Valenta Karoline -  68,440 - Ret --- 68,440 
Related Links
Stallmeister, Ochsenhofer, Wurzinger, Pengg, Valenta, Weinbauer Win 2018 Austrian Dressage Championships
Hohenwarter, Thonhauser, Wurzinger, Porsche, Gmoser, Valenta, Weinbauer Win 2017 Austrian Championships
Ahorner, Lorenz, Weinbauer Win 2016 Austrian Dressage Championships
Ahorner, Wurzinger, Pointinger, Max-Theurer Win 2015 Austrian Dressage Championships
Ahorner, Lorenz, Pointinger, Max-Theurer Win 2014 Austrian Dressage Championships
Max-Theurer Claims Eleventh Consecutive Title at 2013 Austrian Dressage Championships
Lorenz, Valenta, Zach, Max-Theurer Win 2012 Austrian Dressage Championships
Max-Theurer Untouched to Ninth Austrian Grand Prix Champion's Title
Max-Theurer Wields the Axe of Power at 2010 Austrian Championships
Scores: 2009 Austrian Dressage Championships
Fifth Consecutive Austrian Dressage Champion's Title for Max-Theurer
Victoria Max-Theurer, 2006 Austrian Dressage Champion