2019 French Young Pony Championships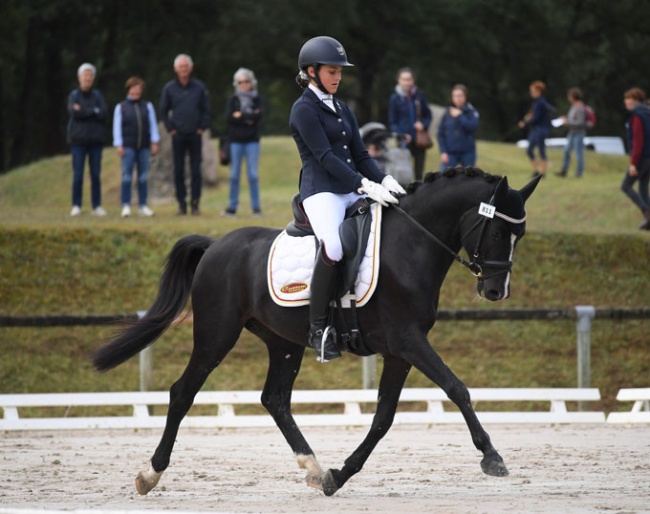 The 4-year old Follow Me Fast, the 5-year old Envoye Special du Luy, and the 6-year old Dazzling Kid d'Herbord became the winners of the 2019 French Young Pony Championships held at the national equestrian centre in Saumur, France, on 26 - 28 September 2019. 
Follow Me Fast Celebrates French Pony Dressage Sport
The 4-year old division was the biggest of the three with 15 combinations in the running for the champion sash. The final day of competition took place in the pouring rain. Cassandra Rouxel and her own French bred Follow Me Fast (by Under Cover Fast x Doppelspiel) took highest honour with an overall total of 81.200 points, after placing third in the first round with 77.80 points and winning the finals with 84.600 points. Olympian Jessica Michel-Botton steered her husband Gilles Botton's German bred Nablissimo Star (by Navignon x Van Gogh) to silver with 80.800 points. This pony was first in the first round (80.200) and second in the finals (81.400 points). The bronze went to Marie Wach aboard her own French bred Farbenfroh Fast (by Under Cover Fast x Soliman de Hus) on 79.800 points. This mare was second in the first round (78.600) and moved into third place in the finals with 81.000 points. 
Follow Me Fast is bred by Nolwenn Rouxel out of proven performance lines: sire and grand sire (Under Cover and Doppelspiel) are two former French Pony team members that competed at five European Pony Championships in total (2017/2016 and 2010/2009/2007). Dam Royal Airbone was home bred and a C-section pony on which now 14-year old Cassandra learned to ride. The dam has been sold in foal to Follow Me but the foal was retained for the farm. The young pony rider saddle broke and trained Follow Me herself with her mom on the ground. "Our goal is to do the 5 and 6-year class with Casandra and go further after that," Nolwenn commented. "Follow Me is my daughter's pony so he has to stay with us the rest of his life."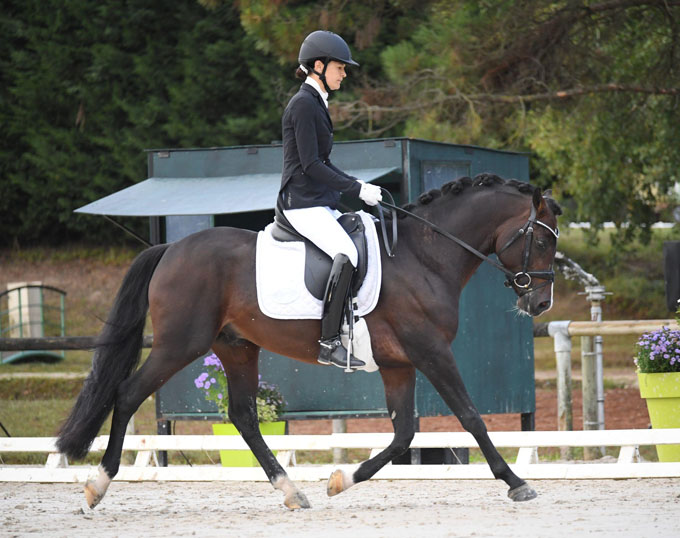 Jessica Michel with her pony's performance in Saumur. "I was pregnant when we bought Nablissimo Star. We bought him as a foal at auction in Germany based on a video, because we wanted to invest in a pony who could become my son Tom's ride. He was born a few months later and they are exactly the same age. We were attracted to his conformation because we don't know anything of pony pedigrees. He stayed in Germany to be reared and arrived in my stable in March this year. Chances are great that Tom might decide on show jumping, like his father, so we'll also prepare Nablissimo Star for some jumping, so he's ready when one day they will become a combination."
The bronze medal winning Farbenfroh Fast is out of Varum Nicht, a daughter of Royal Airbone, that produced the winner Follow Me Fast. "I bought Farbenfroh as a foal based on a photos of the birth I saw on Facebook," said Wack. "I struck straight away, it was folly. She stayed with the breeder until she was three and I picked her up a year ago." The dark bay mare will continue her training with Wack for the young pony classes and will return as a broodmare to the Fast stud farm later in life to continue as a broodmare. Marie co-owns Farbenfroh with Nolwenn Rouxel. 
Envoye Special du Luy Rises to First Place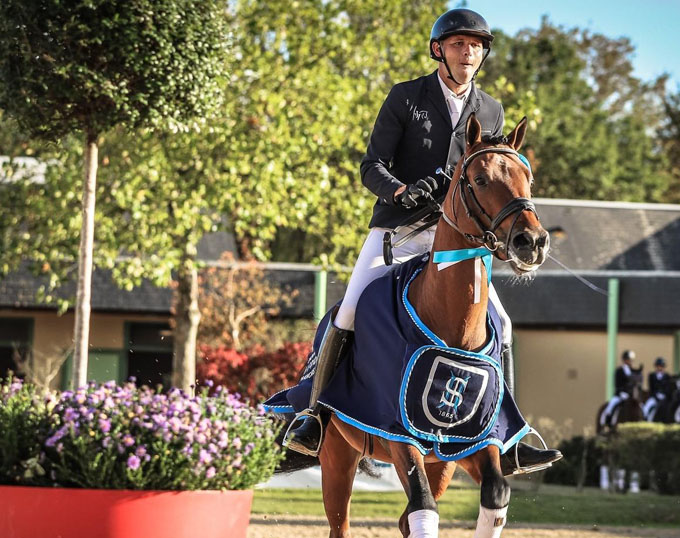 Thirteen combinations contested the 5-year old division which was won by professional Julien Vincent on the French bred stallion Envoye Special du Luy (by Quoutsou x Thunder du Blin), bred by Marie-Noel Mouroux and owned by Olivia Renard. The pony was first in the first round with 79.000 points but dropped to fourth place in the finals on 73.300 points, but it was enough to win the title with an overall of 76.150 points. Margot Frattinger and Laurence Klimpfen's 2018 French Young Pony champion Mr Miagi S (by FS Mr Right x Don William) landed second place for the silver medal this year with 73.800 (3rd) and 75.600 (2nd). This German Riding pony achieved an overall of 74.700 points. Celine Salles and the French bred Extrazia de Caux (by Agility de Caux x Ratzio d'Ihia) were third in the first round on 74.200 and won the finals with 74.600 to finish with bronze on 74.400 points. 
Envoye Special du Luy was purchased by Olivia Renard at Marie-Noël Mouroux's farm as a two month old foal. "He was so cute and was trying to take off his mother's halter. When the breeder gave me his name, I cracked up and bought him," said owner Renard about seeing Envoye Special the first time in his stall. "I didn't know his pedigree or his potential, so it was a stroke of luck." Renard has been riding and competing the pony herself, but because she fractured her knee she asked Julien Vincent to ride her bay in the Finals in Saumur.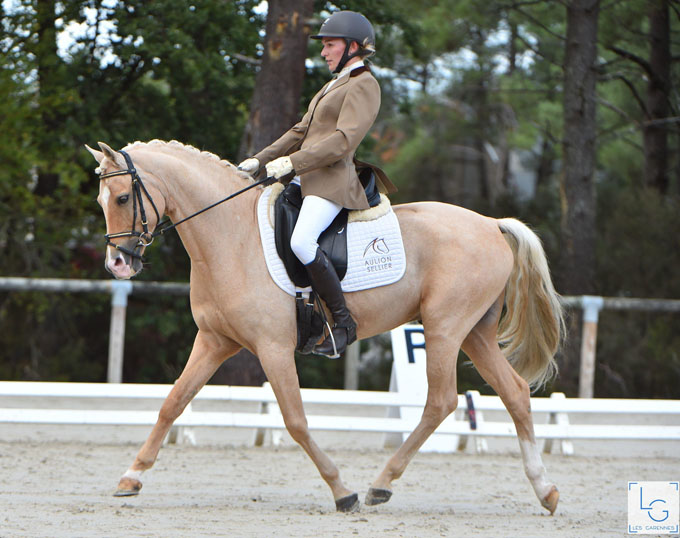 Laurence Klimpfen purchased Mr Miagi S in Germany as a 2-year old based on his papers, his quality, looks and palomino coat. Rider Margot Frattinger works as a groom at Klimpfen's Ecuries du Dashbuhl and she took on the ride with the help of in-house trainer Damien Dumoulin. "Margot always listened to him in training and gave him the necessary time to adapt which he needed. Furthermore she took him outdoors a lot, which is genius for his mindset," said Klimpfen.
The bronze medal winning piebald pony Extrazia de Caux is bred by Elise Lecouvreur in Normandy. In 2015 she decided to quit her pony breeding project and sold Extrazia to rider Céline Salles. "It wasn't easy in the beginning with Extrazia who was very small and an episode happened when she was one. She escaped from one of my employees and fled with the lunge line entangled and she jumped the fence. Since then her character changed completely and became mentally very fragile," said Lecouvreur. "Celine took care of her, took her time to get acquainted and succeeded in becoming a combination with her. Extrazia had qualities from the start but Celine is very talented and she succeeded in understanding her and made her develop."
Dazzling Kid d'Herbord Reigns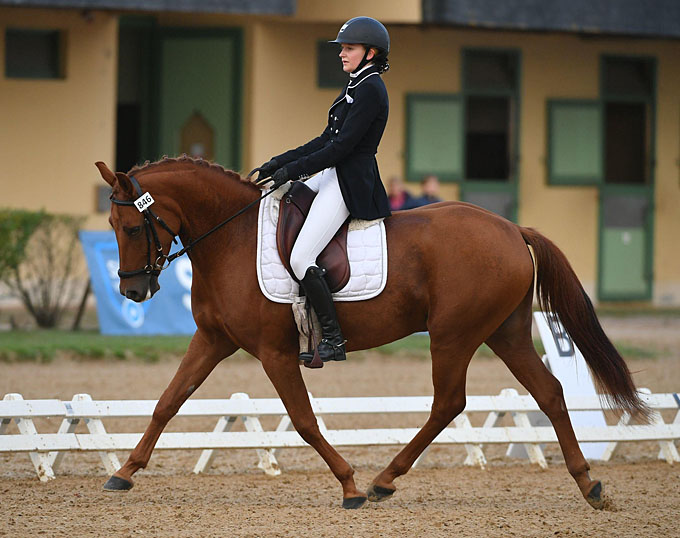 Nine pairs competed in the 6-year old division and Margaux Mader reigned supreme on the French bred, AES registered Dazzling Kid d'Herbord (by Osar la Chevalerie x Flatteur). The pony scored a winning 80.40 points in the first round and won the final round with 75.800 points to finish on a grand total of 78.100 points for the national title. The silver medal went to Charlotte Daval on the 2018 French 5-year old Pony Champion Darkonlight Tartifume (by Conteur x Dubbel LL's Swifty), owner by Bertille Volla-Pelardy and bred by Patricia Odoux. Darkonlight was third in the first round with 73.600 points, second in the finals with 75.600 and second overall with 74.600 points in the 6-year old division. Jill Sihalathavong and Dragon Ball de Mel (by Aron x Kiss me de Villee), bred and owned by Caroline Grou, scored bronze with 74.100 points. This pony earned 75.000 in the first round and 73.200 in the finals. 
Bred at Anne-Marie Chanfreau's farm Haras d'Herbord and owned by Delphine Colmant, the chestnut Dazzling Kid has already had a versatile career having competed in dressage, eventing and show jumping. The pony is in-bred on Flatteur, a cross that Chanfreau did on purpose. "Because Flatteur breeds incredibly good ponies," she said. Dazzling Kid sold as a 4-year old to Colmant.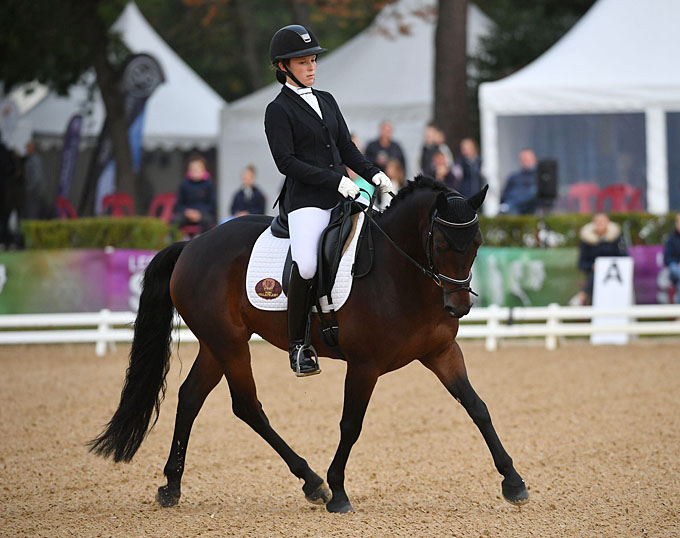 Owner Bertille Volla-Pelardy purchased Darkonlight as a foal at the French Pony Foal Championship six years ago. "We left him with the breeder, where he was started as a 3-year old and we brought him home right before the beginning of the season when he was four. That year he only did two competitions because he was so good at the first one. He is very reliable, very sympathetic and willing to work," said Pelardy. The goal is for the pony to move to Bertille's cousin , 13-year old Anna Dupuy Pelardy.
Bred and owned by Caroline Grou, the bronze medal winning gelding Dragon Ball de Mel has competed as his fourth, consecutive French Young Pony Championships. He was third as a 4-year old and second as a 5-year old. This year he devoted the season entirely to dressage. Dragon Ball is Grou's first home bred foal. "When he was born, he looked like a sea horse: super pretty but very small and he stayed that way until he was two," said Grou. "He was rejected as a breeding stallion at age three because he was considered too light. Since he started work he really bulked in muscle and it made him more harmonious." Grou revealed that the pony is now being tried by a 13-year old rider for next year's FEI pony circuit. 
Text by Astrid Appels - Quotes and Photos © Societé Hippique Française
Results - 2019 French Young Pony Championships - Saumur
4-year olds
Rider - Pony - Finals - First Round --- Total
1. Cassandra Rouxel - Follow Me Fast (by Under Cover Fast x Doppelspiel) - 84.600 - 77.800 --- 81.200
2. Jessica Michel Botton - Nablissimo Star (by Navignon x Van Gogh) - 81.400 - 80.200 --- 80.800
3. Marie Wack - Farbenfroh Fast (by Under Cover Fast x Soliman de Hus) - 81.000 - 78.600 --- 79.800
4. Fanny Orhant - Mr Savage du Hans (by D-Day x Noir de Luxe) - 79.000 - 77.600 ---- 78.300
5. Sonia Yvelin - Global Challenge du Hans (by Global Player x Dressman) - 71.200 - 77.000 --- 74.100
6. Sarah Duperrey - Folie Bergere d'Isavy (by Dionysos x Quenzo d'Azur) - 75.600 - 71.800 --- 73.700
7. Sophie Maurocordato - Forest Normand (by Emmickhoven's Diego x Karisto de l'Aumont) - 74.400 - 69.800 --- 72.100
8. Emilie Doche - Fortknox de Chatelain (by Anydale Ron x Linaro) - 74.000 - 69.800 --- 71.900
9. Celestine Delrieu - Fabuleuse du Look (by Le Look Tilia x Wildzang's Sultan) - 71.400 - 70.2000 --- 70.800
10. Fleur Weijkamp - Fortune Teller Alias (by Balou de Rouet x Welcome Sympatico S) 71.000 - 68.800 --- 69.900
5-year olds (top 10 only)
Rider - Pony - Finals - First Round --- Total
1. Julien Vincent - Envoye Special du Luy (by Qoutsou x Thunder de Blin) - 73.300 - 79.000 --- 76.150
2. Margot Frattinger - Mr Miagi S (by FS Mr Right x Don William) - 73.800 - 75.600 --- 74.700
3. Celine Salles - Extrazia de Caux (by Agility de Caux x Ratzia d'Ilhia) - 74.600 - 74.200 --- 74.400
4. Leslie Briquet - Stitch van het Bloemenhof (by Nia Domo's Bolero x Don't Worry) - 72.800 - 72.400 --- 72.600
5. Cynthia Bonzy - Ehrentusch Fast (by Under Cover Fast x Soliman de Hus) - 70.600 - 71.800 ---- 71.200
6. Emmanuelle Plee - Eadwelle d'Arengue (by Under Cover Fast x Oufkir) - 71.400 - 68.600 --- 70.000 
7. Katell Jezequel - Eol Istar (by Rockenrol Gevaudan x Helios Love de Ce) - 74.000 - 63.800 --- 68.900
8. Leslie Briquet - Smirnoff van het Bloemenhof (by ?) - 71.000 - 66.000 --- 68.500
9. Laura Pouget - Eclipse de la Selune (by Ustinov Landai x Hwylog Rhapsody) - 66.800 - 69.800 ---- 68.300
10. Romane Delachambre - En Ex Voto Bel Air (by Volupto des Bourdons x Forban Pondy) - 71.600 - 63.400 --- 67.500
6-year olds
Rider - Pony - Finals - First Round --- Total
1. Margaux Mader - Dazzling Kid d'Herbord (by Oscar la Chevalerie x Flatteur) - 75.800 - 80.400 --- 78.100
2. Charlotte Daval - Darkonlight Tartifume (by Coneut x Dubbel LL'S Swifty) - 75.600 - 73.600 ---- 74.600
3. Jill Sihalathavong - Dragon Ball de Mel (by Aron x Kiss me de Villee) - 73.200 - 75.000 ---- 74.1000
4. Joelle Pagani - Chococcino du Hans (by Champion de Luxe x Domingo) - 69.600 - 67.400 --- 68.500
5. Romain Oliviera - Divin de Thouare (by Forban Pony x Bogdan de Nautiac) - 67.600 - 69.200 ---- 68.400
6. Sophie Becart - Dollar de Bellefiole (by Ice and Fire D'Albran x Knockillaree Tomas) - 66.600 - 69.400 ---- 68.000
7. Olviia Davrinche - Cheyenne (by Champion de Luxe x Nanduc) - 66.400 - 66.800 ---- 66.600
8. Maud Poulin - Druide d'Heolan (by Cathael Caradog x Coednewydd Black Magic) - 70.600 - DNS ---- 57.800
9. Christina Haxaire - Doulia des Monts (by Safran Landai x Champion Normand) - 65.000 - DNS --- 55.700
Related Links
Mr Miagai S, Darkonlight Tartifume, Hesselteich's Domino Win 2018 French Young Pony Championships
Delyr des Bourdons, Chtromae Linaro, Beltmeyer Linaro Win 2017 French Young Pony Championships
Orchard NL, Nobless Vaness, Dirla Win 2016 French Young Pony Championships
Scores: 2004 French Young Dressage Pony Championships