Ekestrian Online Auction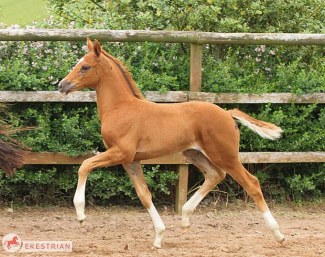 This is it!  The 2019  Ekestrian Elite Dressage Auction kicks off on 15 and 16 October 2019 and you will have only two days to bid and secure your future star!
This 100% online auction of foals, embryos and exceptional broodmares, has been handpicked together with Jessica Michel-Botton. 
The auction includes highlights such as a foal by Five Star (reserve young horse world champion) out of a full sister to Sultan des Paluds (reserve World YH Champion for 7 year olds).
Check out the full catalog here
Look no further… The best opportunities in Europe
Ekestrian scouts unique horse for you. The Ekestrian selections for the auction are 100% international. They are made continuously throughout the year to spot the best opportunities for you, before everyone else. They are done according to a rigorous process thanks to our experts: French Olympian Jessica Michel-Botton and the Ekestrian Selection Committee.
Ekestrian offers you an exceptional selection of horses based on the criteria of conformation, gaits, bloodlines, the quality of the dam line, the relevance of the crossing and the rarity of the blood.
At Ekestrian, they love their customers.
"Our primary motivation is to offer the most efficient service possible and to save time. We take care of everything," said Ekestrian representative Caroline Dufil, who is an international dressage riders herself. "Ekestrian offers its customers a 5* turnkey service, which goes from pre-sales advice from our experts, to a well-maintained after-sales service including the implementation of transport, insurance, administrative follow-up, monitoring the successful completion of your purchase."
The 2019 Ekestrian Dressage Collection
FOALS :
Filly by Finest out of  the sister of Sultan des Paluds, 7 years old Reserve World Champion under the saddle of Kirsten Brouwer.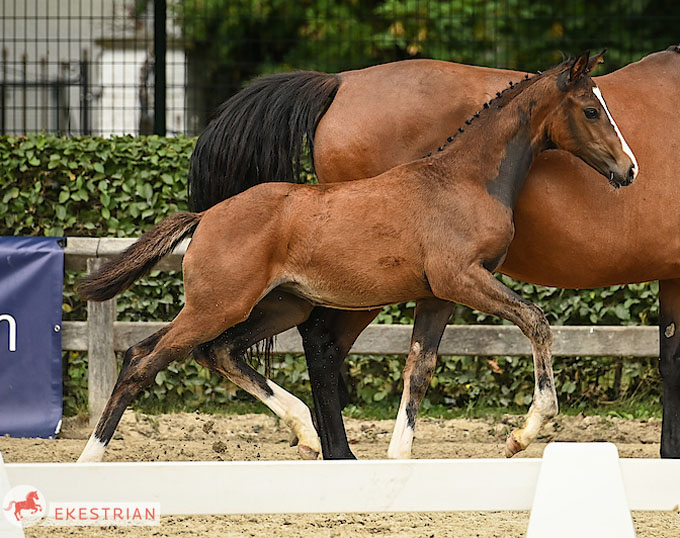 Colt by the champion Vitalis, out of a dam by Carabas, performed at Inter II
Filly by Fidertanz and out of the maternal line directly from Painted Black et Go Legend.
Filly by the promising Fuerst Samarant with the legendary stallions Sandro Hit and Donnerhall.
Filly by Secret, 5 year old Reserve World Champion in 2019, with an active sports dam by Carabas
Colt by the Grand Prix stallion Harmony's Don Noblesse with a maternal line 100% Danish.
Filly by Franklin out of the full sister of Sultan des Paluds
Colt born to win : Don Romanov out of a dam by Di Versace, damline of Grand Prix performers!
Colt by Secret and Gribaldi : The generation shock for a modern gem !
Filly born of a maternal line directly from Rubin Royal OLD and Romanov, by the famous Grand Prix Olympic horse Painted Black.
Filly born of a great Dutch maternal line by Ferro combined with tomorrow's star : Glock's Toto JR
Colt by Fuerst Wilhelm out of a keur KWPN dam by Sandreo
BROODMARES IN FOAL :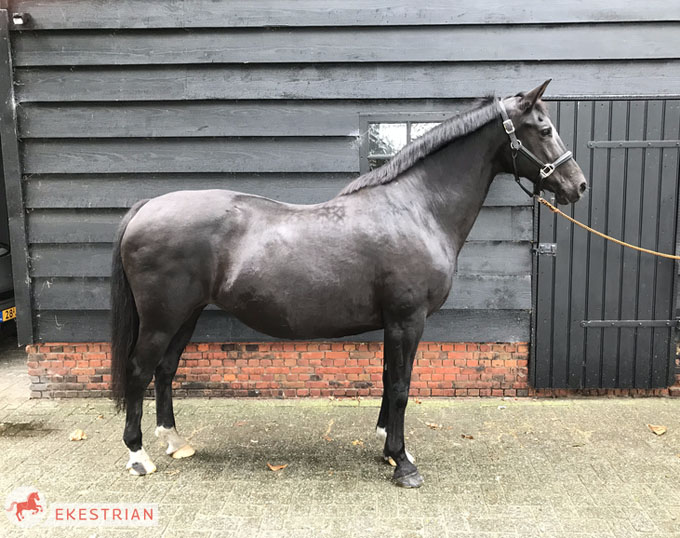 RARE OPPORTUNITY ! U-Padoeska PB,  dam of Five Star (reserve World champion of the 6 year  olds), in foal to Sezuan's Donnerhall
Broodmare by Spielberg, in foal to Ferdeaux, a champion for sure!
Broodmare sister of Sultan des Paluds by Belissimo M, in foal to Secret: a good occasion to carry on an exceptional sportive line
EMBRYOS :
Unique opportunity: an implanted embryo by Zonik (sire of 6-year old World Champion Zucchero OLD) out of the FULL sister of Glock's Johnson
Implanted embryo by Le Formidable, the KWPN Licensing Champion of 2019, out of an Elite Keur dam by Oscar
Implanted embryo by the famous Vitalis combined with a performing maternal line from Polaris
Safe Bidding, No Malice
Ekestrian is an auction house, so the entire auction service is based on the skills of an auctioneer. Whether you are a seller or buyer, the auctioneer will be your guarantee of security both from a legal point of view and in regards to the payment of the price or the delivery of the horse. Also, each lot is presented with a veterinary report.
The bank profile requested in account validation is managed by the specialized service and 100% secure Mangopay, it protects you by ensuring that bids are only made by potential buyers, and eliminates any risk of malice. After the purchase, your payment passes through the escrow account of the Ekestrian auction house, owned by Mangopay, which is managed according to the security standards in force, particularly with regard to fraud.
To be able to bid the day of the auction, don't forget to create your profile on Ekestrian's website: https://www.ekestrian.com/en/register
Try your luck!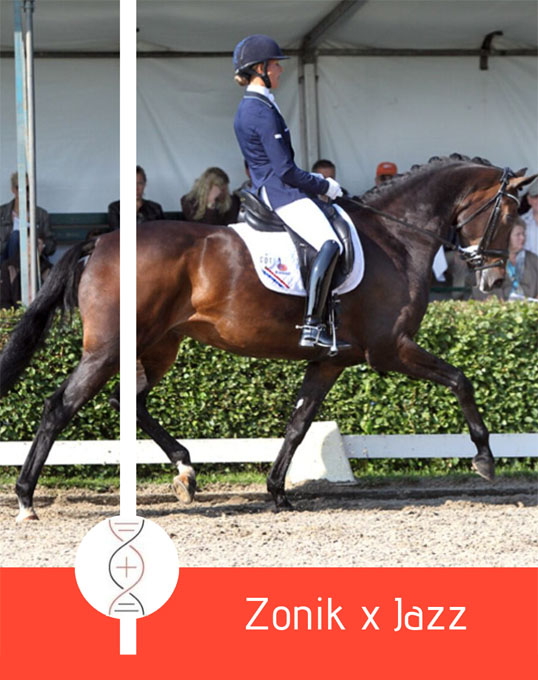 Check out the complete catalog of top foals, mares and embryos at www.ekestrian.com
The auction will be 100% online. It will start on Tuesday, 15th of October at 11am (French time) and close on Wednesday 16th of October at 9pm (French time), lot by lot, minute by minute.
For any question about the lots or the auction, contact the Ekestrian team by phone at +33 7 71 27 10 76 or by e-mail at carodufil.ek@gmail.com
Breeders: online auctions can be for you! The selections for 2019 and 2020 auctions are always in progress! Send your complete applications for your foals, embryos, broodmares and 2 & 3 years to carodufil.ek@gmail.com (name of horse, sire, dam, dam sire, age, location, reserve price, photos and videos).
Talk to you soon!