Hanoverian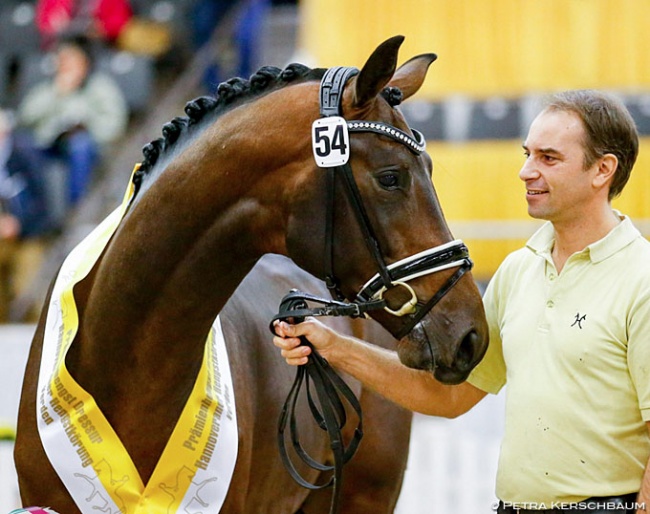 The Hanoverian society has issued a statement following the press release from Schockemöhle/Helgstrand concerning the lost bid on premium stallion Confess Color (by Cadeau Noir x Licosto) at the 2019 Hanoverian Stallion Licensing auction. 
Last week, the annual stallion licensing and stallion sales took place in Verden. Hanover's vintage 2017 was the focus, 63 stallions were licensed in total, 15 of them were awarded a premium. On Saturday, 26 October, the auction of the premium stallion by Cadeau Noir/Licosto led to irritations concerning auctioneer Bernd Hickert.
Confess Color sold for 1,890,000 euro to Rebecca Gutmann of Gestut Bonhomme after auctioneer Hickert ignored Schockemöhle's higher bid for the stallion, according to the German/Danish consortium. 
Schockemöhle and Helgstrand issued a statement two days ago.
The Hanoverian society has now responded:
The son of Cadeau Noir/Licosto was sold to Gestüt Bonhomme for 1,890,000 Euros in the Niedersachsenhalle in Verden on Saturday. Not the sum, but the auction itself caused irritation due to the actions of auctioneer Bernd Hickert: In the final phase, shortly before the final bid was accepted, there was a counterbid, which was not accepted at first.
With reference to this, the managing board of the Hannoveraner Verband feels obliged to clarify the procedure.
"We apologise not only to the public, but especially to the bidders Paul Schockemöhle and Andreas Helgstrand, who were not considered in the auction procedure, and regret that confusion occurred in the final phase," the Managing Board of the Hannoveraner Verband said. The process is currently being processed and analysed internally. "Of course, it is very important to us to clarify the points that have been rightly criticized.
Photo © Petra Kerschbaum
Related Links
Statement from Schockemöhle/Helgstrand on the Sale of Confess Color
Vitalis x Floriscount Crowd Favourite, Cadeau Noir Son Sells for 1,890,000 euro at 2019 Hanoverian Licensing