WBFSH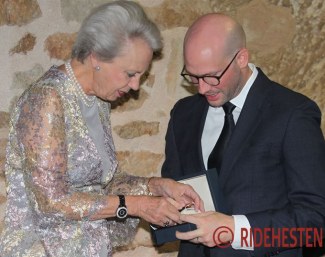 HRH Princess Benedikte was honoured for her continued patronage and support at the 2019 WBFSH General Assembly in Saumur, France on 17 October 2019.
"It was an honour to receive HRH Princess Benedikte, Patron of the World Breeding Federation of Sport Horses (WBFSH), at the WBFSH's annual gala dinner in the Troglodytes Caves of Rou Marson, ten kilometers from Saumur," said the WBFSH press chief. "It was a memorable occasion in more ways than one."
Having grown into an international organisation with 75 studbook members worldwide and a network representing approximately 150,000 breeders, the WBFSH celebrates its 25th anniversary this year. The WBFSH marked this occasion in Saumur with the continued and unwavering support of HRH The Princess Benedikte.
To add to the festivities, the WBFSH, its members and new WBFSH partner Longines paid tribute to its Patron the Princess, who celebrated her 75th birthday in April.
WBFSH President Jan Pedersen, together with Longines Vice President of Marketing, Mr Matthieu Baumgartner, took the opportunity to gift the Princess with a Longines watch.
The new partners will be co-hosting the Longines/WBFSH Breeder Awards in Lyon at the Equita Lyon next month, where the breeders of the World's Best Performing Dressage, Show Jumping and Eventing horse will be honoured.
Related Links
Princess Benedikte Celebrates 75th Birthday
Prince Richard of Sayn-Wittgenstein-Berleburg Passed Away
Princess Benedikte Honoured at 2008 Danish Stallion Licensing
Global Dressage Foundation to Shoulder Global Dressage Forum
Jan Pedersen Celebrates 50th Birthday and Re-election as WBFSH President