Hanoverian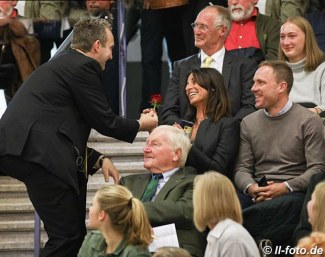 Bernd Hickert has been suspended as auctioneer of the Hanoverian Society, following upset after the auctioning of Confess Color, the premium licensed stallion that sold at the 2019 Hanoverian Licensing for 1.89 million euro. 
Confess Color sold for 1,890,000 euro to Rebecca Gutmann of Gestut Bonhomme after auctioneer Hickert ignored Schockemöhle's higher bid for the stallion, according to the German/Danish consortium.  Schockemöhle and Helgstrand issued a statement two days ago to which the Hanoverian Society replied with an apology. 
The upheaval around the sale of Confess Color, who was originally owned by the chair of the Hanoverian board, Hans-Henning von der Decken, has led to further repercussions. 
Auctioneer Bernd Hickert, "who caused irritations in the Niedersachsenhalle with his approach" has been suspended by the managing board of the Hannoveraner Verband "from his active auction activity until further notice."
The Hanoverian society further stated; 
"In the final phase, there was a counterbid shortly before the final knockdown, but this was not noted at first. This process has now been internally processed and analysed by the managing board of the Hannoveraner Verband. This also included a trusting conversation with the auctioneer Bernd Hickert. As a result, Bernd Hickert will suspend his active auction activity with immediate effect and until further notice.
Moderations for events and the support of the basic work for the Verband remain unaffected by this decision. "I very much regret that my actions in this situation have led to irritations and I am sorry for the whole auction," said Hickert. 
The managing board had already apologised to all those affected and tried to quickly clarify the points of complaint. 
Photo © LL-foto
Related Links
Hanoverian Society Takes Position on Sale of Confess Color
Statement from Schockemöhle/Helgstrand on the Sale of Confess Color
Vitalis x Floriscount Crowd Favourite, Cadeau Noir Son Sells for 1,890,000 euro at 2019 Hanoverian Licensing