KWPN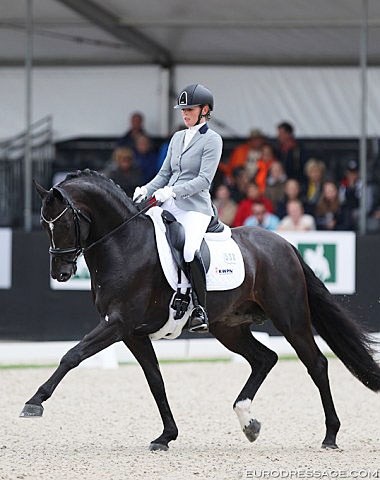 The 2020 KWPN Stallion Competition circuit for Dutch warmblood licensed stallions is about to kick off one 11 November 2019.
The annual KWPN Stallion competition is mandatory for approved stallions that want to stay KWPN licensed. It is similar to the stallion sport test for 4 and 5-year old stallions, which the German studbooks apply to evaluate young breeding stallions. 
Two qualifiers take place and a finals is held at the 2020 KWPN Stallion Licensing in 's Hertogenbosch, The Netherlands, at the beginning of February. 
The first qualifier is on 11 November 2019 at equestrian centre de Peelbergen in Kronenberg and the second at Jumping de Achterhoek in Vragender on 25 November 2019. The third qualifier is in Zuidbroek on 28 December 2019.
Stallions entered for the first qualifier, which will be judged by Toine Hoefs and Janine van Twist, are:
L-level (stallions born in 2015)
King Karim (by Toto Jr x Painted Black) - Hans Peter Minderhoud
Kayne (by Governor x Rousseau) - Adelinde Cornelissen
Kjento (by Negro x Jazz) - Charlotte Fry
King van het Haarbosch (by Spielberg x Florencio) - Jesslin Galiart
Kaiser DBV (by De Niro x Johnson) - Mara de Vries
Kaiser Weltino (by Dante Weltino x Vivaldi) - Nars Gottmer
Karajan OMHG (by Aqiedo x Ronaldo) - Renate Kouwenhoven
Kaygo (by Capri Sonne Jr x Westpointà - Thamar Zweistra
Kilimanjaro (by Bordeaux x Westpoint) - Vai Bruntink
Koning (by Governor x Bretton Woods) - Theo Hanzon
Kyton (by Ferguson x Ferro) - Bart Veeze
Taminiau (by Toto Jr x Sandro Hit) - Hans Peter Minderhoud
M-level (stallions born in 2014)
Joyride (by Ampere x Jazz) - rider not named
Jayson (by JOhnson x Negro) - Charlotte Fry
Just Wimphof (by De Niro x Riccione) - Renate van Vliet
Joop TC (by Ravel x Krack C) - Dinja van Liere
Jones (by Negro x Krack C) - Eric van den Wildenberg
Jerveaux (by Ferdeaux x Jazz) - Bart Veeze
Jerenzo Texel (by Enzo Ferrari x Jazz) - Eva van der Linde
Jheronimus (by Dream Boy x Jazz) - Gerrel Vink
For Ferrero (by For Romance x Don Crusador) - Kim Koolen
Jersey (by Vivaldi x Ferro) - Kimberly Pap
Jameson (by Zack x Negro) - Marieke van der Putten
Johnny Cash (by Bon Bravour x Flemmingh) - Theo Hanzon
Johnny Depp (by Bordeaux x Jazz) - Renate van Vliet
Z-level (stallions born in 2013)
In Style (by Eye Catcher x Lorentin) - Renate van Vliet
Imposantos (by Wynton x Krack C) - Bart Veeze
Invershin (by Charmeur  x Balzflug) - Theo Hanzon
Indigro (by Negro x Jazz) - Jennifer Sekreve
Photo © Astrid Appels
Related Links
Jameson, Imposantos, Hermes Win 2019 KWPN Stallion Competition Finals
Imposantos, Total U.S., Gunner KS Win 2018 KWPN Stallion Competition
Trafalgar, Toto Jr, Four Legends Win 2017 KWPN Stallion Competition Finals
Toto Jr, Ferdeaux, and Electron Win 2015-2016 KWPN Stallion Competition Finals
El Capone, Desperado, Cupido Win 2013-2014 KWPN Stallion Competition
Desperado, Charmeur, Bordeaux Win 2012-2013 KWPN Stallion Competition Finals
Chippendale, Bon Bravour, and Apache Win 2011-2012 KWPN Stallion Competition
Bon Bravour, Amazing Star and Zhivago Win 2011 KWPN Stallion Competition Finals
Andretti, Zhivago and Wynton Win 2010 KWPN Stallion Competition
Zizi Top, Wynton and Vivaldi Win 2009 KWPN Stallion Competition
Wynton, Johnson, Dreamcatcher Win 2008 KWPN Stallion Competition Finals
Uptown, Tolando and Florencio Win 2006 KWPN/KNHS Stallion Competition Finals
Sandreo, Scandic and Rhodium Win 2005 KWPN/KNHS Stallion Competition Finals
Scandic, Ro-Lex and Prestige VDL 2004 KWPN Stallion Competition Winners
Rousseau, Paddox and Rubels Win 2003 KNHS/KWPN Stallion Competition