2019 USDF Dressage Finals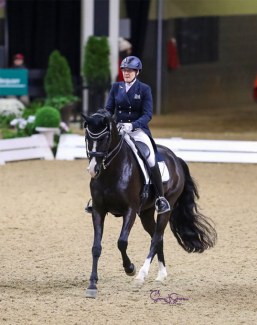 Every day, people make a multitude of small decisions that in the moment may seem relatively insignificant, but sometimes the culmination of those choices can be life changing. As was the case for Ruth Shirkey when she made the fortuitous decision to purchase a Hanoverian foal in utero, and again nearly a decade later to pack up a truck, camper and horse trailer and drive four days across the country from California with her husband to chase a dream in Kentucky.
Shirkey Wins Inter I Adult Amateur Freestyle Championship
Now competing with the nation's best at the US Dressage Finals, held November 7-10 at the Kentucky Horse Park in Lexington, the former Navy fighter jet pilot turned tax accountant and two-time cancer survivor rode that now nine-year-old mare named Wyleigh Princess to the biggest victory of their career in the Intermediate I Adult Amateur Freestyle Championship. Riding for Region 7, they finished on a top score of 73.900%, a personal best for the pair.
"It was a bit inauspicious this morning because she was not in a big mood to come out and play," said Shirkey of her U.S. bred Hanoverian (by Weltmeyer x Heiress B by His Highness, bred by Cheryl Johnson). "When we started the warm-up I was not quite sure what we were going to get, so I was very careful. I thought 'whatever we do, I will keep my fundamentals together,' and sure enough, we started the canter work and it paid off. I felt I had a sufficient amount of confidence in Wyleigh that she would stay with me during the experience and she was, so I thought 'let's go now' and she took off. It's just so exciting. It was a wonderful ride and she loves that Alltech Arena."
Bonnie Canter of Hockley, Texas (Region 9) and her Connemara/Hanoverian cross mare Fifinella GCF (by Fred Astaire x South Ridge Bliss by South Ridge Duncan's Honor, bred in the U.S. by Sharon Garner) earned their second Reserve Championship title in as many days with a score of 72.333%. "I wasn't even going to do the freestyle, but because she's spooky I needed to get her in the Alltech Arena before my Prix St. Georges test tomorrow," Canter laughed. "My husband Doug has been extremely supportive through all of this, and this freestyle thing was his idea. I'm not at all musically inclined but we took a suggestion for an Aladdin score and my husband spliced it all together, so it was a homegrown project and funny enough it paid off."
Au Revoir Tops All Rivals in Intermediate I Open Freestyle Championship
Heather McCarthy of Prairie Grove, Ill. (qualified in Region 2) has won a wall full of Finals championship ribbons over the years with Sandi Chohany's eight-year-old Oldenburg gelding Au Revoir (Ampere x Lara by Liberty M) from First through Fourth Levels, and on Saturday the pair continued to add to their resume by earning a hard-fought victory in the Intermediate I Open Freestyle Championship with 74.450% (watch their winning ride HERE).
"Today he was magnificent," McCarthy said of her mount. "Angela [Jackson] was the first ride of the day and I saw her score a 73% and thought, 'I've got nothing to lose now, I've got to go big!' So I really pushed for everything and left it all out there. It was probably the best test I've ever had with him."
Friday's Intermediate I Open champions Angela Jackson of Henderson, Ky. (Region 2) and her homebred nine-year-old Zweibrucker gelding Figaro H (Fantasmic x Romina H by River H) almost hung on for the win, but ultimately had to settle for Reserve honors with 73.867%. "Just like yesterday, we had another good ride - he was right with me," she explained. "This freestyle was made for a green horse and we never upped the difficulty from last year, and I think the judges saw a horse that was capable of more so it's time to up our game. But I could not be more happy with him."
A Family Affair in Grand Prix Open Freestyle Championship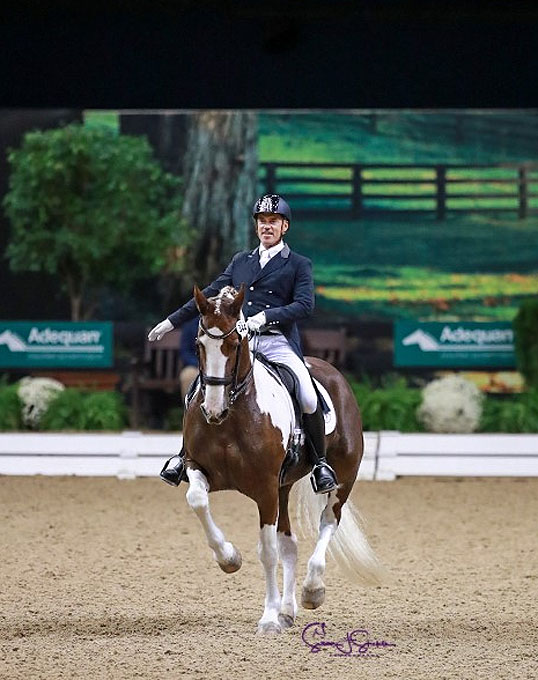 Crowd favorites James Koford of Winston-Salem, N.C. (Region 1) and the 12-year-old Friesian Sporthorse Adiah HP (Nico x Marije ANT by Anton, owned and bred in the U.S. by Sherry Koella) know how to put on a show, and once again they did not disappoint as they danced their way to thunderous applause and a top score of 75.108% with a unanimous victory under all three judges in the Grand Prix Open Freestyle Championship, claiming the Jazzman Perpetual Trophy (presented by Donna Richardson) for the third year in a row.
"She's quite a performer. She loves the music and she loves the crowd. When I'm warming up she keeps trying to go into the ring before it's time. It's so rare and so special to have a horse that loves to go into the show ring like that," Koford said.
After she earned Reserve honors in the Intermediate II Open division earlier in the week, Kristin Wasemiller-Knutson of Oklahoma City (Region 9) remarked that she hoped to give Koford a run for his money in the Grand Prix classes, especially since she was riding Adiah HP's talented younger half-sister Vashti (10-year-old Trakehner/KWPN/Friesian cross mare [Nico x Thekla by Onassis] bred in the U.S. by Sherry Koella). And she obviously meant it as the pair finished in Reserve with a score of 72.358%, evoking a cascade of cheers from the audience before even giving their final salute.
"I am super happy with the ride," Wasemiller-Knutson said, also pleased that her Grinch Who Stole Christmas freestyle was a hit with the crowd. "I wanted to do something with a Christmas theme and this was my chance to do that. I did the choreography and the music myself, and we only put it together three weeks ago."
Not only was Koford beaming with pride over his mount Adiah HP, he was thrilled to see her younger half-sister Vashti take the Reserve Champion title. Watching two of Nico's offspring sweep the class meant a lot to Koford and breeder, Koella. "Their sire has produced so many Grand Prix horses, but he had a short breeding career because he died in a barn fire," Koford remarked. "It's amazing to see the talented horses he has produced."
Tarjan Proves to Be Unbeatable in Grand Prix Adult Amateur Freestyle Championship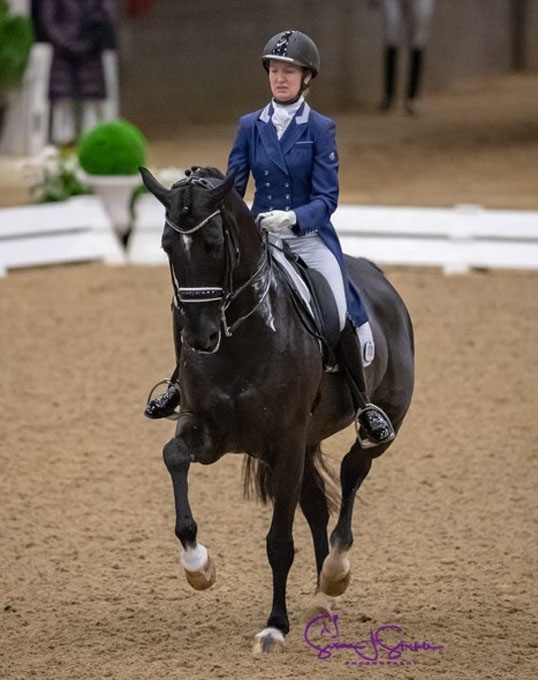 First down centerline in the Alltech Arena for the Grand Prix Adult Amateur Freestyle Championship, Alice Tarjan of Oldwick, N.J. (Region 8) and her nine-year-old Hanoverian mare Candescent (Christ x Farina by Falkenstern II) set a whopping score of 77.775% that could not be caught to claim their third straight victory of this year's Finals, this time earning the Calaveras County Perpetual Trophy (presented by Olva Stewart Pharo).
"Today was better than yesterday," said Tarjan. "As I've mentioned we've been trying to work on the harmony and riding with less tension. I've got to encourage more confidence in the work, but today was good - she was right on my aids and holding herself together well."
Friday's Grand Prix Adult Amateur Reserve Champion Kristin Herzing of Harrisburg, Pa. (Region 1) and her Hanoverian gelding Gentleman (Grusus x Rumpelstilzchen by Raphael, bred in the U.S. by Kathryn and Jeffrey Nesbit) earned their second reserve title of the week with 70.317%.
"So I got a new freestyle for Regionals with Paul Simon music that I loved, and Gentleman hated it!" she laughed. "We got in the ring and he wouldn't do it, as if saying 'this is not my jam!' He likes his routine, so for today I said 'I'll put on your music- whatever makes you happy,' and he said 'thank you!' I just live to make him happy, whatever it takes."
Text by Jennifer Keeler - Photos © Sue Stickle
Related Links
Jackson and Gimbel Win Inter I Titles, Tarjan and Koford Win Grand Prix Titles at 2019 USDF Dressage Finals
Heather Mason and Alice Tarjan Take Inter II Titles at 2019 USDF Dressage Finals