2019 USDF Dressage Finals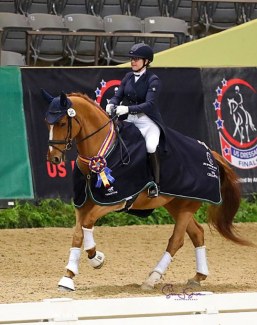 Music filled the air across the Kentucky Horse Park on the final day of competition as horses and riders danced their way to new national titles at the 2019 US Dressage Finals  held November 7-10 in Lexington, Ky.
Gimbel Wins Hard-Fought Prix St. Georges Adult Amateur Championship
After earning top honors in the Intermediate I Adult Amateur division earlier in the week, Finals veteran Amy Gimbel and her longtime partner Eye Candy (10-year-old KWPN mare [UB-40 x Wednesday by Weltmeyer], bred in the U.S. by Judy Barrett) proved they weren't ready to head home to New Jersey without one more title. The Region 8 pair topped 25 rivals in the Prix St. Georges Adult Amateur Championship with a score of 71.373% to earn the coveted Janine Westmoreland Malone Perpetual Trophy (presented by USDF) - watch their winning ride HERE.
"Candy has been super all weekend and I'm very fortunate – it will take some time to digest the fact that I won two national championship titles this weekend," said Gimbel. "I'm going right back to work tomorrow – that's one of the realities of being an adult amateur! – but soon all of this will set in and I can't wait to reflect on my time here at the Finals."
Less than 24 hours after achieving a dream with a national title in the Intermediate I Adult Amateur Freestyle division, Region 7's Ruth Shirkey of Livermore, Cal. returned to the Alltech Arena with her nine-year-old Hanoverian mare Wyleigh Princess (by Weltmeyer x Heiress B by His Highness, bred in the U.S. by Cheryl Johnson) to earn Reserve honors with 70.843%. "Of all things I had an error in my walk which cost me a one point deduction per judge," she chuckled. "Despite that, she gave me some lovely moments. It's been a long 10 days for us and we took turns carrying each other today, but she's a super competitor and it was a great joint effort."
Bragdell Perseveres in Prix St. Georges Open Championship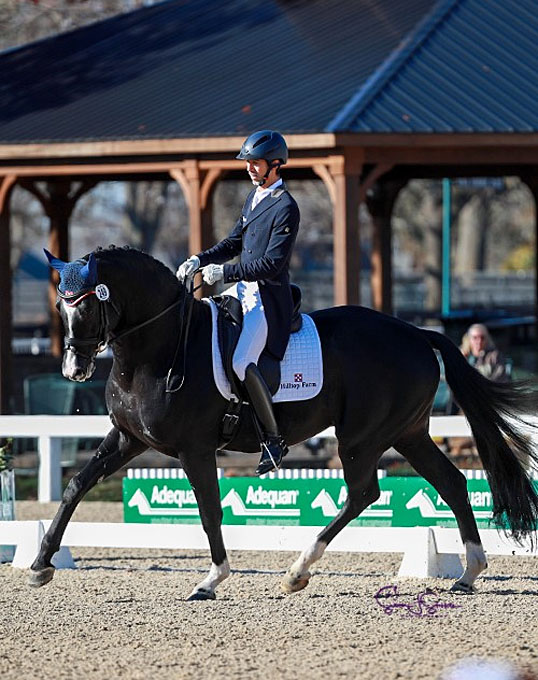 Despite battling the flu all week, Region 8 rider Michael Bragdell of Colora, Md. had already earned several top honors with various mounts over the course of this year's Finals. But before heading home to Maryland, he captured one last title by riding Hilltop Farm Inc.'s nine-year-old Hanoverian stallion Sternlicht Hilltop (by Soliman de Hus x Rhapsody GGF by Rascalino, bred in the U.S. by Rachel Ehrlich) to victory in the Prix St. Georges Open Championship with 72.500%, earning the Miki Christophersen Perpetual Trophy (presented by USDF Region 4).
"He felt good the first day in the Intermediate I and each day he's gotten better and better," Bragdell said of his partner. "Everything came together today – the weather was beautiful this morning and he felt great! We purchased him as a three-year-old stallion and it's been an interesting journey to bring him through the levels."
Also from Region 8, Bridget Hay of Flemington, N.J. was also pleased with the Reserve Championship performance of 70.833% aboard her homebred eight-year-old Oldenburg mare Fauna (by Freestyle x Guinevere by Governeur) owned by Amy Price. "Fauna is only eight so she's just gaining experience, but for a young horse she has a crazy work ethic and I'm very happy with her," said Hay. "She was a little backed off in the other tests in the Alltech Arena, but today I felt she was more comfortable riding outside. She felt fantastic and I am absolutely thrilled."
Alice Tarjan's Candescent Gets Lloyd Landkamer Perpetual Trophy
On a final note, after sweeping the Intermediate II, Grand Prix and Grand Prix Freestyle Adult Amateur Championships earlier in the week, Alice Tarjan of Oldwick, N.J. (Region 8) and her nine-year-old Hanoverian mare Candescent (b yChrist x Farina by Falkenstern II) were presented with the Lloyd Landkamer Perpetual Trophy for FEI Highest Scoring Mare (presented by Janet Foy).
Text by Jennifer Keeler - Photos © Sue Stickle
Related Links
Jackson and Gimbel Win Inter I Titles, Tarjan and Koford Win Grand Prix Titles at 2019 USDF Dressage Finals
Heather Mason and Alice Tarjan Take Inter II Titles at 2019 USDF Dressage Finals
Shirkey, McCarthy, Tarjan, Koford Earn Titles on Day Three of 2019 USDF Dressage Finals