2019 Piaff Förderpreis Finals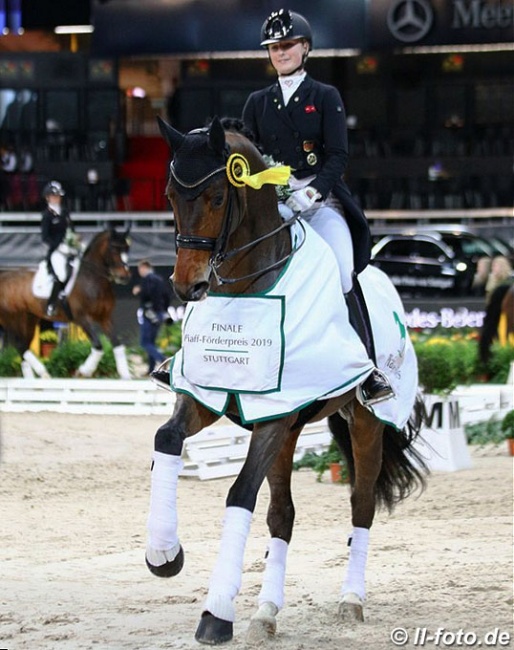 Bianca Nowag became the winner of the 2019 Piaff Forderpreis Finals - the German Under 25 Championships - held annually at the CDI-W Stuttgart. 
The Piaff Forderpreis series is a special national show circuit for German Under 25 riders. In February each year the best Under 25 riders of each state in Germany are invited to ride in a training and selection trial in Warendorf, where a set of riders - this year 16 - are invited to compete in the series of qualifiers throughout the spring and summer season in Germany. This year nine combinations qualified for the Finals in Stuttgart.
The 2019 Piaff Forderpreis Finals were the 20th edition of the circuit. The first was 
Nowag, who was member of the gold medal winning German team and Kur silver medal winner at the 2019 European Under 25 Championships in San Giovanni (ITA), felt fierce competition in Stuttgart from the 2018 Piaff Forderpreis winner Jil-Marielle Becks. Normally winners are not allowed to return on the circuit, unless it is with a different horse and this year Becks saddled her second GP horse, Damon's Delorange, with whom she won team gold and Short Grand Prix bronze in San Giovanni.
At national level at the 2019 Piaff Forderpreis Finals Nowag overtook Becks, although it was hard fought. In the warm up round on Thursday 14 November, Becks and the 12-year old Westfalian mare Damon's Delorange (by Damon Hill x Rubin Royal) won the Intermediaire II with 72.209%, while Nowag was only third on 71.349%.
However, in the Finals - which are decided by the classic Grand Prix - Nowag and Michele Widner del Pino's 10-year old Hanoverian Sir Hohenstein (by Sir Donnerhall x Hohenstein) persevered and scored a winning total of 72.100%. Only two judges had her first, those on the long side, but the judges' panel was quite unanimous as Nowag's scores ranged between 71.000 and 72.500%.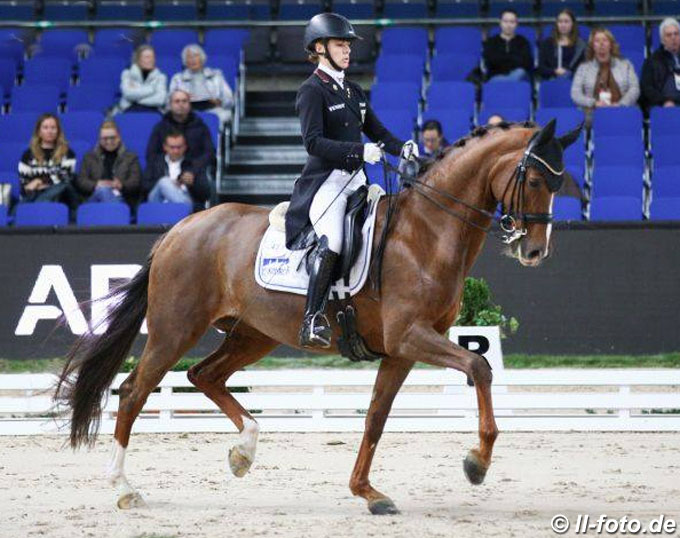 "I'm super happy. This is a shining end to my U25-time," said the 25-year old Nowag. "Sir Hohenstein was super focused today. He acclimitazed well and really found himself in the atmosphere today. Especially the half passes, trot extensions and piaffe-passage tour went well, at least to my feeling."
Nowag is a professional dressage rider. After competing on the German team at the 2012 European Junior Riders Championships in Berne (on Dauerbrenner) and at the 2015 European Young Riders Championships in Vidauban (on Fairplay RB), she became a professional working student at Johannes Westendarp's yard, before going solo and basing herself out of the DOKR headquarters in Warendorf. She has nine horses in training and is coached by German team trainers Sebastian Heinze and Monica Theodorescu. She has competed on the German team at the European Under 25 Championships three years in a row, from 2017 till 2019, the first two times on Fair Play RB and this year with Sir Hohenstein. 
"The Piaff Forderpreis gives us the opportunity to participate in fun shows and to grow into the big sport," Nowag added.
The 22-year old Jil-Marielle Becks, who won last year's finals on her horse's full brother Damon's Satelite, landed second place with a 71.200% earning Grand Prix score. The judges were more divided about her test with marks ranging between 68.600% and 73.600%, placing between first and fifth.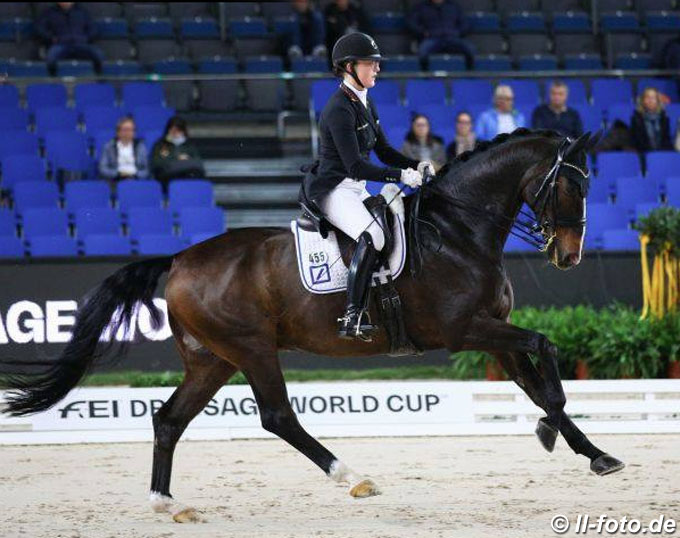 Third place went to Hannah Erbe on the 12-year old Rhinelander gelding Carlos (by Carabas x Weltmeyer). After placing second in the warm up with 71.581%, she ended up third with 70.980% in the Grand Prix. Erbe is the 2016 European Junior Riders Chamoion and 2017 European Young Rider Champion with Carlos and has been focusing on making the transition to Grand prix ever since. She switched trainers, from her long-time coach Heiner Schiergen to Johann Hinnemann and is now a working student at Hinnemann's stable Krüsterhof. 
"This was a very good and high quality Finals with these riders that already shaped the U25 division the entire season until the European Championships," said German U25 team trainer Sebastian Heinze. "There were very interesting horses in the field, of which one can imagine that they will develop themselves well and see them further in the sport. I also think the judges liked the performances here, so the Finals were good advertisement for our sport."
Photos © LL-foto
Related Links
Westendarp Wins 2019 Piaff Forderpreis Selection Trial, Sixteen Riders Qualified for 2016 Show Circuit
Jil-Marielle Becks Wins 2018 Piaff Förderpreis Finals in Stuttgart
Lisa Maria Klossinger Wins 2017 Piaff Forderpreis Finals
Franziska Stieglmaier Wins 2016 Piaff Forderpreis Finals for German Under 25 Riders
Sanneke Rothenberger Wins 2015 Piaff Forderpreis Finals for German Under 25 Riders 
Schurmann Wins 2014 Piaff Forderpreis Finals for German Under 25 Riders
Nadine Husenbeth Wins 2013 Piaff Forderpreis Finals at CDI-W Stuttgart
Stella Charlott Roth Wins 2012 Piaff Forderpreis Finals
Sprehe Defeats Favourite Engelen in 2009 Piaff Forderpreis Finals
Matthias Alexander Rath Wins 2006 Piaff Forderpreis
Ellen Schulten-Baumer Wins First Ever Piaff Forderpreis at 2001 CDI Stuttgart