Oldenburg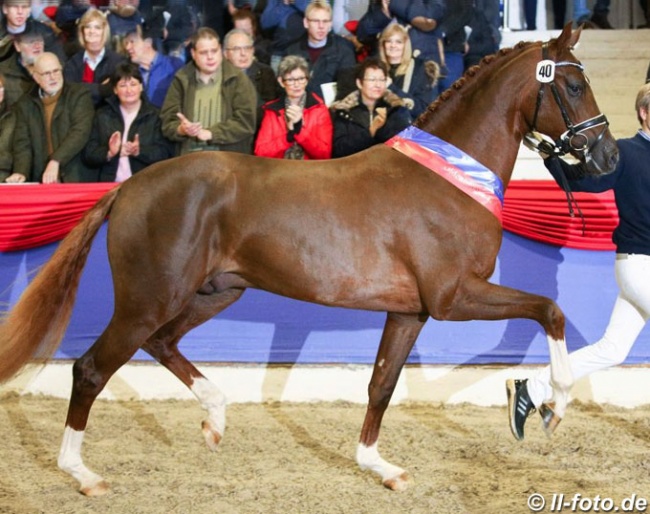 Bellany (by Bon Coeur x De Niro) was proclaimed champion of the 2019 Oldenburg Stallion Licensing in Vechta, Germany, on Saturday 23 November 2019. 
Bred by Sigrid Schmidt and owned by Heinrich Giesselmann, the chestnut stallion out of Liva (by Langato Son x Pik Bube I) shone on all three days of the licensing and grabbed the highly coveted title in the premium ring on Saturday morning. 
Forty colts were initially entered for the licensing and three dropped out. Twenty-four stallions in total were licensed. 
Six colts made it into the premium ring. This year's collection of colts was a solid one, even though a real memorable star was absent from the collection. The committee awarded six premium titles, which was probably two too much. Three colts really made an impression, the Bon Coeur x De Niro, So Perfect (by Sezuan x Sir Donnerhall) and Blue Hors Fortron (by For Romance II x Desperados).
The champion Bellany (by Bon Coeur x De Niro) sold at auction for 660,000 euro to the Swiss Wespe family that owns Dressage Performance Centre Lodbergen in Germany. Swedish Grand Prix team rider Therese Nilshagen is their head rider there.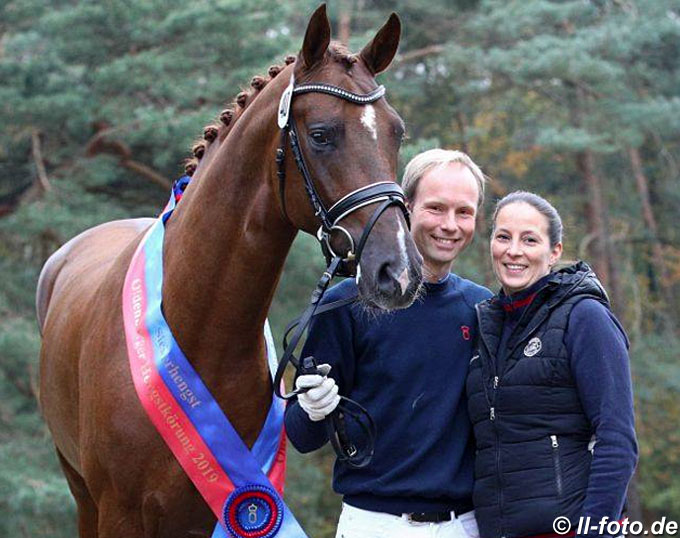 Oldenburg's Breeding Director Wolfgang Schulze-Schleppinghoff said about the champion stallion, "we saw a majestically raised young stallion, who has a wonderful movement in all three gaits. He presented himself great in all disciplines, convinced with a great charisma and always works with an energetic hind leg. The chestnut stallion comes from a dam line, which is highly successful in both dressage and jumping. So the best conditions for a great future."
The reserve champion was So Perfect (by Sezuan x Sir Donnerhall x Rohdiamant x Pik Bube I), bred by Frank Nordhausen and owned by Andreas Helgstrand in partnership with Heiko Klausing. The very tall dark bay stallion is not the most modern in type but has a big engine from behind, always engaged and working. The horse improved day by day. On the lunge line he only shone in the medium trot work and the canter was rushed and unbalanced. In freedom he showed much more self carriage and cadence and a walk with good overtrack, maybe did not have the best rhythm. On the final morning in hand he had much overview over the arena, was calm and moved with even more confidence. He was not for sale.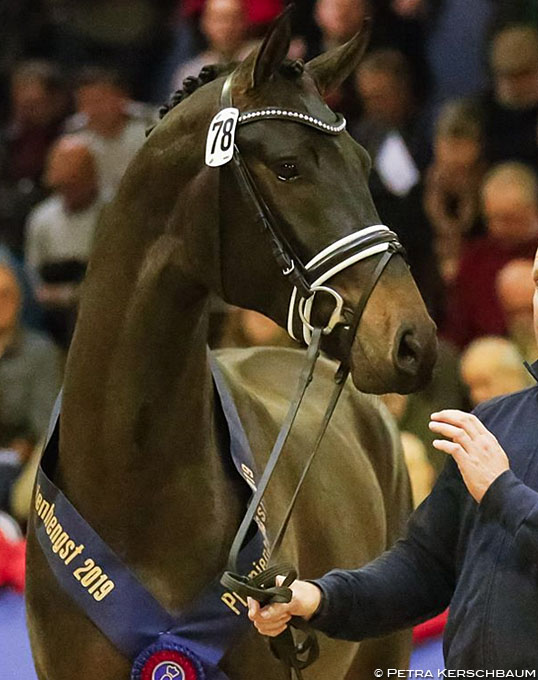 The third place in the premium ring went surprisingly to the heavy and stocky Vincent Maranello x Destano x Silvio I x Aquarell, bred and owned by Stefan Tietje. On the lunge the powerful stallion had good cadence but was slow behind and the canter could be more 3-beat. In freedom he did push from behind but always made himself long in the topline. He is built with a heavy throat latch. In walk he could have marched more out of the shoulder. He sold at auction for 105,000 euro to Christine Arns-Krogman, best known for being the owner of Isabell Werth's Weihegold. 
The Tietje family celebrated massive success in Vechta with having licensed not one but two stallion and both made it into the premium. Three colts ranked fourth in the premium arena, amongst them Tietje's Bon Coeur x Furstenball x Rubin Royal. The black was beautiful in front but the hind could step more under and the loins were slightly weak. Still German dressage stallion owner loved him and paid 60,000 euro for the colt at auction. 
Blue Hors' stud's Fortron (by For Romance II x Desperados x Wolken-Hit) ranked fourth in the premium ring which did not really reward the quality and excellent performance he offered at the licensing. The elegant bay was the best on the lung line, but slightly tense in freedom. Still his hind legs were quick and moved under in the trot and the canter was uphill. Only in walk he could have had a better rhythm. Presented in hand in the premium ring, Fortron moved with much presence and self carriage through the arena. Fortron is bred by Jens Damm and was discovered as a foal by Martin Klavsen, Blue Hors stud's brand new breeding director who succeeded Esben Möller who moved to Helgstrand Dressage after his resignation at Blue Hors. Fortron was young Klavsen's first buy he had scouted and the horse became a premium licensed stallion.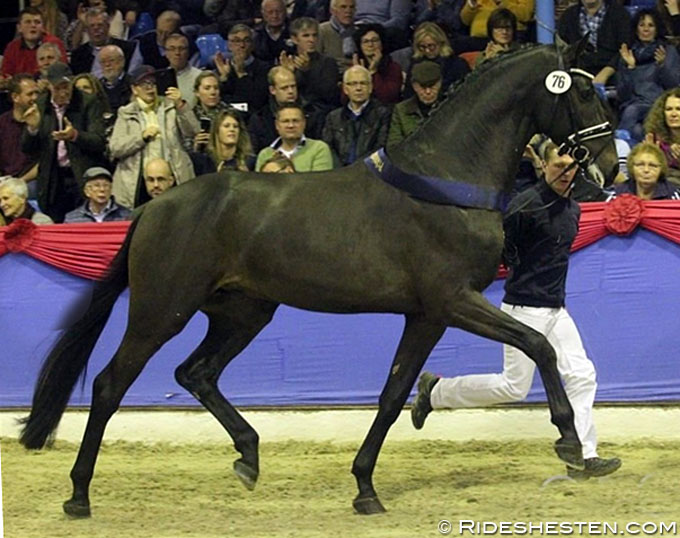 The third, fourth ranked premium stallion was a beautiful Morricone x San Amour x Diamond Hit, bred by Wilhelm Strohm and owned by Monika Kappelhoff. He sold at auction for 120,000 euro to Gerd Sosath. He had a gorgeous front, with a wonderful, expressive face and neck, but he has a bit of a sunken back and the hindlegs are active and engaged, but need to come more under the body instead of out.
The auction of licensed stallions produced an average price of 129,364 euro.  
The best selling, non premium stallion was Vasco Janke's Ibiza x Rohdiamant x Donnerschwee which sold to Paul Schockemöhle for 155,000 euro. The beautiful liver chestnut was wonderful in freedom but on the lunge line he was naughty. He has an excellent walk. Arndt Schwierking's Furst Wilhelm x Sir Donnerhall x Latimer sold for 100,000 euro
Two non-licensed stallions were auctioned: the Ferdeaux x Johnson which sold for 26,000 euro and the Furst Jazz x San Amour which sold for 21,000 euro.
Photos © LL-foto - Petra Kerschbaum
Related Links
Viva Vechta: Walks, Talks, Colts and Impressions at 2019 Oldenburg Stallion Licensing
Viva Vechta: Meeting Friends, Watching Talent at 2019 Oldenburg Stallion Licensing
Forty-Five Colts Selected for the 2019 Oldenburg Stallion Licensing
Previous Champions
Global Player, Champion of the 2018 Oldenburg Stallion Licensing
Benefit, Champion of the 2017 Oldenburg Stallion Licensing
Furst Fabrice, Champion of the 2016 Oldenburg Stallion Licensing 
Bonds, Champion of the 2015 Oldenburg Stallion Licensing
Morricone, Champion of the 2014 Oldenburg Stallion Licensing
Don Deluxe, Champion of the 2013 Oldenburg Stallion
Follow Me, Champion of the 2012 Oldenburg Stallion Licensing
For Romance 2011 Oldenburg Licensing Champion, Tight Junction Steals the Show
De Martino Captures Champion's Title at 2010 Oldenburg Stallion Licensing
Fairbanks, Champion of the 2009 Oldenburg Licensing
Furstenball, Champion of the 2008 Oldenburg Stallion Licensing
Sieger Hit, Champion of the 2007 Oldenburg Stallion Licensing
Sandro Hit Euphoria At 2006 Oldenburg Stallion Licensing
Marketing Above Quality at the 2005 Oldenburg Stallion Licensing
Furst Heinrich Fledglings Fly High at 2004 Oldenburg Stallion Licensing
Don Kennedy, Champion of the 2003 Oldenburg Stallion Licensing