Japan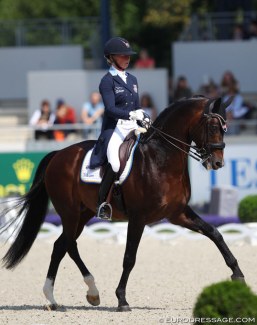 After acquiring co-ownership of rising GP horse Elastico, Japanese Olympian Akane Kuroki has now added Swedish team horse Zuidenwind to her string of Tokyo Olympic hopefuls. With the KWPN stallion Bordeaux she now has three irons in the fire. 
Akane Kuroki is currently training with the Werndls in Aubenhausen, Germany. A small stable accident kept her out of the saddle as she dislocated her shoulder when Bordeaux pulled on the lead rope and she did not anticipate it. 
Kuroki is now back in the saddle, riding Bordeaux and preparing the 10-yaer old KWPN stallion Elastico (by Johnson x Concorde) for their show debut. 
Zuidenwind arrived in Aubenhausen today. 
"I have now three horses who could make my journey to qualify and (my dream) going to the Tokyo Olympics together. Bordeaux Zuidenwind and Elastico are now my basis for the future," Akane told Eurodressage. "I'm pretty excited. I would like to focus now on my training to be the best I can be, not only for me but for the team and my country."
"It has been a busy year last year and my shoulder accident is not really good timing I have to say, but I'm in the saddle and it's going well. I feel good," she added.
Zuidenwind as Experienced Horse for Tokyo Attempt
With the 2020 Olympic Games taking place in Tokyo, Japanese riders are pulling out all the stops to have the most favourable cards in hands going into the 2020 show year for team selection. Kuroki has obtained a third Grand Prix horse, the experienced Zuidenwind, as an extra iron in the fire.
Zuidenwind is a 15-year old KWPN licensed stallion by OO Seven x Jazz (the reverse pedigree of Akane's Olympic ride Toots (by Jazz x OO Seven).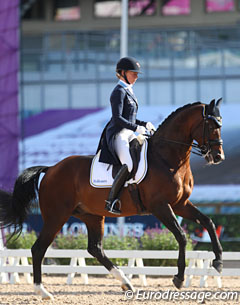 Zuidenwind is owned by Per Runesson's Gränsbo Stuteri and rider Rose Mathisen.
The pair made its international Grand Prix debut in 2015 and competed for five consecutive years at top level. Their consistent effort was rewarded in 2017 when they were selected to represent Sweden at the 2017 European Championships in Gothenburg. 
Now Per and Rose decided to go for the money and sell their number one Grand Prix horse and breeding stallion.
"With Zuidenwind in the stable it's complete. Zuidi is a special horse. From all the horses I tried he surpassed me with how fresh, how much go and willingness to work he has. Rose did a really good job with him and I hope I can make them proud on what we will do together," Akane explained.
The Japanese added that he does not feel like a schoolmaster, despite the horse's age. "I've never had this feeling with an old(er) horse. He's like a young horse. Rose educated him to the Grand Prix. During that time only she was on him. He is specific horse. He only knows her, so it's difficult for me. But I could feel that he has very strong energy and good quality. That's why I thought I wanna try him to get to my dream."
Bordeaux Back to Holland or Part of the Trio?
For 2019 Kuroki leased the 13-year old Dutch warmblood stallion Bordeaux (by United x Gribaldi), which is owned by Paul Schockemohle in partnership with Joop van Uytert. He was previously campaigned by Norwegian Isabel Freese.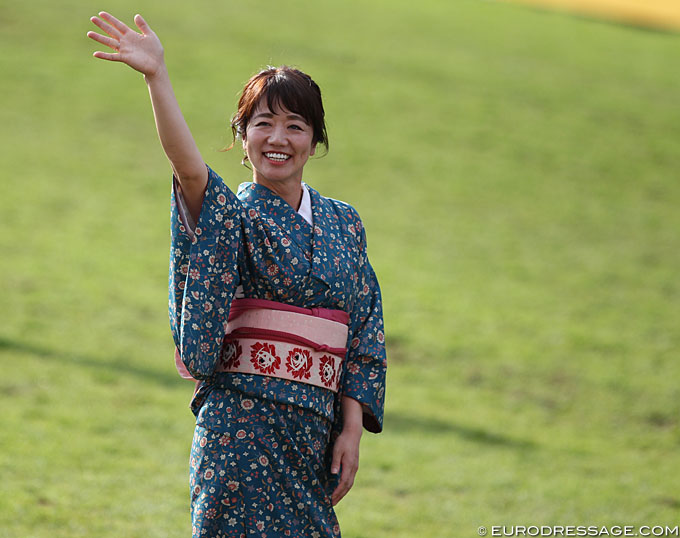 Akane and Bordeaux only competed once internationally, at the 2019 CDI Exloo in June. She scored 65.196% in the Grand Prix.
The lease contract was for one year with an option to extend it into 2020.  
"I will decide to Keep Bordeaux or not at the end of the year," Akane stated. 
Co-owner Joop van Uytert told Eurodressage that, "in January we'll discuss the second part of the lease. As a breeding stallion I prefer to have him home. Last season he was at Bartels' Academy and was closer to me to collect semen."
Photos © Astrid Appels
Related Links
Eurodressage Photo Database: Zuidenwind
Elastico, Second Iron in the Fire for Akane Kuroki
Bordeaux Returns to Holland, Leased by Kuroki for One Year
Zuidenwind Most Popular Breeding Stallion in Sweden in 2009
Zuidenwind and Wynton Win 2008 Pavo Cup Finals