Germany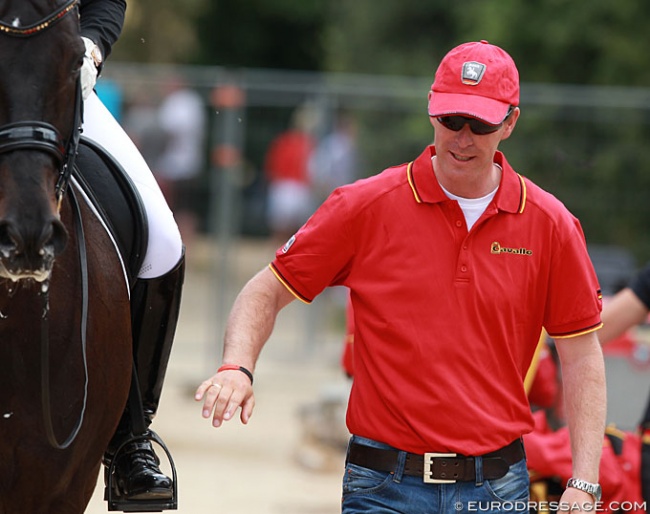 The German Olympic Equestrian Committee (DOKR) has decided to end the contract of Olivier Oelrich as German assistant youth team trainer one year before its end date on 31 December 2020.
The news came as a big surprise to Oelrich, who was never consulted or informed prior to the decision taking. 
Already round Christmas time in December Eurodressage received word that Oelrich was "suspended" from his position, but at the time German senior team trainer Monica Theodorescu denied these rumours.
Oelrich's contract was officially breached at the end of 2019 after 10 years on the job. 
"A Total Surprise"
Eurodressage contacted Oelrich for more clarification and said that the breach of contract was "a total surprise".
He was informed of this decision "without a preliminary discussion" and without having received "specific reasons" at the last trainers' meeting.
Oliver explained that both him and Meyer zu Strohen and Oliver pressed for a second meeting for further explanation and the only reason the FN delegates then gave was "personal communicative difficulties with individuals from the senior division." 
"I was not aware of problems and neither was I asked for a personal conversation to discuss and solve any so called issues," Oelrich told Eurodressage. "Without such a basis for communication it will not be possible for me to work with the DOKR with confidence. I hope that all athletes, parents and others involved can understand this and I thank them very much for the confident, exciting and very successful collaboration over the years."
No DOKR Future for Oelrich Beyond 2020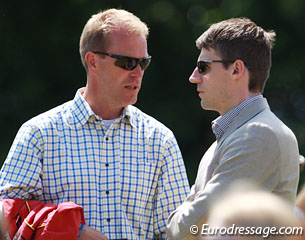 In a press release issued today by the German equestrian federation a two-pronged view on the affair becomes clear.
On the one hand the FN stated that "Oelrich requested the early ending of the collaboration with the DOKR", but on the other it said that it saw no future for Oelrich after 2020 anyway
"Our cooperation was originally planned until the end of this year. We informed Oliver Oelrich at an early stage that we are already readjusting our Trainers system for dressage after 2020 and are planning a new direction without him," said DOKR managing director Dr. Dennis Peiler. "Unfortunately, the communication between him and the DOKR recently no longer worked the way both sides imagined. Therefore, he informed us that he would like to end the collaboration prematurely and with immediate effect. We accept this decision. "
Coaching Success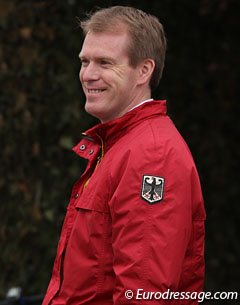 In the 10 years on the job as assistant youth team trainer to Hans-Heinrich Meyer zu Strohen, the 48-year old Olivier Oelrich was able to win almost 100 medals with his team at the European Championships, with 2019 being the most successful season of all.
The German children, junior and young riders team all won individual and team gold at the European Youth Riders Championships in San Giovanni in Marignano, Italy this summer. The Under 25 team, led by team trainer Sebastian Heinze, won team gold and individual silver and bronze. 
German youth riders are rallying in support of Oelrich and have sent out a message for youth riders to post a photo of them with Oelrich on social media (#teamOlli) as a vote of confidence for their trainer and as a message directed at the FN.  
Photos © Astrid Appels
Related Links
Eurodressage Photo Database: Oliver Oelrich
Theodorescu's Contract as Team Trainer Renewed, Heinze to Replace Koschel as U25 Coach
Gigantic medal haul for Germany at 2019 European Youth Riders Championship in San Giovanni
German Juniors Take Nations Cup at 2019 CDIO-J Hagen
Sophie Holkenbrink Thankful for the Accomplishments in Her Life