NRPS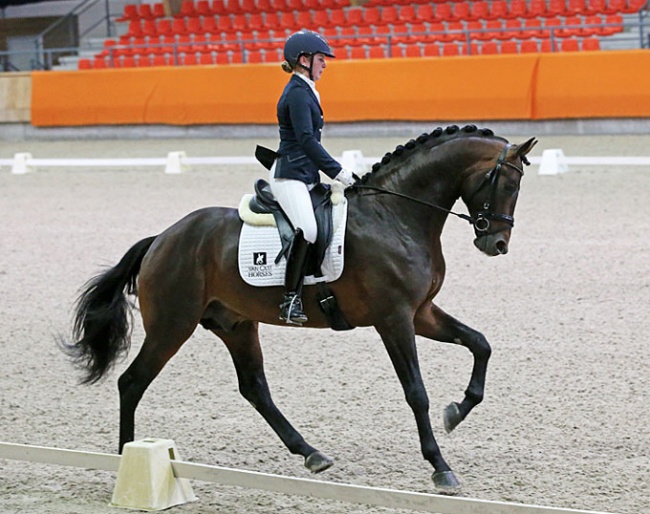 Gregory (by George Clooney x Lord Leatherdale) became the high scoring dressage stallion in the 2020 NRPS Performance Test, which took place on 10 - 12 January 2020. 
Thirteen dressage and show jumping bred stallions participated in the testing and all of them passed. They were presented under saddle twice, on Friday in a free ridden presentation and on Saturday in a dressage test, followed by a presentation ceremony with the announcement of the results. 
Gert-Jan van Olst has supported the NRPS studbook, a small Dutch breeding studbook which was founded on a combination of Dutch and Anglo Arabian lines. He often sends a larger group of colts there for licensing and testing, compared to the big KWPN society.
Gregory, bred and owned by Van Olst, was the the high scorer. The stallion earned 8 for walk, 8.5 for trot, 9.5 for canter, 9 for his dressage test, character, willingness to work, stable behaviour and talent. 
Evegro (by Everdale x Negro) was the second best scorer. He is bred and was presented by Van Olst, but is owned by YmpäristöPalvelut Tuominen, a Finnish company. He scored 8 for walk, 8.5 for trot, 9 for canter, 9 for character, willingness, stable behaviour and 8.5 for general impression. 
Dai Ko Myo TF (by Dante Weltino x Rhodes Scholar) scored the third best results. This colt is bred by American Anne Howard (and related to Marieke van der Putten's Grand Prix horse Her Majesty TF) and owned by Martine Deen. He scored 9 for gaits and character and 8.5 for the dressage test. 
Further accepted is Creedance (by Crosby x Dimaggio), bred by M Streppel and owned by Van Olst. 
The best performing pony stallion was Veenstra's Krack (by Veenstra's Grapjas x Orchard Red Prince). Also passing the testing were pnies No Limit SW (by Night Fever II x Meonbury Peter Rabbit), and Damon du Bois (by Don Cremello du Bois x Dornik B. 
Source: NRPS
Related Links
Glamourboy, Champion of the 2019 NRPS Stallion Licensing
D'Joep, High Scorer of the 2019 NRPS Stallion Performance Test
D'Joep Named Champion of the 2017 NRPS Stallion Licensing
Nagano, High Scorer at the 2017 NRPS Stallion Performance Testing
Fideniro, Crowd Favourite of the 2014 NRPS Stallion Licensing
Guidam's Willow the Second, Champion of the 2013 NRPS Stallion Licensing
Thirteen Stallions Approved at 2012 NRPS Stallion Licensing
Twenty Colts Accepted at 2011 NRPS Stallion Licensing
Twenty-Five Colts Approved at 2010 NRPS Stallion Licensing
Fifteen Stallions Approved for the NRPS Studbook
Sunliner, Champion of the 2009 NRPS Stallion Licensing
Ferrero Wins 2006 NRPS Stallion Licensing