Italy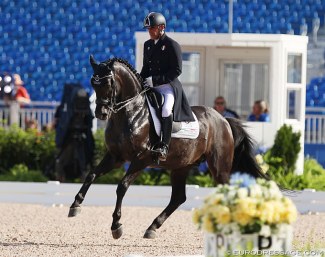 Italian WEG team rider Pierluigi Sangiorgi has been suspended by the FEI after his horse tested positive to the banned substance Aripiprazole. 
Sangiorgi's Gelo delle Schiave was doping tested at the 2019 CDI-W Lipica in Slovenia. 
Doping Tested at 2019 CDI-W Lipica
In September 2019 the FEI announced that it had found adverse analytical findings (AAF) involving an equine prohibited substances in this case a Banned Substance, under the FEI's Equine Anti-Doping and Controlled Medication Regulations (EADCMRs).
Pierluigi has been provisionally suspended from the date of notification until the FEI Tribunal renders its decision.
The horses was provisionally suspended for two months from the date of notification, which started on 27 August 2019 and ended on 26 October 2019. 
"In order to maintain the integrity of the ongoing legal process, the FEI will not comment on this case at this time," an FEI spokesperson told Eurodressage.
Anti-Psychotic Aripiprazole
Aripiprazole is a Banned Substance and, according to the EADCMRs, should never be found in the body of the horse and are prohibited at all times.
Aripiprazole is an atypical antipsychotic for humans. It is primarily used in the treatment of schizophrenia and bipolar disorder. Other uses include as an add-on treatment in major depressive disorder, tic disorders and irritability associated with autism.
Pierluigi and the now 13-year old Italian Sport Horse bred Gelo delle Schiave (by Stakkato x Contendro), owned by Stefano Brecciaroli, were members of the Italian team that competed at the 2018 World Equestrian Games in Tryon. In 2019 they competed at Ornago, Wiener Neustadt, Lipica and Nice. 
Eurodressage spoke to two acclaimed vets on why Aripiprazole would be used on a horse. Both concurred that many types of antipsychotic medicines have been tried on horses by equestrian athletes to alter their behaviour. They called the administering "desperate" and "hazardous". 
Eurodressage contacted Sangiorgi but did not receive a reply.
Related Links
Scores 2018 World Equestrian Games
Scores: 2017 Italian Dressage Championships
Pierluigi Sangiorgi Wins 2008 Italian Dressage Championships