Van Olst Sales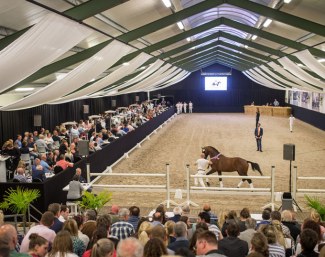 The 2020 edition of the annual Van Olst Sales will not take place in the spring, but has been postponed till the autumn. 
Every spring round Easter, Dutch stallion owner Gert-Jan van Olst and his wife, Danish Grand Prix rider Anne van Olst, organize a successful with an emphasis on well-ridden three-year-old geldings, some very talented young mares. The collection is supplemented with a few older horses, approved stallions, and very interesting broodmares.
"Due to the early and busy competition and show program we have decided to postpone the auction this year to the autumn," said Gert-Jan van Olst. "An additional advantage is that we can give the auction horses, who are all saddle broken, just a little more time to grow in the work and prepare them even better for the auction."
The new date for the Sales has not yet been decided. 
Related Links
Eurodressage Coverage of Van Olst Sales
Halegro van het Trichelhof, Price Highlight of 2015 Van Olst Sales
Jefferson, Price Highlight of the 2016 Van Olst Sales
Fireball, Price Highlight of the 2017 Van Olst Sales
Kayenne M, Top Seller of the 2017 Van Olst Autumn Auction
Crosby, Price Highlight of the 2018 Van Olst Sales
Loverdale W, Top Seller of the 2019 Van Olst Sales