Portugal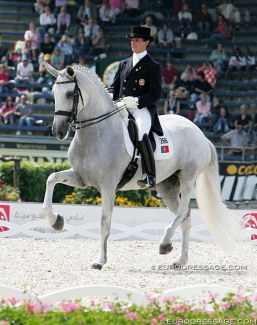 Miguel Ralao Duarte's career making Grand Prix horse, Oxalis da Meia Lua, has passed away at age 25.
Oxalis da Meia Lua was a Lusitano mare by Xaquiro out of Fama (by Marialva x Vidago).
She was bred by Coudelaria da Meia Lua and owned by D. Diniz and Pedro Ferraz da Costa. She was named after the wood sorrel flowering plant Oxalidaceae.
Trailblazer for Lusitanos
The grey mare launched Miguel Ralao Duarte's career in international dressage sport and was one of the first Lusitanos to become a fixture on a national team at multiple (inter)continental Championships. 
Oxalis first came into the international spotlight by competing at the 2001 World Championships for young dressage horses in Verden, Germany. She placed 15th in the second round and just missed out on a place in the Finals. 
The pair made their debut on the Portuguese Grand Prix team in 2005 and competed at the European Championships in Hagen, where they were 33rd in the Grand Prix.  At the 2006 World Equestrian Games in Aachen, Oxalis made an indelible impression when she gave her rider a hard time by resisting in the Grand Prix and bucking in the piaffe. They were 83rd and last. 
In 2007 the combination returned to better form and were back on the team for the European Championships in La Mandria, where they made it into the Grand Prix special and placed 25th. They finished the year by taking the National Grand Prix champion's title. 
Their final year at top sport level in 2008 was supposed to be the coronation of their career as they were selected to represent Portugal at the Olympic Games in Hong Kong. Unfortunately at the Games Miguel had to retire from the Grand Prix as the mare again became resistant in the test. It was also the end of her sport career.
"She had a strong female character," Miguel's daughter Rita Ralao reminisced. "When she said no, it was no. When she was willing to go, she would give 300%."
Broodmare After Sport Career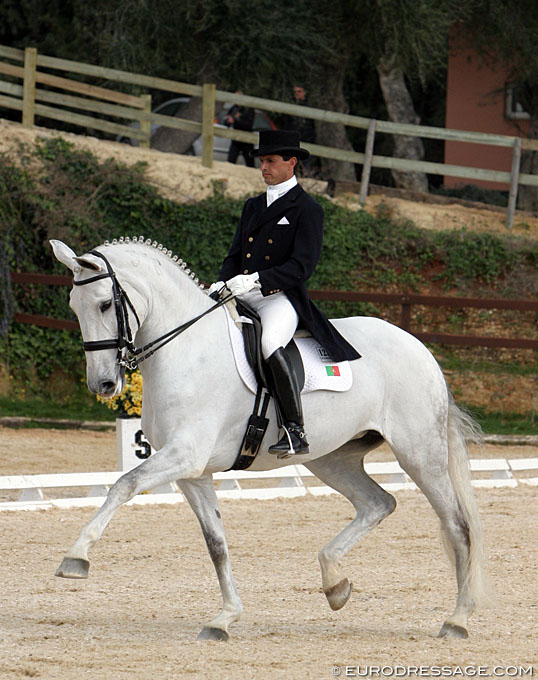 After her retirement from sport, Oxalis became a broodmare and produced no less than 12 foals, all of them through embryotransfer. Ten of them are fillies, two colts.
Her twelve foals are Enzima (° 2009) and Fama (°2010), who are by Zircon. Then there was Garupa (by Rubi AR) and Grinalda (by Rico) in 2011. Hocetina (by Cetim) is from 2012.
There were three foals in 2013, which includes the two rare colts, Império and  Irão (both geldings), and filly Ira; all three are by Portuguese Olympic team stallion Rubi AR
In 2013 she was leased by the French based Haras de la Gesse for breeding and produced the 2014 born filly Joxalis de la Gesse (by Harmonioso), who is now a broodmare herself. In Portugal she produced the 2014 born filly Juta (by Tejo). 
Finally Lira (by Rubi AR) was born in 2015, and Ópera (by Rubi AR) was her last foal in 2018.
The now 7-year old Irão (by Rubi AR) is the only one active in sport, trained and competed by Rita Ralao.
Gratitude for Xica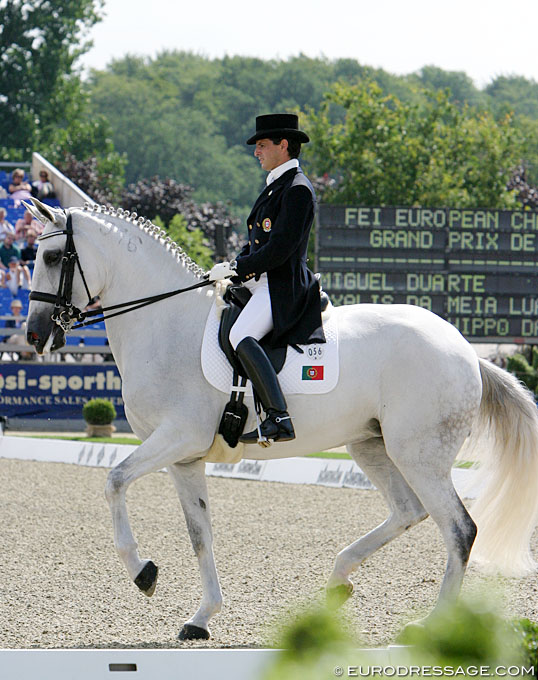 Miguel Ralao Duarte expressed his deep gratitude for the mare,  who was nicknamed Xica, in a tribute.
"There aren't enough words to describe how special Oxalis was and will always be," said Miguel. "For everything she has achieved throughout her career and for the special memories she leaves in our hearts. I will never forget everyone that always believed in her potential since the very beginning: thank you Bénédict Daoust and Mello Family together with Pedro Ferraz da Costa, who kept her and took care of her until her final days."
Raloa continued: "there is a special person that needs to be mentioned as he was always by her side, for better and for worse - at home, traveling and at the shows - thank you Valdeni Soares Luz for being the best groom she could've ever had! There are not enough words to express such gratitude towards you."
Photos © Astrid Appels - No Reproduction Allowed
Related Links
Eurodressage Photo Database: Oxalis da Meia Lua
Scores 2001 World Championships for Young Dressage Horses
Do the World Young Horse Championships Lead to Grand Prix Success? Yes!
Portuguese Riders Well Represented in Spain
Miguel Ralão Duarte, 2007 Portuguese Dressage Champion
Portuguese Team Selected for 2005 European Championships Moscow
Portuguese Team Selected for the 2006 World Equestrian Games
Portuguese Team Selected for the 2007 European Dressage Championships
Portuguese Olympic Dressage Team Announced
Germany Grabs the Gold at the 2008 Olympics