Nicola Naylor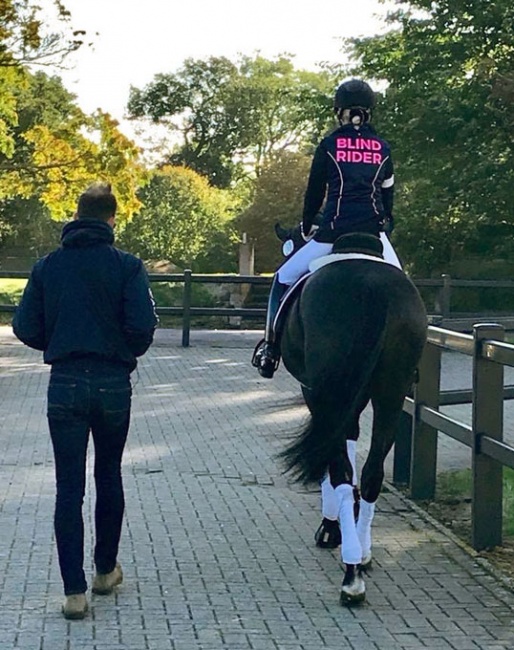 Collecting rings are a blind rider's nightmare. I guess it might also be every rider's nightmare to have a blind rider in the warm-up with them.
As someone who prefers to be discrete about my disability, it took some resolve to throw discretion to the wind! I now wear a navy waistcoat with blind rider emblazoned in fluorescent pink, and the compulsory white armband to draw attention to myself in the collecting ring in the interest of safety. Both precautions frequently go unnoticed as riders are mainly focussed on their own preparations. I am always on a microphone, being steered and coached simultaneously by Daniel Watson, my trainer. This requires nerves of steel on both our parts.
I used to think riding with lower level riders was the hardest as they did not always follow the rules of the collecting ring - passing left to left, walking on the inside track etc. I now know that riding with CDI competitors is the hardest. Many Grand Prix riders, intent on a line of tempis or a pirouette, will stop for no one; even if they are blind. Fortunately, depending on how you look at it, my coach is a seasoned Grand Prix rider, so when he says 'go', he means move; and now. I have mostly learned to obey orders. However, it is counter intuitive when I can hear someone too close for comfort and my instinct is to stop, but the voice in my ear is saying, 'Go. Don't lose your line, don't mind what is going on around you'. As hard as this is, he is right. My horses need to feel I am there for them. They would lose confidence if I was hesitant and stopped every few minutes. We had one 6 yr old who stopped himself every time he thought a collision was imminent. People thought he was 'looking after his rider'. Yet this cannot be the horse's job as it is too short a step from stopping to shying and eventually backing up and becoming fearful of approaching horses.
Surviving rush hour on the motorway has certainly quickened my reactions as a rider. Put anyone in the dark and their steps will falter. Riding blind involves fighting this instinct to freeze. Forwards is fundamental to the scales of training and fundamentally challenging to me; and nowhere more so than in the collecting ring. In able bodied competitions, I can find the warm up more stressful than the test. In recognition of how difficult this can be, many show organisers give me a test time just after a judges' break as it can be a little quieter in the collecting ring in the interval. It remains to be seen what will happen at CDIs when the order is drawn.
At most CPEDIs and para national events, the show organisers keep a collecting ring separate for visually impaired riders in the interest of safety and in accordance with FEI guidelines. This feels like motoring along a country B road on a Sunday morning after zigzagging down a 3 lane motorway at able bodied events. Absurdly, I have been at para internationals where the blind riders had a separate collecting arena but were all expected to use it at the same time. If ever there was a recipe for carnage; that was. Local para competitions often don't have the facilities to keep a separate collecting ring. My worst collision to date was with another para rider at a local show where there was only one warm up.
There are some fantastic show organisers who provide as much space as possible, and some excellent stewards who organise that space and supervise numbers and behaviour. Daniel and I can navigate the warm up with all the skill and verve we can muster. However, the biggest thank you goes to those clever and considerate riders who work in the interest of every horse and rider's safety. When a blind person is walking down the street using a white cane, the pedestrians who step out of the way are so appreciated, rather than those who cause a crash because they are looking at their mobile phones. This is no different. It is so very appreciated when people or riders that can see, do look where they are going.
- by Nicola Naylor
Related Link
Nicola Naylor: "My Goal Has to Be to Feel it, All the Way to Grand Prix"