Barbara Minecci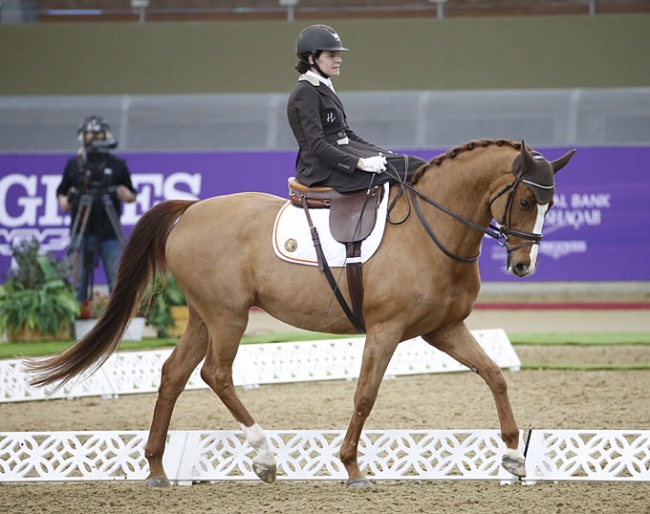 After a chilly and early start to the season in January in France, my whole team was looking forward to escape the windy and wet Belgian winter to refill our vitamin D depots at an incredible venue from 1001 nights: Doha in the desert state of Qatar.
My para mates and I feel extremely grateful that not only the dressage and jumping riders, but also we are allowed to be part of this international invitational show. The CHI Al Shaqab is the most breathtaking venue I ever had the opportunity to ride at. The arenas are huge, the stables for the horses comfortable and climatized and they can also go for a leg stretch or fresh canter on the huge race-track on the facility.
The whole organization, from the flights of horses and teams over the grooms accommodation to the one of the rider's, is just exceptional and taken care of to the tiniest detail.
Expedition East
The expedition to the luxurious desert started early on Monday morning before. Antoine, Stuart's groom, had arrived from far away Saumur in time so we both brought Stuart to Liège airport from where he started his journey with the other horses and taken care of by my team mates Kevin van Ham's groom.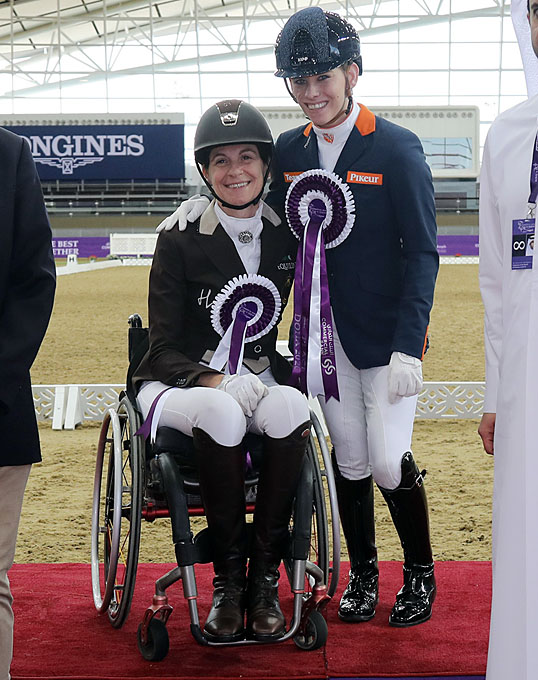 On the way back to Brussels we picked up Manon Claey's groom and then all checked in for our own flight from Zaventem. Stuart has flown the year before and handled it well, so I was not too worried about my horse. In contrary, a shorter flight like this is a good indication how the horses react to the whole process of being at the airport at least six hours before departure, being loaded and the flight itself. The organization is so professional that nowadays the risk of flying horses seems far less than in the past.
Stuart welcomed us in his stable, feeling fresh and his usual self. This means he was standing on three legs, his favourite position to ask for food, cuddles or any other form of attention. It has earned him the nick-name "horsey flamingo"… The organizers are following the World ranking and invite a maximum of 20 para riders. I was competing in the grade III class together with Dutch multi medalist Rixt van der Horst.
Futuristic Al Shaqab
Although my horse has been at this venue before, the gigantic indoor arena with its futuristic looks and high tribunes startled Stuart on our first day there. We had to ride the team competition test and he got so tense when entering the arena, that I was unable to keep him in balance, resulting in a difficult test with a lot of mistakes.
Thank heavens my regular trainer Chris Haazen was with us in Doha and we talked the ride over. I also phoned home to speak with Nick van Laer, who rides Stuart once at week at home. So the second test on Friday turned out much better and we again finished second behind the Dutch World champion grade III, Rixt van der Horst, but this time a mere 2% behind this successful rider. The last and third competition, the freestyle, is usually my favourite test and now we were both that relaxed I could really enjoy it, finishing again 2nd with 73.3% whereas Rixt was quite ahead at 77.1%.
Down Time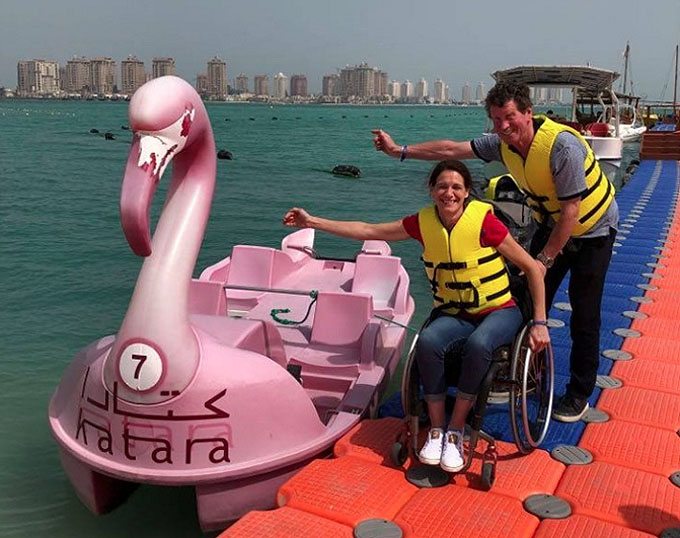 In between training and looking after Stuart, we also had the opportunity to enjoy social life in this fascinating place, doing a boat trip in the harbour and visiting one of the famous malls where the luxury offers are a bit overwhelming. The weather was great, at 26 degree nicely warm and a huge contrast to the Belgian weather we were coming from and returning, too. We all enjoyed the sunshine, warmth and great hospitality of the organizers.
While I am sitting on the plane home, writing these lines, Stuart has already arrived safe and sound in his stable next to Baba, his coloured buddy.
I'm coming back home with more valuable experience on how to manage Stuart in different conditions, but also with very interesting comments from the judges on how to improve the choreography of my freestyle. These are my tasks for the next weeks before we had to our fantastic home- CPEDI in Waregem at the end of April.
Bye for now!
Barbara and Stuart
Related Links
Introducing Barbara Minneci: Para-dressage's Ambassador of Good Equitation
Barbara Minneci: "On The Early Chase for Tokyo"