Hit & Run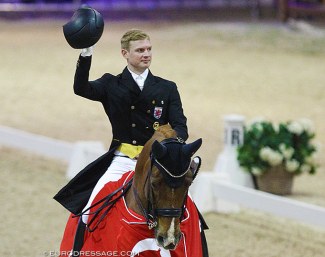 In corona times we are all ordered to stay at home, self quarantine, and do social distancing. With more time on your hands to spend online, Eurodressage launches a "Hit & Run" interview series so that you get to know the world's most famous dressage riders and personalities more closely. 
Nicolas Wagner is an international Grand Prix rider competing for Luxembourg. Coming from ponies through the youth divisions, Wagner is now shining aboard Quater Back Junior, a horse which he took from the World Young Horse Championships to Grand Prix and with whom unlocked an individual starting place for his country Luxembourg at the Tokyo Olympics.
Hit & Run - Nicolas Wagner
What is your earliest memory? 
When I was younger I climbed up the sink in the bathroom
Which person alive do you admire the most and why?
Carl Hester because he sits so special on the horse and makes look everything so light and easy
When were you the happiest?
First Grand Prix victory
What is your biggest fear?
To become old and sick and not be able to continue to ride
What was your first thought today?
How to work with my horses today
What is your most annoying character trait?
I repeat myself really often
Which trait do you dislike the most in other people?
When they don't talk to me or don't open up
What is your dearest possession?
My special Quarter Back Junior
If you look into the future, what do you see?
A lot of super horses and a healthy family
What makes you unhappy?
That my grandmother doesn't live anymore and when my family is sad
What is the love of your life?
My family and my horses
What was the best choice you ever took in life?
To follow my dream and become professional horse rider
What's your guilty pleasure?
I'm nearly only passionate about horses
What do you owe your parents?
My mom supports me in everything and I'm really thankful to have such a mom. My dad helped me in school and supports me a lot in my life
Who can sit next to you at your dream dinner table?
My team
What was the worst job you ever did?
Internship in the office
What was your biggest disappointment in life?
That Quater Back Junior was scared at the European Championships in Rotterdam
What would you change if you can go back into the past?
Nothing, everything happens for a reason. That's life
Name one thing that would improve your quality of life?
No illness in the world
What is your biggest achievement?
Qualification for the Olympics
What is the most important life lesson you have learnt?
Patience with horses and that you can reach with time, good work and patience a lot
Where would you like to be right now? 
At my yard with my team and family
What's your favourite scent?
Minotaurus Perfume
Which character would you dress up in for Halloween?
As a vampire
To whom would you like to say sorry?
I don't know. Actually I try to say sorry directly when I make mistakes.
What does love feel like for you?
Family
When are you most relaxed?
When I sit in the garden and can look at ours foals and horses and can spend time with my family
What super power would you like to have?
To fly
When did you last cry, and why?
When I had to give away my dog, because he had bitten another dog
When were you closest to death?
I never had this experience, fortunately
How do you want to be remembered?
That I'm remembered as a good horse trainer and a person who try to give always the best in every situation
Related Links
Wagner, Hermes, Koschel Sweep Big Tour at 2019 CDI Waregem
Photo Report: Wagner Rises to the Top of the Board at the 2019 CDI Lier
Photo Report: Wagner and Quater Back Junior Shine at 2018 CDI-W Mariakalnok
Thill, Becca, Wagner, Schulz Win 2017 Luxembourg Dressage Championships