Germany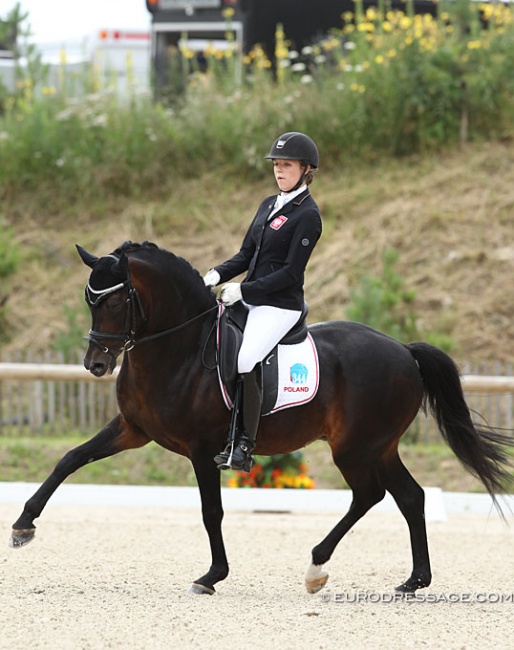 Prometheus B, an FEI Dressage pony stallion who has taken three riders to CDI pony level and two European Pony Championships, has been sold to Germany. 
Prometheus is a 20-year old Dutch Welsh crossbred is by Coelenhage's Purioso out of Wengelo's Vea (by Julio Mariner xx).
Dutch Bred, German Start
He is bred by G. Dokman in Holland, but sold to Ludwig Stassen of Gestüt Bonninger in Germany as a youngster, which is where the pony got the "B" suffix, even though he was not bred at his yard. The pony is often wrongly listed as German Riding Pony bred. 
Prometheus was licensed for as a 2.5 year old at the 2002 Rhinelander Pony Licensing and has produced 17 offspring that are registered for sport in Germany, five of them are licensed stallions (FS Pentagon, Harry Potter, Perseus B, Priamos B, Pythagoras B). 
He was first competed in Germany as a 5-year old by Louise Luttgen. A few months later Annabel Frenzen took over the ride and in 2006 younger sister Michelle Frenzen climbed aboard. She showed him through 2007.
Polish Star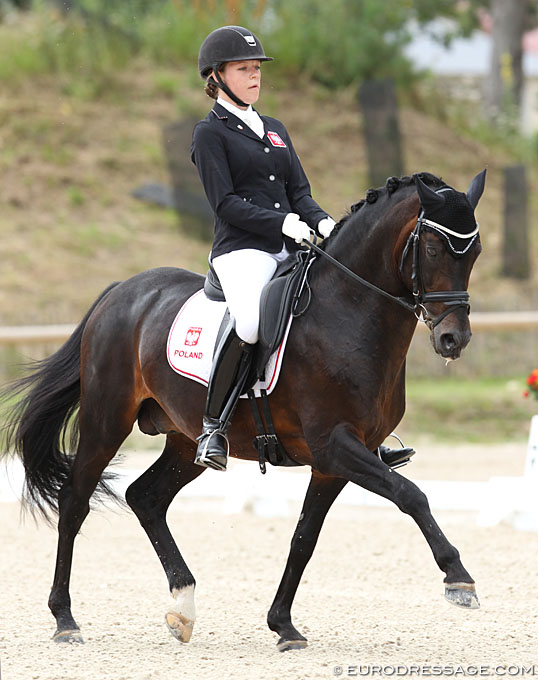 Prometheus B sold to Poland in 2009 and became a pony star for the country. Under Joanna Tragarz he made his CDI debut in Zwolle in January 2010 and went to Wroclaw and Leudelange that year. 
In 2011 Joanna and Prometheus showed in Radzionkow, Hagen and Wroclaw and got selected on the Polish team for the 2011 European Pony Championships in Jazkowo, Poland, where they were 19th in the consolation finals. 
In 2012 they showed at CDI's in Vidauban, Stadl Paura, Radzionkow, and Lipica before representing Poland for a second time at the 2012 European Pony Championships in Fontainebleau,  where they were 44th in the individual test. They were trained by German Olympian Ulla Salzgeber at the time.
Move to Austria
In 2013 Prometheus sold to Austria to the Pengg family as a ride for daughter Chiara. They began at regional and national before making their international show debut at the CDI Brno two years later in June 2015. 
In 2016 Prometheus B was briefly shown in Germany under Carla Maria Degener, but he returned to Austria in 2017 as a schoolmaster for Lilly Messner, who did one international with him, the CDI Lipica.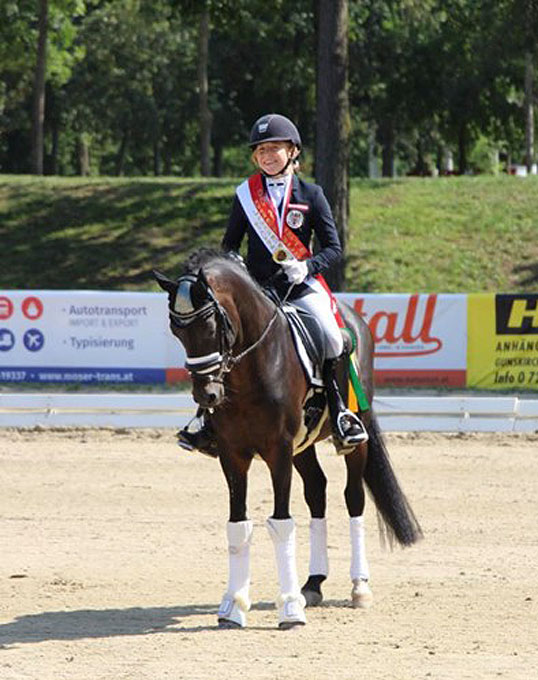 In 2018, Prometheus B sold to trainer Elisabeth Lippert, but the stallion did not return to the international show scene. In 2018 he was ridden by Maxima Schweiger and in 2019 by Bianca Pramberger at regional level in Austria.
Evergreen
The 20-year old evergreen Prometheus has now became the schoolmaster for Anna Spiessberger. 
The Austrian received the ride from owner Lippert two months ago.
"He is full of energy every day and we have so much fun at work," said Spiessberger. "He is incredibly fit and in a good mood. We will see what the future brings."
Spiessberger aims for an international FEI pony level debut with Prometheus B. 
"That would be the plan, but will start in our first competition in July and then I can say more about it. Because of the corna virus we can't go to shows at the moment," Anna explained. 
Photos © Astrid Appels - Christina Grabner - Barbara Schnell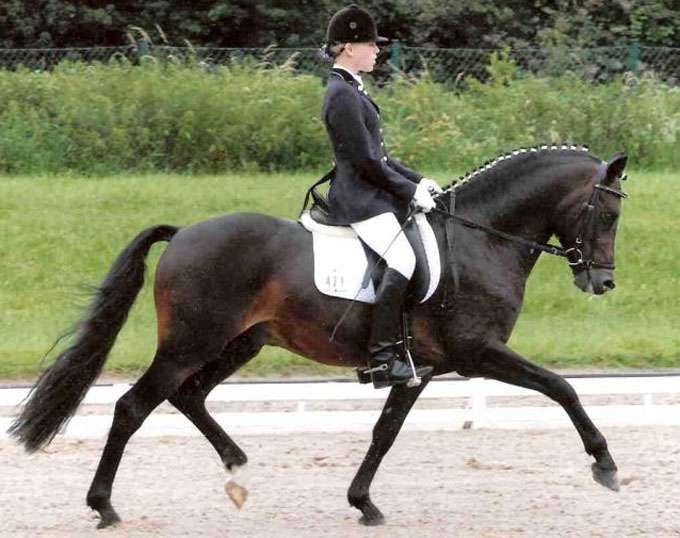 Related Links
Eurodressage Photo Database: Prometheus B
Scores: 2012 European Pony Championships
Scores: 2011 European Pony Championships