Hit & Run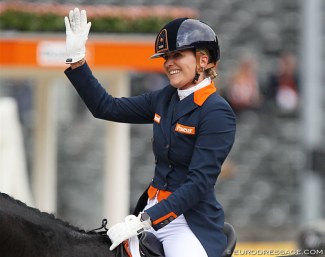 In corona times we are all ordered to stay at home, self quarantine, and do social distancing. With more time on your hands to spend online, Eurodressage launches a "Hit & Run" interview series so that you get to know the world's most famous dressage riders and personalities more closely. 
Dutch Grand Prix rider Emmelie Scholtens started her professional career as an assistant trainer at Stable Laarakkers and became a highly asked young horse rider. She first moved into the international spotlight by riding Uphill at the 2006 World Championships, but in 2009 she won gold at the WCYH with Westpoint, followed by double gold on Astrix in 2010 and 2011, bronze on Bretton Woods in 2011 and bronze on Charmeur in 2012. She made her international Grand Prix debut in 2015 on Walerno and with Apache in December 2015. Apache became her career making horse, getting selected on the Dutch team for the Nations Cup in and World Equestrian Games in 2018. She finished 8th the 2019 World Cup Finals. She steered Desperado to team silver at the 2019 European Championships in Rotterdam.
Hit & Run - Emmelie Scholtens
What is your earliest memory? 
I'm thinking straight away of my two brothers, always playing, playing with our pets, and the ponies and horses. 
Which person alive do you admire the most and why?
My mother
When were you the happiest?
I'm always cheerful and optimistic, so also now in these strange times.
What is your biggest fear?
Losing loved ones and after the loss of Apache, it also counts for my horses
What was your first thought today?
I'm hungry
What is your most annoying character trait?
I find it hard to be on time
Which trait do you dislike the most in other people?
Dishonesty
What is your dearest possession?
All the sweet people and animals that are in my life at this moment
If you look into the future, what do you see?
When this pandemic is "over", I see the future positively; not only on a sportive level, because I have great horses, but also that we now look differently at the world when it comes to sustainability.
What makes you unhappy?
Cruelty against animals
What is the love of your life?
Jeroen Witte
What was the best choice you ever took in life?
To start our own stable together with Jeroen
What's your guilty pleasure?
Jelly beans
What do you owe your parents?
A lot, especially being independent
Who can sit next to you at your dream dinner table?
Harvey Specter from Suits
What was the worst job you ever did?
Never had one
What was your biggest disappointment in life?
There are always ups and down, you learn from them
What would you change if you can go back into the past?
What happened, happened, so nothing
Name one thing that would improve your quality of life?
I'm already very content
What is your biggest achievement?
To run a successful business and have amazing around us
What is the most important life lesson you have learnt?
Be patient and persevere
Where would you like to be right now? 
In my bed
What's your favourite scent?
Christmas smell
Which character would you dress up in for Halloween?
I hate halloween
To whom would you like to say sorry?
My teachers in school. I was there a long there and it wasn't fun
What does love feel like for you?
To have a special bond and mutual trust
When are you most relaxed?
After a good test
What super power would you like to have?
To communicate with animals
When did you last cry, and why?
When I read an interview about Apache and looked at the beautiful photos
When were you closest to death?
Never happened, fortunately
How do you want to be remembered?
As a person who has been respectful towards humans and animals
Related Links
Astrix Enables Second World Championship Gold for Scholtens
Emmelie Scholtens' Apache Succumbs to Laminitis
Ibiza Returns to Holland, Back with Emmelie Scholtens
Minderhoud and Johnson Withdrawn from Dutch Team, Scholtens In
Emmelie Scholtens' Dorado Sold to Anna Zibrandtsen
Emmelie Scholtens Takes over Ride on World Champion Dancer
Astrix Marches to Second Gold and World Champion's Title by Winning 6-Year Old Finals
Desperado and Charmeur Win 2012 Pavo Cup Finals
Charmeur and Borencio Win 2011 Pavo Cup Finals