Interview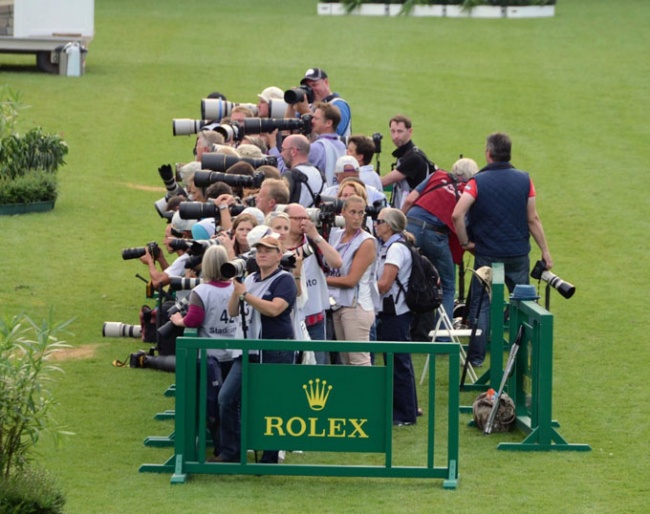 We are reproducing this interview Eurodressage's editor-in-chief, Astrid Appels, recently gave to the blog of Equissentialsdressage.com. It was quite funny as the author contacted us for some tips on how to become a journalist and make in the world of journalism. In the end we ended up giving an interview to them. 
Q&A with... Astrid Appels from Eurodressage.com
Astrid Appels, Founder and Editor in Chief of the biggest dressage website on the internet eurodressage.com very kindly took some time to speak to us this week.
At age 16 - whilst still competing as a pony rider -  Astrid started the website Belgian Junior Riders Online, where she wrote about the latest in dressage news in her home country of Belgium.
From there it grew into Eurodressage.com in 2000, for which Astrid writes all of the latest news and results from the breeding and dressage world.
_____
Hi Astrid! Thanks so much for agreeing to take part in the very first of our Q&A features. It feels odd to be interviewing someone who's interviewed some of the greatest riders across Europe, but here goes...
First of all, tell us a little bit about your horses past and present - who are they and what are they currently doing?
I rode with my pony Didi, a Dutch bred New Forest Pony (by Oosterbroek Yago x Offem Aeolus) at national FEI pony level until I reached the age limit. I then moved onto a 6-year old Westfalian named Grace (by Grafenfels x Ludendorff) who I only competed once, but kept on training while I was at university.
She was trained up to schooling Prix St Georges level and did some piaffe and passage. I quit riding in 2009 when I got too busy with my website and Grace was retired from sport. I then started breeding with her and got three foals: Fortuny (by Furstenball) who is now with a new owner in the U.K., Faye (by Furstenball) who I gave to my neighbour and who we might still breed with in the future, and Javelin (by Jazz) who is in professional training in the U.K.
You started writing as a pony rider and then grew your website into Eurodressage which is now the biggest dressage website on the internet – tell us how you started and what the journey was like from starting to now being one of the worlds biggest equestrian journalists? 
I always had a keen passion for reading and writing and languages were my forte. My mum stimulated me to write articles and submit them to equestrian magazines. I ended up writing a few stories for the Belgian equestrian magazine Hippo Revue and the well known Dutch magazine De Hoefslag. At the same time some high school friends – all computer nerds – taught me how to make a website and that's how I decided to create my own dressage magazine on the Internet, Belgian Junior Riders Online, which was one of the pioneer websites for equestrian media on the Internet. We were years ahead of the actual big equestrian magazines with big corporations behind them. 
What has been your biggest achievement and why?
Gosh, the fact that after 22 years Eurodressage is still thriving as one of the most read dressage websites on the Internet. Many of them came and went and we have always been there. The secret to the success, in my humble opinion, is high quality content with proper expertise in combination with outstanding photography.
Your photography is beautiful, it is one of my favourite things about your website.
If you had any advice for a budding journalist, what would your number one tip be?
Be bold !! Don't wait for people to knock on your door. Go out, work hard and learn! Write articles, submit them to magazines, show your skill, master to write well (for instance, by studying Languages or Communication at University) and always be hungry to learn more about the sport. 
Was there ever a moment when you thought 'wow, this is amazing, I've really become a journalist' – if so, when was that and why?
I think that realization grew slowly. In 1999 I interviewed Isabell Werth and I almost crawled under the table, I was so scared and intimidated. In 2002 I did the World Equestrian Games in Jerez and just standing there as a photographer and journalist in that big arena right near the show ring, while the crowds are seated behind you; this also gives a very special feeling that you are part of the in-crowd.
Oh wow, I had goosebumps imagining that, what an amazing experience!
Tell us, when you're not interviewing Isabell, what does a typical day look like for you? (when we aren't locked down because of CV19!)
There are two types of work days for me: either in the office at home, or out at a competition.
At home I start quite late (9 AM) because I usually don't go to sleep until 1 or 2 AM. On a slow day I work from 9h till 19h with only a short lunch break and one hour at the gym. On a busy day it's the same routine but then I do hours from 9 h till 23 or 24h.
At a horse show it's usually getting up at 6.30h, go to the horse show, photograph non-stop from 8 h till 20h (with barely any time to eat). Then go back to the hotel room, download photos, write articles, post news and go to sleep around 3 AM.  As you can imagine by the end of August when all the Championships are over, I'm knackered. I don't work shows in September because of that!
The shows sound amazing, but VERY full on, I can imagine its such a rollercoaster of feelings! At the shows, you get to meet, interview and spend time with some amazing riders; who's your biggest inspiration and why?
I have deep respect for Isabell Werth. She continues to produce one top Grand Prix horse after an other, and not all of them are the most talented movers. She just makes them into super stars. While I often do argue it's not all very classically correct, I prefer her riding any day to those of the push-and-pull tradition with the tight nosebands and dead mouths. 
Inspiration I get from colleagues who write amazing articles. When I read Pippa Cuckson's battle against animal cruelty, lobbying and corporate corruption in the Endurance world, I feel very small with my dressage stories.
Have you ever been nervous to meet a rider or judge – who?
Yes, I actually don't really enjoy doing live interviews and prefer to do them in written form. I still get nervous approaching riders I've never met before and I don't like speaking in public, like at the Global Dressage Forum. But that's more stage fright than anything else. I just need to step over my own shadow there and overcome it
Which is your favourite show across the world – tell us what makes it so special?
Of course Aachen and Horses & Dreams in Hagen are fantastic shows, my personal favourite is the CDIO Compiegne in France. It has a beautiful natural backdrop for the photos (trees, lots of green, flowers and not too much advertisement) and while you photograph the action in the main ring, the crowds are sitting behind you on plastic chairs and tables, enjoying the freshly baked bread, local salami, foie gras and wine you can buy in the smallest but most authentic little trade fair right next to the arena. J'aime la vie!
Wow, that sounds like the perfect show!
Quick fire round:
Favourite saddlepad brand? Eskadron
Favourite breeches brand? Pikeur
Full seat or knee patches? I'm old school. None! I tried to develop my seat without the aid from my breeches.
Gel seat or leather? if I were to have the option, gel
Mare or Gelding? Mare!
You can find the original interview here on Equissentialsdressage.com