Hit & Run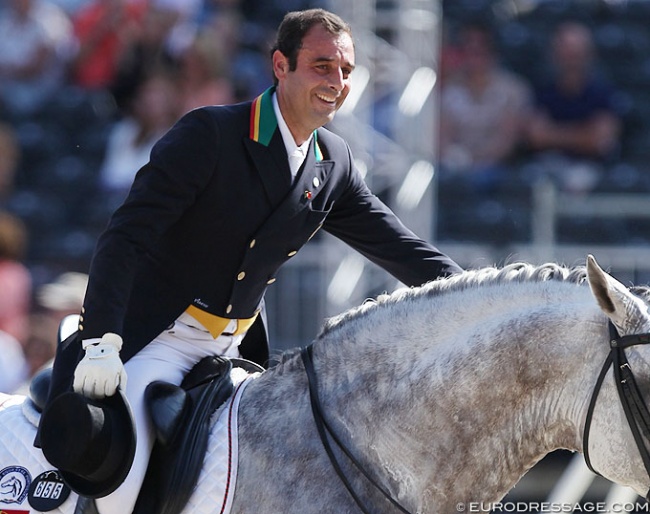 In corona times we are all ordered to stay at home, self quarantine, and do social distancing. With more time on your hands to spend online, Eurodressage launches a "Hit & Run" interview series so that you get to know the world's most famous dressage riders and personalities more closely. 
Portuguese Grand Prix rider Rodrigo Torres is a professional dressage rider based in Lisbon, breeding Lusitano dressage and working equitation horses. His international Grand Prix dressage debut was in 2012 on Zimbro. Four years later he returned to the CDI scene in 2016 on Califa II, but the horse Fogoso really put him in the spotlight. In 2018 the pair was named reserve for the Portuguese team for the World Equestrian Games, but when a spot opened up he declined to go as Fogoso was too young. In 2019 he represented Portugal at the European Dressage Championships in Rotterdam. He won the gold medal at the 2019 Portuguese Grand Prix Championships in Lisbon. 
Hit & Run - Rodrigo Torres
What is your earliest memory? 
Walking around with my father and grandfather in our farm looking at the cows and mares
Which person alive do you admire the most and why?
People that know what they want, specially my father and my wife
When were you the happiest?
When my daughter was born, just 2 month s ago
What is your biggest fear?
Loosing a member of my family or a close friend
What was your first thought today?
My daughter started crying... my first thought was "Is she hungry?"... I tend to solve everything with food
What is your most annoying character trait?
I'm stubborn at times...
Which trait do you dislike the most in other people?
Dishonesty 
What is your dearest possession?
Not sure if you can call it a possession, but certainly my family and our stud which was built by my father and grandfather
If you look into the future, what do you see?
Happiness with my family living in our farm, while breeding and competing in dressage competitions with my wife on top lusitano horses, sons of my current star Fogoso 
What makes you unhappy?
Seeing my loved ones unhealthy or unhappy
What is the love of your life?
My family
What was the best choice you ever took in life?
To become a professional rider
What's your guilty pleasure?
Eating, I eat a lot 
What do you owe your parents?
Everything
Who can sit next to you at your dream dinner table?
My wife
What was the worst job you ever did?
Being a student in school
What was your biggest disappointment in life?
In 2002 I lost an the individual World Champion title in Working Equitation in the last obstacle of the last test... it was a small mistake where my knee touched a barril in the speed test and it made me drop four positions, after having won the team gold medal... 
What would you change if you can go back into the past?
Nothing
Name one thing that would improve your quality of life?
To be younger
What is your biggest achievement?
Building a happy family
What is the most important life lesson you have learnt?
Resilience, we have to be patient, and things will happen
Where would you like to be right now? 
Where I am, with my family
What's your favourite scent?
The countryside after rain
Which character would you dress up in for Halloween?
Zorro
To whom would you like to say sorry?
No one, if I wanted to say sorry I would have done it already
What does love feel like for you?
The smile of my wife and daughter
When are you most relaxed?
When I have my work done
What super power would you like to have?
To understand what horses want to say
When did you last cry, and why?
Happy tears, when my daughter was born
When were you closest to death?
Fortunately, never
How do you want to be remembered?
As a good husband, father and rider
Related Links
What's Happening: November 2019
Carrasqueira, Lopes, Meneres, Vila Nova, Torres Win 2019 Portuguese Dressage Championships at CDI Lisbon
Pinto and Santurion de Massa Withdraw from 2018 World Equestrian Games
Lusitanos Take Grand Prix World by Storm, Fidalgo Stars at 2018 CDI Alter do Chao
2018 CDI Lisbon Draws Out the Crowds, Celebrates Dressage in Portugal
2017 Lisbon International Dressage Show Sets the Bar, First Step towards CDI Series
Monteiro, Lopes, Meneres, Caetano Win 2017 Portuguese Dressage Championships