Hit & Run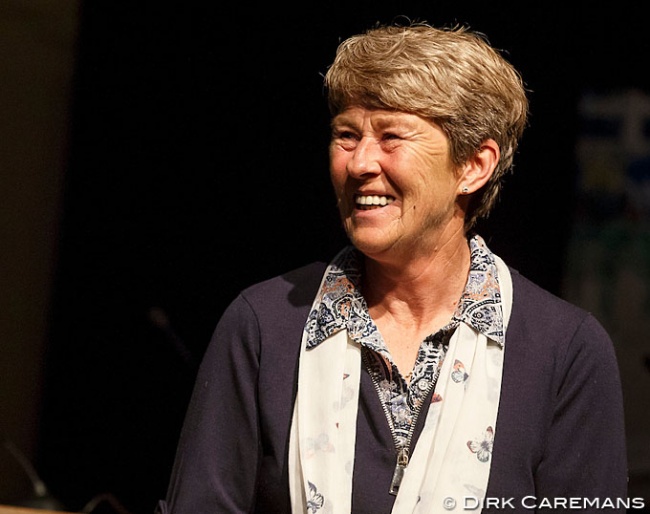 In corona times we are all ordered to stay at home, self quarantine, and do social distancing. With more time on your hands to spend online, Eurodressage launches a "Hit & Run" interview series so that you get to know the world's most famous dressage riders and personalities more closely. 
Finnish Grand Prix rider Kyra Kyrklund is a six-time Olympian and considered a legend in the sport. The 68-year old rode six Olympics on six different Grand Prix horses, her first in 1980 on Piccolo, her last in 2008 on Max. She won silver at the 1990 World Equestrian Game on Matador, she has been a Nordic Champion, won 10 Finish Championships, has ridden at six World Cup Finals and won the 1991 edition in Paris. She was presented with the Finnish Pro Sports Prize in 2015 and got Finland's Gold Medal of Sport and Culture in 1994. She is the president of the International Dressage Riders Club, has been a Swedish national team trainer and is currently head coach of the the Swedish private training project, Knytkalaset. She is a professor in equitation at the Swedish University of Agricultural Sciences in collaboration with National Equine Centers Flyinge and Strömsholm. Kyra lives with her husband Richard White at Snowhill Farm in West Sussex, England.
Hit & Run - Kyra Kyrklund
What is your earliest memory? 
I was 3.5 years old when I got my first spectacles. Suddenly I could see my surroundings clearly and I can still remember the revelation!
Which person alive do you admire the most and why?
Richard, my husband, for sticking with me, not only in success but also in difficult times.
When were you the happiest?
Getting the "all clear" after my cancer treatments.
What is your biggest fear?
I have never let fear rule my life
What was your first thought today?
Looking forward to an other day at Snowhill Farm, Richard's and my Paradise.
What is your most annoying character trait?
Richard says I'm untidy.
Which trait do you dislike the most in other people?
Dishonestly 
What is your dearest possession?
I'm a bit of a hoarder so difficult to pick out one thing
If you look into the future, what do you see?
I believe the Code of Points is going to be a tipping point. I really think it's going, with time, to make dressage a true sport easier to judge and to be understood even by amateurs.
What makes you unhappy?
People who don't agree with me!
What is the love of your life?
I think Morris (our dog) and Richard are fighting over this answer
What was the best choice you ever took in life?
To dare to go for my passion, even if it seemed impossible in Finland at the time.
What's your guilty pleasure?
Sweets
What do you owe your parents?
A big thank you for them giving me the chance to become what I am today!
Who can sit next to you at your dream dinner table?
Of people alive: Princess Anne
What was the worst job you ever did?
Thinning out sugar beet plants in a a very big field. 
What was your biggest disappointment in life?
I have forgotten
What would you change if you can go back into the past?
Je ne regrette rien
Name one thing that would improve your quality of life?
I hope Wayne Channon's Corona vaccine will work. The sooner we get a vaccine the better!
What is your biggest achievement?
Finishing high school and becoming a Professor despite being dyslectic.  
What is the most important life lesson you have learnt?
My father always said there where things i life you could change and things you couldn't. Only put your energy into things you can change!
Where would you like to be right now? 
Where I am, sitting in the garden in the sun.
What's your favourite scent?
Scented roses
Which character would you dress up in for Halloween?
I don't do Halloween.
To whom would you like to say sorry?
I would like to say sorry to everybody that feels I should have said sorry to and didn't.
What does love feel like for you?
Love has many shapes,forms and sizes, I like finding them all.
When are you most relaxed?
A good book with a Pina Colada under a palm on a beach. 
What super power would you like to have?
World peace
When did you last cry, and why?
Can't remember.
When were you closest to death?
As a 10 year old falling off a draft horse. I got caught in the long reins with my foot and got pulled behind the horse. I "only" broke my upper arm but had told my parents I wanted to ride again as soon as the plaster cast was gone.  My parents thought it better to let me learn properly and I got a beginners course (10 hours) in the riding school in Helsinki.
How do you want to be remembered?
To be remembered is enough
Related Links
Kyra Kyrklund and Jan Jönsson Appointed Professors of Equitation in Sweden
Renowned Trainer Kyra Kyrklund Diagnosed with Breast Cancer
Kyra Kyrklund's Max Retired from Competition
Kyra Kyrklund Appointed Swedish Team Trainer
Kyra Kyrklund: "Create a More Fair and Consistent Method for Dressage Judging"
Kyra Kyrklund to Stay in England Afterall
Kyra Kyrklund Leaving England and Relocating to Sweden
Kyra Kyrklund Celebrates 60th Birthday
Kyra Kyrklund, Making a Happy Day Every Day
Kyra Kyrklund, New IDRC President
Rider in the Spotlight: Kyra Kyrklund
Greatest Oldie: Matador, a Scandinavian Fairytale