Denmark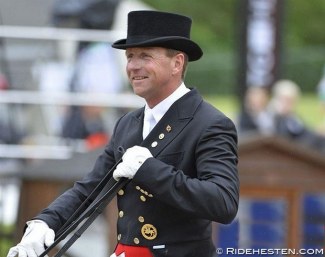 Danish Grand Prix rider and professional Thomas Dolleris Larsen suffered a brain bleed on 17 May 2020.
He has been hospitalized at Skejby Hospital and is in a medically induced coma. 
The 48-year old Larsen is the third Grand Prix dressage rider in one month time to suffer from a brain bleed. On 5 May Spanish Juan Matute Guimon collapsed and suffered a seizure due to a brain bleed, while on 14 May Luxembourg's WEG 2006 rider Joelle Kinnen-Beier suffered an aneurysm. 
"Thomas is still in an artificial coma and unfortunately the doctors can't say much about when they can wake him up again and what damage he'll wake up to," his partner Anemette Holm Pedersen  told Ridehesten.com. "He is going through another operation on Friday, where they will close the last malformations (blood vessels) that have been the cause of the bleeding."
Dolleris' last international start was at the CDI Nieuw en St. Joosland aboard Don Alfredo (by Don Frederico x Woermann) in April 2014. 
 Together with his partner Anemette Holm Pedersen, Thomas runs a training stable AT Dressage in Denmark. He has also been Norwegian junior-young riders team trainer from 2009 till 2014. 
Photo © Ridehesten
Related Links
Thomas Dolleris Larsen Takes On Job as Norwegian Focus Group Trainer
What's Happening: March 2012 - Part 2
Juan Matute Guimon Hospitalized and in Critical Condition
Joelle Beier-Kinnen Hospitalized with Aneurysm