Hit & Run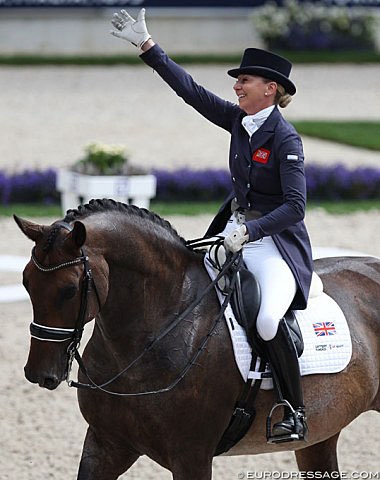 In corona times we are all ordered to stay at home, self quarantine, and do social distancing. With more time on your hands to spend online, Eurodressage launches a "Hit & Run" interview series so that you get to know the world's most famous dressage riders and personalities more closely. 
British Grand Prix rider Louise Bell began her equestrian career in showing, but switched to dressage in 2011 after taking on a discipline switching challenge. She made her international show debut in 2014 on W Get Smart at small tour level and in 2017 at Grand Prix level on Into the Blue. She  represented Great Britain in the CDIO Nations Cup in Hickstead, Uggerhalne, Geesteren and Aachen. She trained with Michael Eilberg and is now coached by Carl Hester.
Hit & Run - Louise Bell
What is your earliest memory? 
Riding Pegasus !! my rocking horse in the back garden of my childhood home in London 
Which person alive do you admire the most and why?
My mother: she is just the most talented person I know in anything she has done in her life, and she is a 24 hr carer for my father who sadly has MS
When were you the happiest?
Grand Prix day of the CHIO Aachen last year truly was the happiest Not only was it a Personal best score, I had Carl, Charlotte, Lottie, and Alan Davies and the team behind me my great friends John and Alison Walton all three of our team did our very best and we celebrated in style that evening it was a day. Dreams really do come true ...
What is your biggest fear?
Steph Sharples not being able to bring the gin and tonic round...
What was your first thought today?
oh god I've fallen asleep on the sofa yet again and not ever made it to bed!!! 
What is your most annoying character trait?
My husband says telling him off 
Which trait do you dislike the most in other people?
Dishonesty and falseness
What is your dearest possession?
My phone 
If you look into the future, what do you see?
Gold
What makes you unhappy?
Being let down by people
What is the love of your life?
My dog Alfie
What was the best choice you ever took in life?
Horses
What's your guilty pleasure?
Daim bars and ice lollies
What do you owe your parents?
They taught me how to survive in the real world.
Who can sit next to you at your dream dinner table?
Tom Cruise and Brad Pitt's shoulders
What was the worst job you ever did?
I was working as a waitress in a cocktail bar
What was your biggest disappointment in life?
Lockdown came and I couldn't get away
What would you change if you can go back into the past?
Results
Name one thing that would improve your quality of life?
A money tree
What is your biggest achievement?
I have two: winning the Royal International Horse Show four years in a row and winning classes there sixteen times in total .... and getting my first call up to represent my country in my first team 
What is the most important life lesson you have learnt?
Never look back
Where would you like to be right now? 
Maldives
What's your favourite scent?
Tom Ford Neroli Portofino
Which character would you dress up in for Halloween?
I wouldn't
To whom would you like to say sorry?
No one I've already said it, but if they didn't hear.... sorry
What does love feel like for you?
Warm and comfy !
When are you most relaxed?
When I've fallen asleep on the sofa with a Daim bar in my hand . 
What super power would you like to have?
Mind reading 
When did you last cry, and why?
This morning !! Because I woke up on the sofa and hadn't gone to bed again 
When were you closest to death?
When I nearly died in an horrific road accident in 2002
How do you want to be remembered?
As someone who tried 
Related Links
Louise Bell and Gareth Hughes Sweep the Board at 2019 CDI Le Mans
Carl Hester is the 2019 British Grand Prix Champion
Britain's Best Gathers for 2019 CDI-W London Olympia Horse Show
Portugal Writes History at 2019 CDIO Hickstead, Sweden Wins 2019 FEI Nations Cup Series