Hit & Run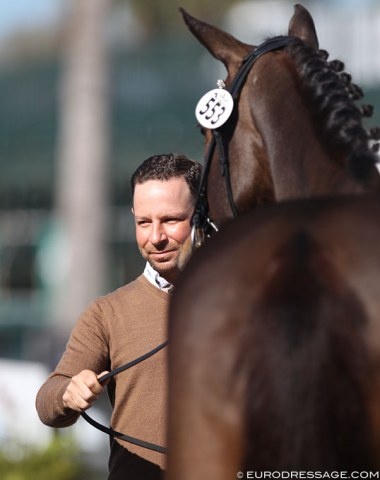 In corona times we are all ordered to stay at home, self quarantine, and do social distancing. With more time on your hands to spend online, Eurodressage launches a "Hit & Run" interview series so that you get to know the world's most famous dressage riders and personalities more closely. 
Canadian Grand Prix rider David Marcus is an American-born (Omaha, NE) dressage rider, who has been representing Canada since 2011. He competed at the 2012 Olympics in London and at the 2014 World Equestrian Games in Caen. His career making horse was Chrevi's Capital. He also competed Don Kontes at international Grand Prix level. He runs a training facility in Loxahatchee, Florida, together with his husband, Australian Grand Prix rider Nicholas Fyffe. 
Hit & Run - David Marcus
What is your earliest memory? 
Eating donuts in the tack room when I was 3 or 4 while my mom had a riding lesson.
Which person alive do you admire the most and why?
I admire many things about many people but no one person.
When were you the happiest?
Probably galloping around on my pony as a child and falling off daily with no fear and no responsibilities.
What is your biggest fear?
Losing a family member. Animals included, we have older dogs and It's hard seeing them age or thinking of them not being around.
What was your first thought today?
What day is it today, can I press snooze once more?
What is your most annoying character trait?
My husband would probably say my stubbornness and having to have the last word.
Which trait do you dislike the most in other people?
Dishonesty
What is your dearest possession?
Integrity
If you look into the future, what do you see?
A vaccine for covid and the world getting back to "normal"
What makes you unhappy?
Confrontation
What is the love of your life?
My Husband Nicholas Fyffe
What was the best choice you ever took in life?
Getting married and moving to Florida. I hate the cold
What's your guilty pleasure?
Cheese
What do you owe your parents?
Everything. They've always been my biggest supporters.
Who can sit next to you at your dream dinner table?
Rupaul, my husband and close friends and family
What was the worst job you ever did?
I always worked with horses in some way so I can't complain.
What was your biggest disappointment in life?
Being eliminated during the 2012 Olympic Games when my horse couldn't handle the hail storm I rode in.
What would you change if you can go back into the past?
Better weather during the Olympics and WEG. Rode both in pouring rain!
Name one thing that would improve your quality of life?
Money
What is your biggest achievement?
Qualifying for Olympics. Dream come true.
What is the most important life lesson you have learnt?
Communication is key! Hold onto your sense of self and integrity.
Where would you like to be right now? 
Vacation. I miss not being able to travel with covid right now.
What's your favourite scent?
Issey Miyake.
Which character would you dress up in for Halloween?
I'm the worst for dressing up
To whom would you like to say sorry?
I'm Canadian so it's part of my vocabulary.
What does love feel like for you?
Comfort
When are you most relaxed?
When I'm at the beach.
What super power would you like to have?
To fly
When did you last cry, and why?
Watching the news about George Floyd being murdered. Heartbreaking!
When were you closest to death?
Thankfully haven't gotten close yet!
How do you want to be remembered?
If I'm remembered, that's enough.
Related Links
David Marcus, Guest Judge Rider at 2017 Pavo Cup Finals
Brock and Marcus, Speakers at 2018 USDF/USEF Young Rider Graduate Program
David Marcus' Chrevi's Capital Retired
David Marcus and Chrevi's Capital Extend Winning Streak at 2012 CDI Lexington
David Marcus Dominates 2012 CDI Burlington in Ontario, Canada
David Marcus, First Timer on a Team of Wisdom