F.O.C.U.S.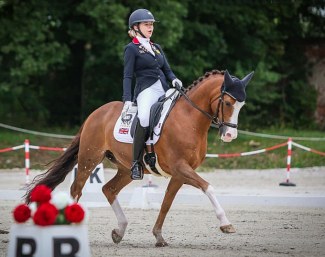 British dressage rider Isobel Lickley is ready to make the move onto horses and junior level after celebrating major success in her pony career. She represented Great Britain at three European Pony Champions on three different ponies. 
Isobel grew up in a horsey family with mom Nicola competing at international small tour level and running a sales and training yard in Albrighton, while dad Rob is managing director of a company in refractories and pilots Cavalor Direct, the British branch of horse feed company. 
Coached on a daily basis by her mom and assisted by Maria Eilberg and British pony team trainer Clive Halsall, Isobel has professional backing to bring the best out of herself and her horses. 
The 16-year old could have finished her pony time with a fourth Europeans in Strzegom, Poland, but the corona pandemic upended the 2020 show calendar and confined people to their houses. With no shows planned until the summer and the Strzegom Euros cancelled, the Lickley family decided to accept an offer made on their pony Mister Snowman, which put an end their daughter's pony time. 
Three Euros on Three Ponies
Lickley was 11 years old when she was matched to Team GB's seasoned pony star Gigolo, who took Claire Gallimore and Bethany-Rose Horobin to the 2010 and 2014 Europeans. Gigolo arrived in the barn in July 2015 and the promising pair made its international show debut in 2016. Professor Gigolo guided Izzy to her first European Pony Championships in 2016 in Vilhelmsborg, Denmark.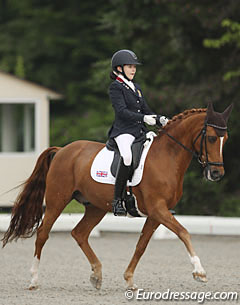 "Gigolo was the start of it all. He was just an amazing pony. He knew the test and I didn't," said Izzy about her first year at FEI pony level. "He was ancient and I was so young. I think it just worked between us from the start. He taught me ring craft and as he was older I had to be accurate to get the marks because he wasn't as flashy anymore."
Lickley has many stories of how Gigolo was the naughty professor. "He was no easy ride," she admitted. "I remember my second international  abroad was in Roosendaal in 2016. Despite the fact he was on his 100th show he still decided to spook at the sheet collector, knocked his feet together and fell clean over, right on top of me, just before the bell was about to ring. I think literally every person on the show ground started to run over to me, but I was fine! I got back on and we posted a personal best that ultimately got me the marks I needed for European contention. At our first abroad show in Saumur he pulled a line of changes out of his trick bag, down the first and last centre lines! The judge at C commented - nice changes but not needed at the level! Always the joker."
The same year the family added British team pony Valido's Sunshine (by Valido, previous rider Rebecca Bell) to their string. Izzy competed both him and Gigolo consistently throughout 2017 and 2018, but Valido's Sunshine became her choice of ride for the 2018 European Pony Championships on home turf in Bishop Burton.
"Sunshine came with a big bag of medals to her name and a reputation equally as big to uphold. I felt a lot of pressure," Izzy confessed, "but we had a good relationship from the start. She taught me to be tactful and gave me a real feel for quality that later would help me with Snowy."
In 2016 Lara Kuropatwa's Mister Snowman (by The Braes My Mobility) also joined Lickley's pony string, but he was first competed at national level before Izzy took him into the international arena in 2019 with her having more experience and mileage down her belt. The pair competed at Le Mans, Saumur, and Exloo with consistent scores in the seventies and got selected as the second highest scoring Brit on team for the 2019 European Pony Championships in Strzegom. In Poland Lickley exceeded all expectations, upping her game at the annual apex of pony sport and making it to her first Kur to Music finals in which she finished 10th as highest placed British dressage rider at the event. 
2020 Roller Coaster Year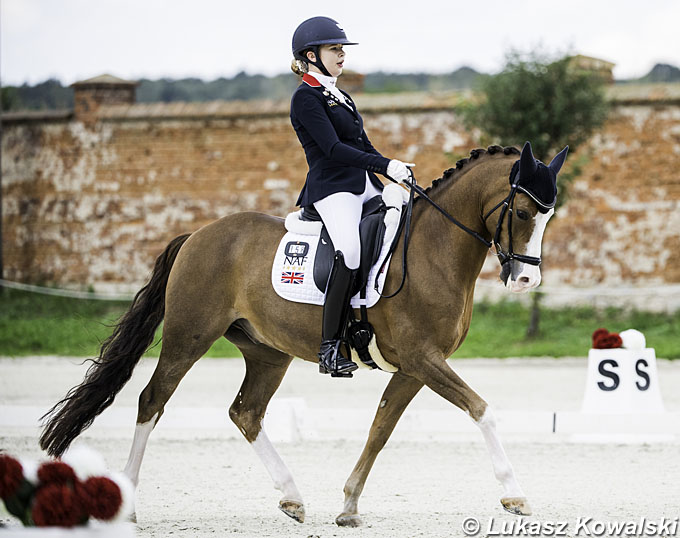 The 2020 competition year began on a high note for Isobel and Mister Snowman, winning the individual test (72.342%) at the CDI Le Mans in February, followed by triple second places at the CDI Keysoe at the start of March, each time scoring above 70 percent. 
However, COVID-19 came and competition life ground to an abrupt halt. The corona pandemic put too many ifs and buts on a possible 2020 European Pony Championships in Budapest after Strzegom pulled out, so that the family decided to focus on the future and find on a new home for the 14-year old Mister Snowman.
The pony is now sold to a new rider in the U.K. and left the yard on 11 June 2020, the day the European Pony Championships in Budapest were confirmed. Izzy's other two older ponies, Sunny and Gigs, are retired to the field at home. 
"During the first part of lockdown we kept working with Snowman in the hope that Poland would still happen. Then it was cancelled. Then it was back on again - then it was cancelled again," said Lickley about the head-spinning development leading up to the Europeans. "It was very hard to stay focussed on keeping him fit to that level and without a date to work towards so we backed off a little. Once it became apparent that even if the event happened it would be a very different experience and much later in the year we decided to sell him."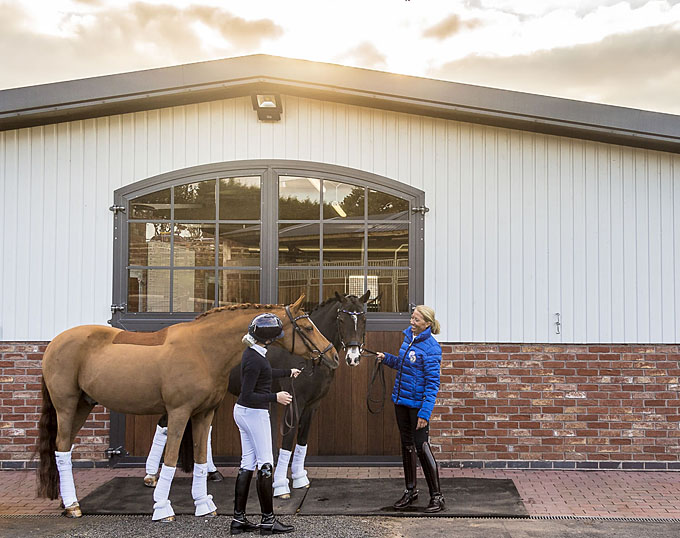 For Lickley parting with "Snowy" has been such sweet sorrow.
"It's absolutely heartbreaking to not see his little cute white face pop over the stable door every morning, but I'm so excited for his future with his new rider," she said. "This pony is truly amazing, not just in the ring but in every way, the memories I have created with him will last a lifetime. I am gutted to not compete in my last Pony Europeans with him but that's life, we can't change what is happening in the world, all we can do is look to the future of juniors which I am extremely excited about."
Isobel is off to a new school the first week of September to start her A-levels. "A show towards the end of August was not going to be ideal," she added.
A Future with Gracia
The future is bright for young Izzy, who will be moving on to horses and junior level with the 9-year old Gracia (by Negro x Don Gregory x Rubinstein).
The small black mare was purchased by the family at Gert-Jan and Anne van Olst's yard as a 2-year old. Izzy has been riding her on and off for a few years and took over the ride full time six weeks ago.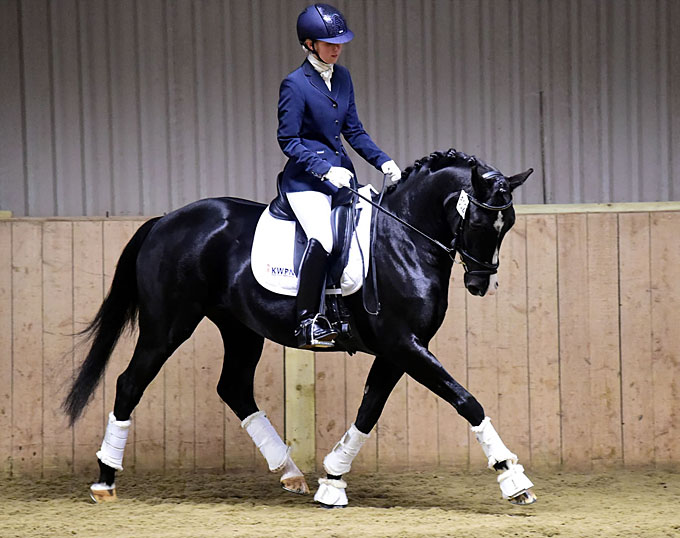 "I haven't found the change too difficult as she is only 160 cms," said Izzy about the transition from ponies to horses. "However the change from Snowy to my other horse Torino was much more difficult. He's 20 now and been with me for 14 months. We bought him for me to gain experience on - but he is much bigger around 170. Centre lines came around a lot quicker! Snowman has really prepared me well for horses because he was just a mini horse, without him I would have found it more difficult."
The family has a special friendship with the Van Olst's and Izzy has been going regularly to Holland since she was nine. 
"I really hope lockdown is over soon so I can get over to Holland to train with Anne van Olst," said Izzy. "I've been lucky enough to have taken all three of my ponies there over the last few years and we have had the most fantastic time. I can't wait to show Anne how well Gracia and I are getting on together as a partnership."
Related Links
Cavalor® Sponsor of 2020 European Junior/Young Riders Championships in Hartpury
British Team Selected for the 2019 European Pony Championships
Valido's Sunshine and Valido's Starlight Stay in the U.K.
All New British Pony Team Finishes Fourth at 2016 European Pony Championships
British Team Selected for 2016 European Pony Championships
British Nicola Lickley Makes International Debut at 2014 CDI Drachten