Great Britain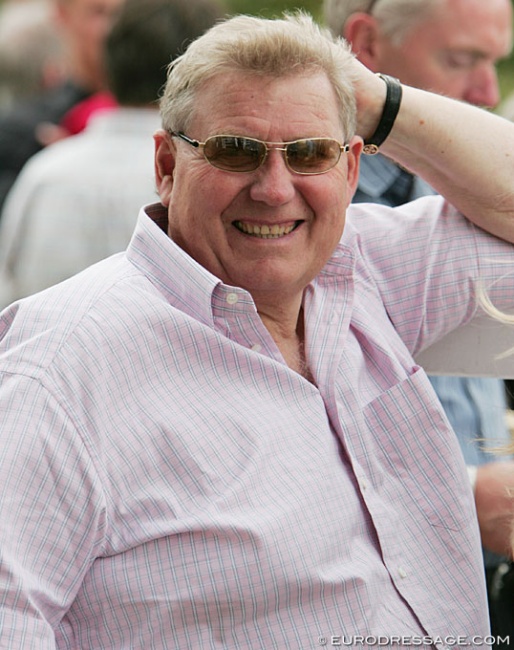 Tony Pidgley, the founder and chairman of the British house builder Berkeley Group and long-time supporter of British Dressage, has died suddenly at the age of 72 on Friday 26 June 2020.
His sudden passing has come as a shock to the equestrian and business world as he was still working up until Thursday when he was taken into hospital.
Berkeley Group
He was born in 1947 and raised for the first years of his life by Barnardo's, the children's charity, before being adopted by travellers, Bill and Florence Pidgley. He left school at 15 and started a haulage business, which he sold to Crest Homes, which later became Crest Nicholson.  With his grit and hard work he created one of London's largest private builders as 'a colossus' of the sector.
He founded his company, Berkeley Group,  in 1976 and remained as the company's chairman up until his death. Berkeley's success has been built on canny land purchases. The company has moved out of step with other builders, pulling back from the market early and spending big when prices fall, most notably in the years before and after the financial crisis.  Under Tony's stewardship, Berkeley has become one of London's largest private housebuilders, and had a major influence on the city's skyline. 
In 2013, Mr Pidgley was awarded a CBE for "services to the housing sector and the community".
He was married twice, to Ruby from 1966 till 1999 and to dressage rider Sarah Hill since 2001. He met Sarah at Berkshire Polo Club seven months after Ruby had left him. He has two children by each marriage (Tania and Tony jr; Annabella and Jessica).
Supporter of British Dressage
Sarah's keen interest in dressage prompted Tony to massively invest in top horse stock in Germany in the early 2000s. His horses were kept at Johann Hinnemann's barn and Hof Kasselmann as well as at his private home, Kilbees Farm in Windsor, Great Britain. They are recorded as the breeders of the German B-squad listed Duke of Britain (Frederic Wandres). They had Damian Hallam and Markus Gribbe as in-house trainers at their yard in the late 2000s.
Many of the horses were sold later on while Sarah Pidgley began focusing on judging. Sarah is now a 4* FEI dressage judge. 
The family reinvested into horse stock when daughters Annabella (16) and Jessica took a keen interest in dressage. 
Annabella has competed for Team Great Britain at the European Pony Championships in 2018 and 2019. They own junior riders' horses Belafonte and Dibert L and have purchased three horses in Denmark which the World Number Five, Cathrine Dufour, is now training to Grand Prix level (Vamos Amigos, Espe, Hilus MBH). Jessica is an eventing rider, but is also competing FB Gangster at national level in dressage.
The Pidgleys have been great supporters of British Dressage. They have silently sponsored numerous dressage events, hosted Team GB training camps, and officials dinners, amongst them one during the 2012 London Olympics, as well as last year's FEI 5* Judges seminar. 
British Dressage loses a pillar of support in Tony.
Photo © Astrid Appels
Related Links
Eurodressage Photo Database: Pidgley
Ellen McCarthy's Belafonte Sold to Annabella Pidgley
Duke of Britain Wins British Hanoverian Dressage Award of 2019
Espe Sold to British Pony Rider Annabella Pidgley
Where Are They Now? Samira
British Youth Riders Prepare for Arezzo at Training Camp. Hutton Out, Knapton In
2007 Bundeschampion Samira Sold to Tony and Sarah Pidgley
Sara van Deurs Petersen's Farbenfroh Sold to Pidgley Family
Markus Gribbe Joins the Pidgley's "Team Berkeley"
Spirit Freedom, British Dressage Horse of the Year 2005